OLM
OLM Hikari Series LED Headlights
2015-2017 Subaru WRX & STI / 2018-2020 WRX Base & Premium
Ships for free in the 48 states
SKU: A.70205.1We price match!
OLM's entry into the 15-20 WRX & STI headlight game is strong with these ultra modern LED lamps. This design look takes cues from high end vehicles.
Features a unique startup pattern that will turn some heads and keep them looking at this unique multi-reflector design.
Details
OLM Hikari Series LED Headlight
---
The headlights are an important element when it comes to styling and safety. The C-light feature is bright and uniform versus the stock halogen lamps that come with the VA chassis. When the C-light activates it has a unique startup function as well.
The Hikari Series Headlight appeals to owners who want to upgrade to a modern lamp that elevates their car to another class.
---
Highlights
All LED - Low/High/Sidemarker/DRL
Bright C-light / DRL
C-light startup sequence + breathing
Plug and play installation
Compatibility
2015-2017 WRX & STI
2018-2020 WRX Base & Premium Only
Additional Specifications
DOT / SAE stamp: Yes
E4 Stamp: No
Serial Location: Top of lamp
---
Installation Notes
The DRL circuit can install one of two ways. If you place it in the high beam slot of the fuse box, you will also need to disconnect the DRL resistor in your vehicle. Otherwise your high beams will also be on. Simply remove the OEM high beam fuse, place it in the lower slot of the add a fuse, and now plug the add a fuse (with two fuses installed) back into the high beam fuse slot.
To wire it with accessory power and when the vehicle is running, please see our PDF in the additional tab for install of a similar item. You will cut one prong of the add a fuse off and insert it into the fuse box at the location it indicates.
NOTE: Disconnecting the DRL resistor in the lower bumper by the passenger side may be required.
Smoked Overlay Options
These are available as a DIY option here.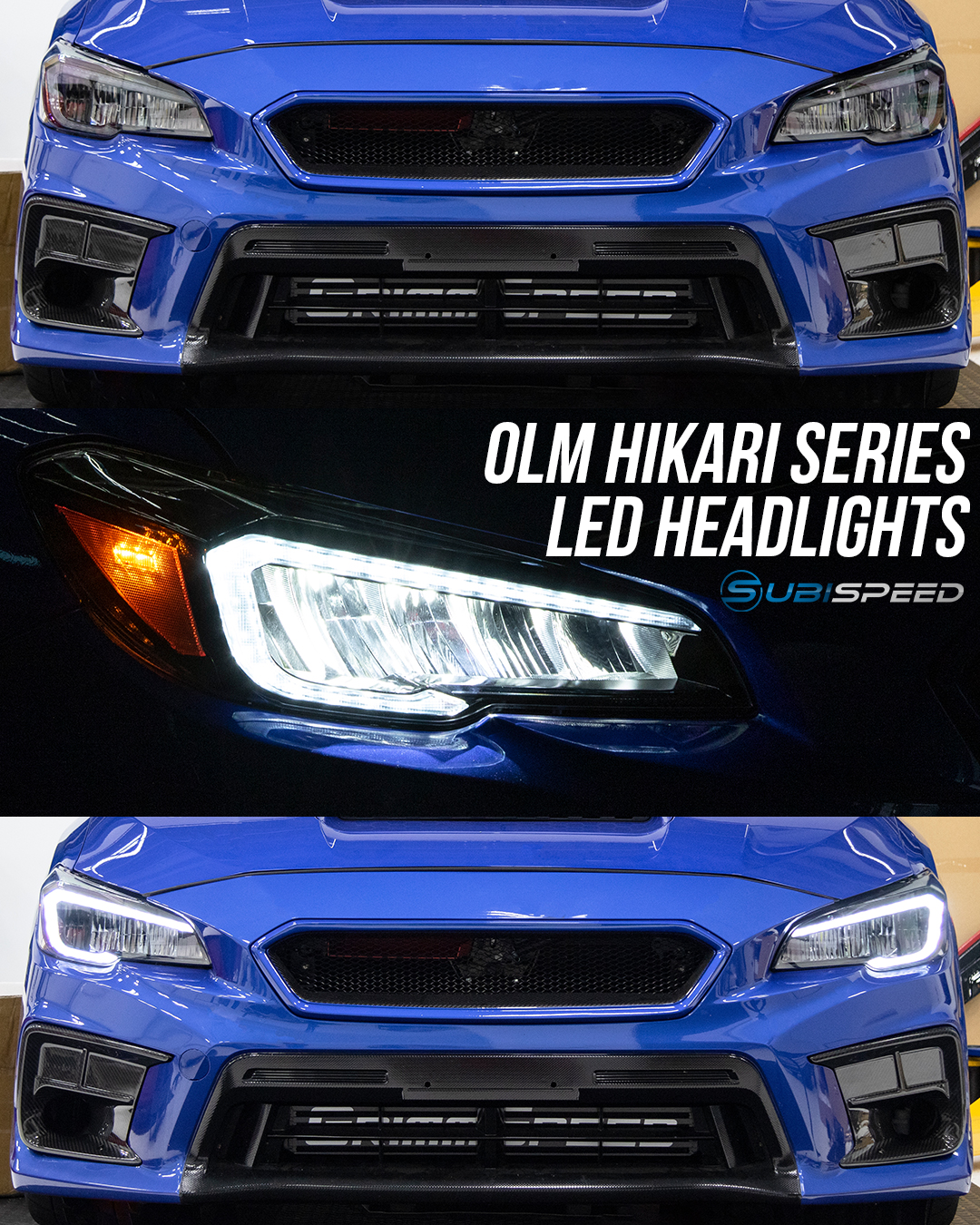 18 customer reviews
Great!

Neo December 1, 2022

By

Easy install especially with a help of of a friend.

FITMENT Disclaimer

2016 WRX BASE 6MT January 8, 2022

By

These headlights will NOT FULLY fit on a stock WRX. The stock air intake will NOT allow the passenger-side OLM headlight assembly to properly fit. (THE DRIVER-SIDE OLM HEADLIGHT ASSEMBLY FITS PERFECT!) There isn't enough space to install the PASSENGER-SIDE OLM HIKARI SERIES LED HEADLIGHT ASSEMBLY on a stock WRX, the air intake box is too bulky, and will need to be replaced with an aftermarket air intake system.

Doesn't fit

Actually November 5, 2021

By

I have a 2017 WRX Premium and bought these. I went to install them, and they do not fit on the passenger side. It hits the stock air box. Not happy at all, right now. Communicating with subispeed to figure it out...

Overall low quality

Spencer October 15, 2021

By

They fit very poorly and don't line up with the body, the instruction book is less than useful and unless you can decode the book and wire it correctly, you'll have your highs on everywhere you drive and the only way to turn them off is to constantly drive with the night time headlights, and speaking of night time headlights, they blind everyone because of poor build quality. Wouldn't recommend these to anyone.

Nice LED Headlights!

Conner B. September 28, 2021

By

These are a big step up from the OEM headlights. These look nice, are super bright, I love them! Installation was easy enough, though fitment was a little off (2015 WRX), but you have to get up close to really notice. Overall, very satisfied with this product.

Awesome headlights

Spencer August 2, 2021

By

I would give a much lower score for fit/quality because they don't fit with the stock airbox on my base 2019 wrx, but I don't wanna drive away anyone from buying these because of a low review. I did make them fit by heating up my airbox and making it work, but I wouldn't recommend this to the few wrx owners who still have a stock airbox. Other than that I love them and the start up sequence is sick. Definitely one of my favorite mods

Love it

Spoopdiewhoopdie July 8, 2021

By

Love the look gives it the most up to date look with style. I personally love the output of the lighting. I do wish that the c light was brighter like the diode dynamic but I'm over all happy. The fitment is a little questionable lots of tweaking to make it fit 100%

Very nice and bright headlights

Ray June 26, 2021

By

I have finished the installation of these headlights on my 2016 WRX. They are very bright and work nicely. Some installation notes though... when putting in the passenger side a electrical connector came in contact with my stock air box. I used a torch to soften the plastic and deform a small section of the air box to clear the electrical connector. I had to disconnect the DRL resistor... no matter which way I wired the DRL's my high beams would always be on with the DRL's until I disconnected the resistor. Otherwise, looks great works great at a great price for sequential LED headlights.

Garbage

Rob April 13, 2021

By

Don't buy these lights!!!! Terrible fitment and after one rainstorm water got in them and totally messed up the c-light!

Need a video for installation

Frosty March 22, 2021

By

Honestly close to the V 2s but show more videos for lower price headlights too please it helps.. Thank you!

Nice alternative to $1k subispeed headlights

duke d March 10, 2021

By

Installation is truly PNP. Note to anyone wanting to buy these. The passenger side headlight will not fit if you still have the stock airbox. I had to purchase a CAI to make it fit. Otherwise the headlight will not sit in all the way because the airbox will block it. I'm a beginner when it comes to modding cars and I was able to do this pretty easily. Simply remove the front bumper, disconnect the stock headlights, install the new ones and wire to the fusebox. BTW, you will have to unplug the DRL resistor or else the highbeams stay on ALWAYS during the daytime, even if you turn the knob off on the headlights control. Unplugging the DRL resistor was very easy. Crawl underneath the bumper on the passenger side and remove the 3 pop clips on the black flimsy cover? Then, reach in there and simply unplug the resistor. A definite buy imo. Just be sure to aim your headlights after so you don't blind oncoming cars.

Reasonably priced. Great upgrade from stock.

Ty February 25, 2021

By

These headlights are aggressive and very unique. For people who are looking for new headlights, highly recommended. The install can be time consuming having to take the bumper off. But Kevin's install video for the subiespeed v2 headlights is a great example for anyone trying to replace their stock headlights. These OLM Hikari's are bright and I'm absolutely pleased. Keep in mind, the passenger side housing can be a bit of a pain with the stock air box being in the way. You'll have to push upwards on the bottom of the box to get the headlight housing in because the wiring touches the airbox. But once you wiggle it around, it fits nicely. Great product and very reasonably priced.

Great product

Stephen February 25, 2021

By

I have a 15 WRX premium and these are a major upgrade from the stock headlights. The installation was very easy and they run just how they are advertised. If you're having trouble trying to install these just watch the video for the V2 Redline sequential headlights. It's the same exact process. Would highly recommend if you're still running stock lights!

DOESN'T FIT!!

2016 WRX BASE 6MT February 12, 2021

By

The kit includes everything you need and installation is beyond simple. The instructions are clear and the pictures are spot on. BUT there was no disclaimer informing me that the PASSENGER SIDE HEADLIGHT will not fit a stock WRX. The hardware mounted behind the headlight assembly touches the stock air intake. In order to properly install the passenger side you must replace the stock air intake with an aftermarket variant.

Michael January 23, 2021

By

An issue I ran into was the high beams also being on with the c-light to turn those off there is a plug next to the horn on the passenger side that needs to be unplugged for it just to be the c-light drl.

Michael January 23, 2021

By

Overall very happy with the fitment and quality, I've owned these for two weeks and so far no signs of condensation or lack of performance. Pros: -very bright -crisp white for both c-light and night time lights -good shipping quality it was packaged Verywell -easy installation Cons: -it does not fit well with a stock air intake box (very tight fit) -instructions lack directions but with that said it's also very straight forward.

Excellent product! Will return with a follow up.

Scoobaru January 14, 2021

By

1/14/21 Installed these headlights in an hour, if I had done it before it probably wouldn't even take that long. But I'm already in love with these, I can't wait for it to get dark to see how well they do. Just beautiful!

Game changer

Subieroll January 4, 2021

By

These headlights are amazing. Your subie will go from the angry stock headlights to downright menacing once you get them on there. The installation is pretty straightforward as far has taking off the bumper and matching the colors as you are plugging to playing everything. Alone, it's a 2-3 hour job, but with a friend, 1-2 hours. Vision provided by the headlights is phenomenal as well. The pure bright white light provided by these baby's will surely brighten your mood, as well as, the road in front of you. Do it. You won't have any regrets.
QUESTIONS & ANSWERS
No questions have been asked about this product.
Upload images for this product