Subaru
Subaru OEM JDM Puddle Lights
2015+ WRX / 2015+ STI
This unique product is imported directly from Japan and is an authentic JDM Subaru accessory. Light up your way too or from your car by adding authentic JDM puddle lights to your vehicle. These are genuine Subaru products.
Includes SubiSpeed wiring for a quick install.
Details
Subaru OEM JDM Puddle Lights
This unique product is imported directly from Japan and is an authentic JDM Subaru accessory. Light up your way too or from your car by adding authentic JDM puddle lights to your vehicle. These are genuine Subaru products.
This JDM genuine Subaru OEM welcome light / puddle lamp mirror kit is an add-on option on JDM WRX / S4 / STi, unfortunately all USDM 2015 - 2017 WRX & STi only come with a block-out cover to eliminate this feature. With this welcome light mirror kit, now you can easily upgrade your Subaru with the factory welcome light / puddle lamp features.
Subispeed Puddle Light Install Video
---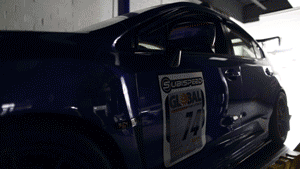 Installation
For wiring, just follow our install video. Kevin will show you how to wire this so whenever you press your car key's remote or open the doors, these welcome lights will turn on.
This JDM welcome light / puddle lamp mirror kit only fit on 2015 - 2017 WRX / STi, and 2015 - 2017 XV Crosstrek (with removable welcome light block-out cover).
SubiSpeed Quickconnect Wiring
These wires plug directly to your new JDM puddle lights (included). Follow our installation video to get these setup with ease.
NOTE: Now comes with add a fuse with fuse as seen on the video. When working with the BIU (body integrated unit) you need to pay special attention to your connections. Improper wiring can burn up an IC in the BIU which controls the dome lighting.
The way the wire in the BIU works is that it is a ground when the lights should be on, however it is as 12v when the lights are off. This stops the flow of electricity.
Direct bolt on replacement pieces for the stock mirror covers.
People who viewed this item also viewed
4 customer reviews
Rustem August 20, 2020

By

I wonder if anyone had a problem with one of the connector on driver side. When I was taking off door panel there's 3 connectors and one of them just gives me trouble. I can't disconnect it. Kevin did it so easy on the video.

Lights look dope

Popcorn_WRX July 25, 2019

By

Easy install thanks to the video. 2nd side goes a lot faster than the first. Couldn't be any easier thanks to the SubiSpeed Add-a-fuse. and Yes the door Boot was the 'Hardest' part, Just need a little patience. Love looking at my puddle lights in the early morning before the sun comes out.

Excellent lights, great result

Wayne June 16, 2018

By

The SubiSpeed kit is great, I really appreciated the extra thought that had gone in to the wiring kit and fuse. I installed these on a MY2018 RHD Levorg. Driver's side mirror disassembly is basically the same as the WRX in the video. The driver side wires could do with being about 100mm longer, not sure if it's on all RHD models or just a Levorg thing. I had to route the wires around the motor that folds the mirror back and then run it down inside the loom. The ground wire ended up being a bit of a stretch to get to the plug. Passenger side mirror was a crowded and disassembly is different to the video due to extra motors for folding and the camera for the curb view. I ended up using a similar method to that in the AVEST sequential turn signal installation instructions. Take the mirror out first, unplug blind spot indicator and defogger wires and then remove the small black screw that holds the lower cover in place before pushing the clips out. I had about 300mm of wire left over after routing it from the other side of the car. Connection to the BIU is a little different as the connector in the MY18 Levorg is larger than the MY15 used in the video, and most of the wires are different colours, but the wire you want is still the pink/blue stripe. Installation was easy, just take your time and be careful. The supplied T-tap connectors are brilliant and very easy to use. Video instructions are well thought out and show steps in a logical sequence. It did look like Kevin had loosened the panels earlier, I had to fight with a few of them.

Great Product

Ben September 19, 2017

By

Overall am VERY happy with how these turned out! I try to find as many unique OE Subaru parts as possible for my 15 WRX and these were perfect. Only knock for the installation will be running through the door boots which you just have to do if you want it to be right! I found it was much better to unplug the 3 plugs inside the vehicle and remove the whole harness all the way into the door so you could run the 2 wires and seal back up the harness correctly. Other than that, the video was very helpful and is a great add on!!
QUESTIONS & ANSWERS
No questions have been asked about this product.
Upload images for this product