Details
GrimmSpeed Cold Air Intake System
---
Real 10whp gains in 30min with no tuning.
Design requirements for this intake were simple: The intake must not only be safe for the engine, but perform well both with and without tuning. The intake must be able to be installed quickly, without removal of the bumper. The intake must produce horsepower and torque gains throughout the RPM range, not just on the top end. Justification for the first is obvious, we want you to be able to bolt it on and go, without worrying about your air-fuel ratios and engine safety. Justification for the second came after installing other intakes, only to have our front bumper never fit the same way again. A little research showed that this was a common issue. Yuck.
Quick Specs
Power and Torque Gains - Throughout entire rev range, no tuning required. Mimics factory AFR - Safest intake on the market.
Installs easily without bumper removal - Don't ruin your bumper fitment like other intakes!
Made in the USA - Right here in Minnesota, in fact 30min Installation - Extremely simple with our written and video guides
---
Design
The design of this intake started with months of hands-on research. Follow this link to see the extensive testing that we did on the factory intake setup pressure differentials. Follow this one to see the dyno testing that we did with the stock airbox in a number of different configurations. The entire development of the intake is chronicalled in great detail in our FT86Club thread where members helped with major design decisions.
After the research stages and the determination that there was a gap in the intake market, we got to work with design. Using our FARO Arm, we were able to MAP the engine bay in 3D to ensure a perfect fitment. We used that working envelope to maximise performance by eliminating the 90 degree bend just before the airbox. We found that this contributed to decreased resistance, but also helped with accurate MAF readings. We placed the MAF sensor inside the airbox to ensure that the heat from the motor and headers didn't skew it's readings.
---
Testing
With a solid theoretical foundation and a number of prototypes, our engineers hit the dyno. Working with a very well respected tuner, they tested 26 different intake configurations with over 140 dyno pulls. Armed with a massive amount of data, design decisions were made and we moved forward into production.
Materials
In true GrimmSpeed fashion, no corners were cut in the fabrication of each and every one of these intakes. The airbox is laser cut, CNC bent, riveted together and threaded inserts are installed before the entire assembly receives a heavy duty black wrinkle powdercoat. MAF flanges are CNC machined from 6061 aluminum and the intake tube is fabricated from custom bent tubing, made specifically for our application, to provide the perfect MAF diameter. The air straightener is laser cut from the same 6061 material and tumbled before the entire assembly is TIG welded by our expert welders. After welding, each tube is inspected and ported as needed to ensure maximum performance.
Performance
The intake provides gains in horsepower and torque across the entire rev range. This includes gains of 3-4 ftlbs in the "torque dip," and peak gains of 6 horsepower as measured at the wheels on a Dyno Dynamics dynomometer (reads lower than the common Dynojet). These gains are not achieved through MAF trickery either, as the air to fuel ratio remains nearly identical to the factory's. Additional gains in the top end can be achieved by modifying your factory snorkel (around 2whp) as shown.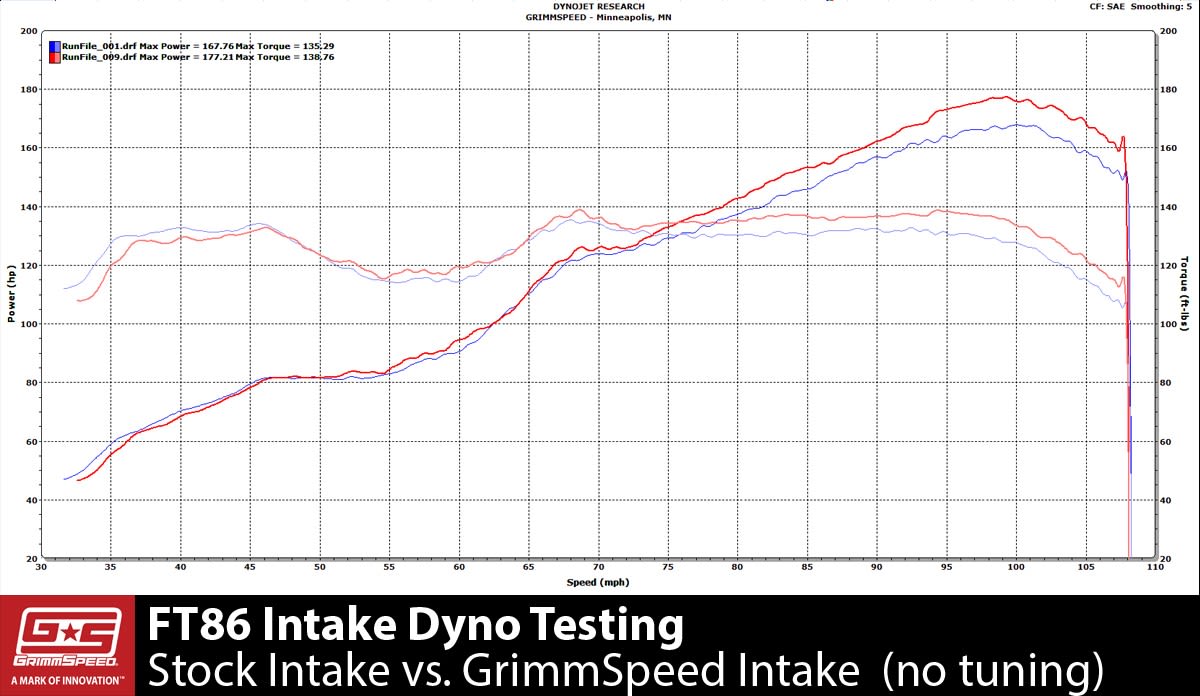 On a second dyno, the gains were repeated. Dynojet dynos typically read a bit higher and this one was no different. We found a 10whp gain when simply bolting on the GrimmSpeed Intake with no tuning.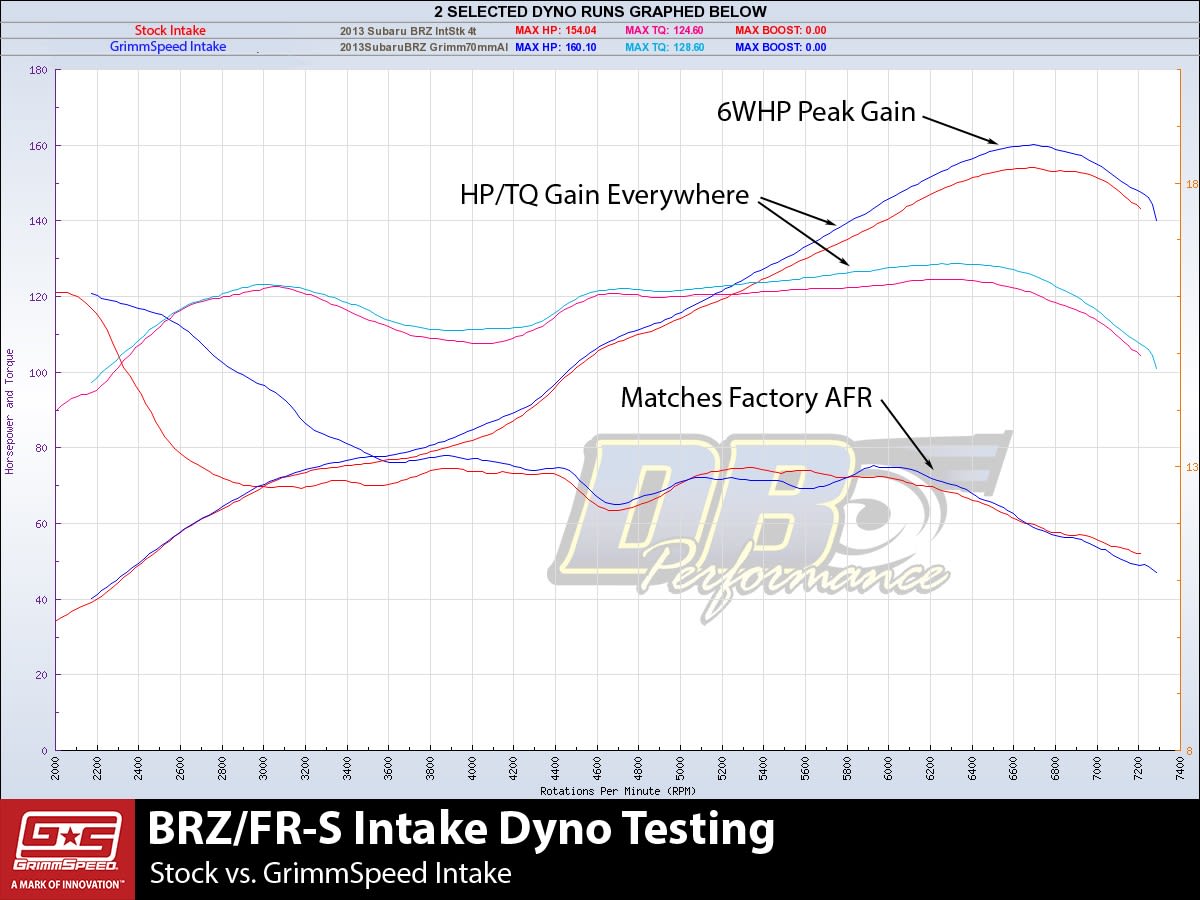 Included:
1x Intake Tube
1x High-flow Oiled Filter
1x Hump Hose Connector
1x Airbox Assembly
3x Hose Clamps
1x PCV Hose Extension
1x PCV Clamp
2x MAF Flange Screws
3ft Rubber Sealing Strip
1x Noise Generator Delete Plug
People who viewed this item also viewed
5 customer reviews
Noticeable improvement!

Autumn February 10, 2022

By

Wonderful intake. Very easy to install, aside from getting the gaskets onto the box itself, and getting them over the snorkel was a bit finicky. Took about 45 minutes overall, and was beyond worth it. A small, but very noticeable bump in performance, especially considering how small the FR-S is to begin with.

9.7 out of 10

Amazing Intake July 12, 2021

By

Super easy to install. amazing induction noise that the car makes during 4-5.5k upshifts. Only issue I had was that one of the nuts tk close the cover was bent sideways so I didn't manage to put all the screws in but Tbh I may just run without the cover for some time but at it is on and the car sounds like 5x better. Definitely a deeper tone with the intake even after my N2 exhaust.

Looks Great, Fits Great

Greg November 17, 2018

By

Really nice intake kit. The instructions walk you step by step through everything. Once the box is closed up it looks really clean and premium. Having to install the rubber gaskets and keeping them from folding over while you're installing the pipe and fitting the box over the OE snorkel was a little tedious but totally manageable even for one person. Also, pay attention to how far onto the tube the filter is supposed to fit (the directions give you the measurements). Maybe the only downside is that the box muffles the whoosh noise. I'll take it for dyno proven HP bump without leaning out.

Great product other than rubber gaskets

Aaron March 3, 2017

By

Very pleased with this product, was easy to install, and Grimmspeed has instructions on their web site with step by step, easy to follow instructions for both removing the original octopus snorkel and sound tubing, as well as connecting this CAI. My only gripe was with the rubber gaskets and their fitment on the product. These gaskets should be installed from factory and glued or affixed to the product rather than free floating like they are, it causes a lot of frustration getting everything right and not knocking them off feeding the intake tube into the box, and fitting the snorkel to the bumper with the gaskets as they are designed. It's doable eventually, but really frustrating how easy they are to knock off when trying to get things installed and mounted.

high price, good quality.

Mike December 11, 2015

By

Good intake. Fits perfect and looks great. Price a bit higher than others like this but from what I have noticed is the quality is better.
QUESTIONS & ANSWERS
No questions have been asked about this product.
Upload images for this product