Flow Designs
Flow Designs Front Splitter V1
2015+ WRX / 2015+ STI
The V1 front splitter from Flow Designs is strong and impact resistant. It is artfully crafted out of 10mm thick polyethylene composite, hand polished, and finished with beveled edges.
NOTE: The V1 lip is straight across the front. Some of the pictures show the lip, extensions, and winglets mounted on a V2 lip. This is just to show off the use of the winglets in conjunction with the extensions.
Details
Flow Designs Front Splitter V1

---
With over 30 years of accumulative knowledge of design, manufacturing, mechanical and automotive experience, Flow Designs strives to bring fresh and innovative ideas to this industry, by exploring new manufacturing processes and recycled materials to become market leaders.
Flow Designs Australia enters the VA market with their V1 lip. This will introduce many of you to the use of polyethylene composite material. The results are truly positive.
Why do Flow Design use Polyethylene Composite for Flow Designs Splitters?
Strong, impact resistant, doesn't corrode or chip, and has excellent abrasion resistance (say… from scraping on driveways and road all the time?)
Carbon Fibre is better isn't it?
As strong and light as Carbon fibre is, it CRACKS on impact or when under load and/or stress. Clear coat will eventually fades & cracks and become undesirable.
---
Kit Includes
Splitter
Pre-fitted brass thread
2 Flow Designs Stickers
Fitting kit
Material
10mm thick polyethylene composite
Bevelled edges
Finish
Hand polished satin black
Shown With Optional Items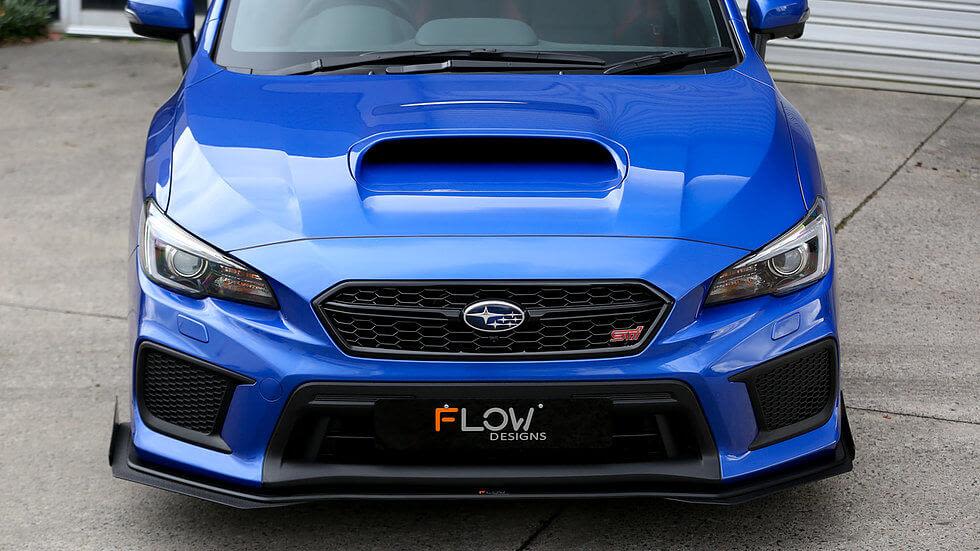 ---
Optional Items
Front Splitter Extensions
Add just a touch more style with these extensions. The front lip is required for use, but the winglets below remain optional.
Note: Winglets and Splitter sold separately
Kit Includes
Splitter Extensions (Pair)
Bolt on fitting kit
2 Flow Designs Stickers
Material:
3mm Scratch-resistant ABS
Bevelled edges
Finish
Textured Satin Black
Scratch-resistant
Configuration 1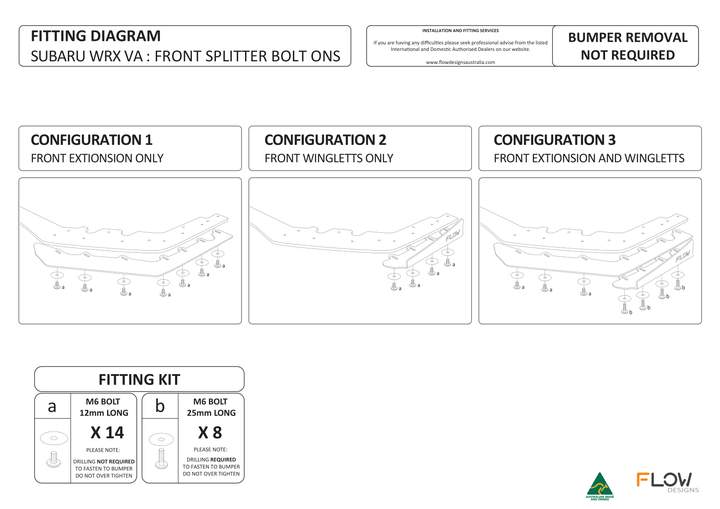 ---
Winglets (pair)
You've read this far. So are you going to go all the way? The front lip, extensions, AND the winglets? You can do all three or just go for the front lip with the winglets. Your choice.
Kit Includes
Splitter Winglets (Pair)
Bolt on fitting kit
2 Flow Designs Stickers
Material:
4.5mm Scratch-resistant ABS
Bevelled edges
Finish
Textured Satin Black
Scratch-resistant
Configuration 2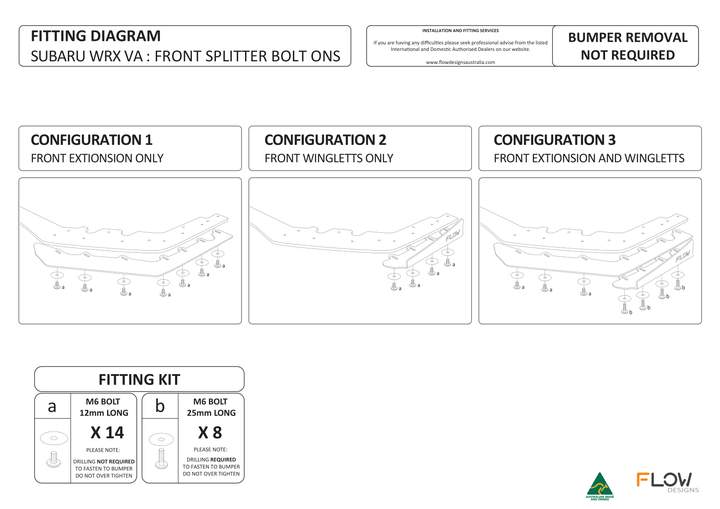 People who viewed this item also viewed
Upload images for this product