Go Fast Bits
GFB Respons TMS Adjustable BOV- 2015-2020 WRX
- 2015+ WRX
Ships for free in the 48 states
SKU: T9007
Ships today if ordered in
20 mins
Respons TMS Direct fit Blow off valve or BOV with GFB TMS advantage. Patented adjustable venting bias system diverter valve.
Details
GFB Respons TMS valve (part number T9007) features both the GFB patented adjustable bias venting system, and the GFB TMS advantage.
SubiSpeed Video
The TMS range from GFB is designed specifically for the purpose of turbo lag reduction and improving throttle response. Tests show TMS features can help return the engine to peak boost up to 30% faster than a factory diverter valve when shifting gears.
Want sound? Admit it, you do - otherwise you wouldn't be looking at this product! Even if you only want to hear it a little bit, only some of the time, or hide it from your better half, GFB's unique patented venting bias adjustment system has you covered - it allows the amount of air vented to atmosphere or recirc to be infinitely varied to change the sound from silent to ear-shattering or anywhere in between, with a simple flick of the wrist!
" Unique adjustment to easily change distribution of vented air between recirculating and atmosphere ports.
Great for cars with sensitive air flow meters as it can be tuned to vent just enough air back to the inlet to prevent backfiring, whilst achieving a blow-off sound.
Direct bolt-on fitment NO extra parts, adaptors, or modifications to the car required just take the factory valve off, and put the GFB Respons TMS in its place!
Excellent value!
These unique products manufactured in Australia to ISO 9001 can deliver performance with as much or as little noise as you like; with the GFB Respons TMS you CAN achieve a blow-off sound without throwing a CEL, running rich, stalling, using more fuel or causing any other problems commonly associated with atmosphere-venting valves on cars with MAF sensors.
More about Respons TMS...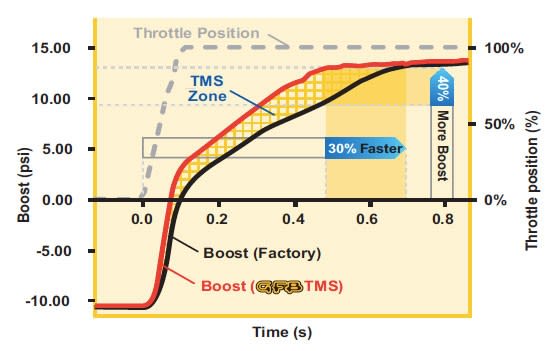 Respons TMS can increase your boost by 30% during throttle modulation
This unique system allows the amount of air vented to either recirc or atmosphere to be infinitely varied to change the venting sound like a stereo volume dial!
So if you want noise with your performance, the Respons can deliver! By fine-tuning the venting ratio, you CAN achieve a blow-off sound WITHOUT throwing a CEL (check engine light), running rich, stalling, using more fuel or causing any other problems commonly associated with atmo-venting valves on cars with MAF sensors.
(*Chart shows comparative manifold boost pressure rise during 1st to 2nd gear shift as tested on a CA18DET with a T28 turbo. GFB TMS improvement is seen as a 30% faster return to peak boost, during which time up to 40% more boost is available)
---
How GFB's patented venting bias adjustment works
Twisting the adjusting ring opens up the atmo port, whilst the recirc port is simultaneously closed.This results in possible venting ratios ranging from 100% recirc, right through to 100% atmosphere and anywhere in between.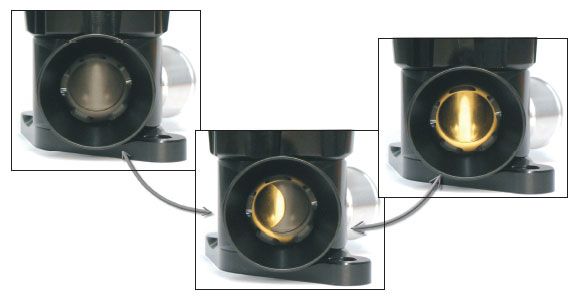 4 customer reviews
Great bov!!

Jaran January 4, 2018

By

This is such a great bov! Love the sound, turns heads everywhere I go. Really wakes up and livens up my 18 wrx. Installs very easy.....taking the stock valve was super hard. Fyi on the 18 model you will most likely need to buy a small hose clamp. One of the clamps underneath has a tricky clamp that I destroyed to get off lol. And the spring preload will have to be tightend to the make or you till get rpm dropping all the time. So good luck and go ahead and pull the trigger. Ps I'm running it fully atmospheric

High quality / Great sound

Stephen December 12, 2015

By

So I have to say this installation turned out to be easier then I expected. The most difficult part was getting the old BPV out. Took a little bit of work but after wiggling it around quite a bit it came out. I elected to remove the intake pipe leading to the turbo to access the position from the bottom of the motor.Tuning the proportioning valve and preload spring was very simple. I set the vavle to 50/50 before I installed the BOV and then screwed the preload spring in approximately 3 - 4 rotations in the + clockwise direction ( to increase load on spring ). You can adjust the BOV from the top of the motor by removing the intake snorkel. Took about 45 minutes from beginning to end. No issues with idle/stall/stumble after high rev's or after shifting under high boost. Holds boost better then stock unit and the WHOOOSSSHHH sound is amazing at 50/50. (My wife compared it to the air brakes on a semi) I'm glad that I made this BOV my final decision. Would highly recommend this product!

reults

christopher April 2, 2015

By

2015 wrx bov review: So upon purchasing I had a performance shop in Connecticut new York named ECS Performance perform the install along with a mishimoto intake and dyno tune. The tuner stated you should not run this unless you have a dyno tune so the car knows what to do with the left over mixture its venting to the atmosphere. Also while trying to run this at 75% recirculate and 25% vent, the vehicle had a stalling issue. The shop stated the spring is not strong enough to close the valve fast enough causing the vehicle to loose all air and stall the car. When we did set it to full recirc they did say I created boost faster then the stock diverter valve but I lost 7 HP because I had to full recirc. Just figured everyone should know what I experienced as they are an experienced and well known shop in new York. Thanks for your products subi speed as I will continue to purchase from you!

Great BOV

Zakk February 9, 2015

By

I have 2015 WRX Limited. Great BOV and sound. Install was a little more complicated than any other BOV I've ever installed. I had to remove the whole bottom of the intake and the connection to the turbo. It's a little rough trying to get the stock one out and the GFB in. You actually have to push the GFB BOV into a plastic pipe. It's a tight fit, but sounds great. I love how I can adjust it on the fly. Thanks for the Laffy Taffy! lol
Upload images for this product

Feel free to share pictures of your vehicle with this product!