Maxton Design
Maxton Design Rear Spats
2015-2020 WRX / 2015-2020 STI
SKU: SUIM4WRXSTIRSD1GBWe price match!
The Maxton Design WRX/STI rear spats are a great way to add some flare to your rear end and even add some grip and vehicle stability. Made out of high quality ABS plastic with a nice gloss black finish will look good on nearly any car.
This piece ties in well with Maxton's rear diffuser.
Imported and stocked at our warehouse in Des Moines.
NOTE: These products have a gloss black finish. To protect them, there is a plastic film applied to it. Remove the protective film right before installing.
Details
Maxton Design Rear Spats
Maxton Design specializes in designing and manufacturing car tuning elements. Founded in 2004 and been building since Maxton Design creates unique high quality products specializing in exterior mods.
Their products fit amazingly well due to the fact that they laser scan entire vehicles. This includes the bottom of the vehicle and that is why you'll notice small indents, arrows, and other features. All of this make it easier to align their products properly.
Installation does require drilling a hole for the mounting hardware OR using self tapping screws (not included).
Comes With:
Maxton Design Rear Spats
Mounting Kit
Mounting Manual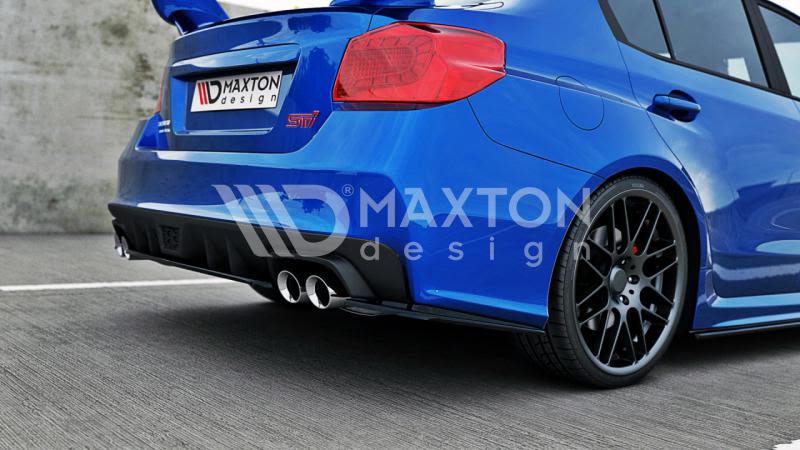 ---
Rear Spats are black in colour. Rear Spats come ready to install in a gloss black finish. Drilling is required. All mounting hardware is included.
Product is made of ABS plastic.
ABS material was created specifically for use in the automotive industry.
ABS is used in production of factory bumpers and other car body parts.
ABS products are characterized with increased strength and flexibility.
1 customer review
Okay, but disappointed

Anthony October 21, 2020

By

These spats appear nice and sturdy with a smooth finish, but in the end, for the price paid, I am disappointed. Definitely not a 10-15 minute install. Similar to a lot of other add-on pieces, all holes have to be started and drilled out yourself (I guess that is evident in the pictures). There are dimples for the approximate location of the four holes per spat, but no actual holes. You'd think they could give you one (at the front) as the starter hole, but nope. Also, my parts bag was missing one M6 lock nut. You are supposed to get 8, but I only got 7. I had the correct quantity of M6 bolts and washers; just short one nut... again, not expected. I have Rokblokz and the fastening system does not interfere with the installation of these spats; however, the leading edge of the spat does make contact with the flap and I'm contemplating having to trim the spat for a more flush fit. Also, don't forget to remove the protective plastic each spat is wrapped in.
QUESTIONS & ANSWERS
No questions have been asked about this product.
Upload images for this product