COBB
COBB Stage 2+ Big SF Power Package (Resonated J-pipe)
2018+ WRX
Ships for free in the 48 states
SKU: SUB004RW2PWe price match!
In response to recent developments, we have decided to remove select items from sale to ensure we are compliant with all applicable emissions requirements
Save a little money and get the performance gains you need to boost your WRX from stock to tastefully modified.
NOTE:
The Accessport currently works with USDM vehicles.
Note:
USDM 2019 Subaru WRX (6MT Only). Subaru Accesstuner software has also received updates and new tables/monitors for select vehicles. USDM 2019 STI and WRX CVT owners, don't fret. We will be rolling out support for those vehicles very shortly!
Details
In response to recent developments, we have decided to remove select items from sale to ensure we are compliant with all applicable emissions requirements
This kit combines some of the most popular performance oriented parts from COBB Tuning and let's you save some money along the way. This is a perfect combination of items to go from stock to modified.
Contents
Accessport V3
3" Stainless Steel Resonated J-Pipe and Cat-back Exhaust
Big SF Intake
COBB Vehicle Badge
---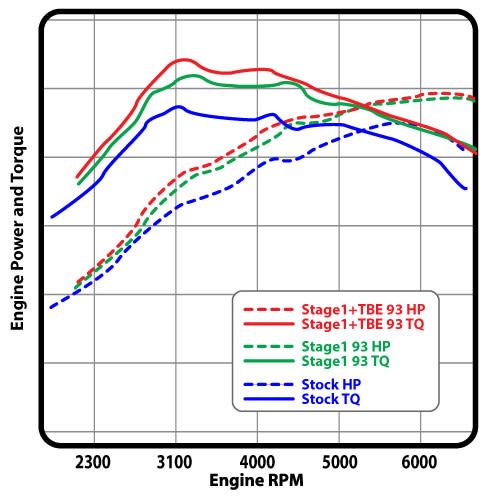 COBB Turbo Back Exhaust
COBB combines their SS 3" J-Pipe and Cat-Back exhaust to create the ultimate exhaust solution for you 2015 WRX! Simple bolt-on installation of these components offers excellent power gains, outstanding build quality and an impressive exhaust note. The Turboback includes:
The Turboback requires secondary restrictor pill removal. Click here for instructions.
COBB 3" SS 3" J-Pipe
COBB SS 3" WRX Cat-Back Exhaust
2015 Subaru WRX Stage1+TBE Results
Peak Gains: +10% HP / +15% TQ
Max Gains: +18% HP / +17% TQ
---
Exhaust Video
---
Subaru SS 3" J-Pipe
The COBB J-Pipe replaces what is traditionally referred to as the "downpipe" on previous Subaru vehicles. With the relocation of the turbocharger for the 2015+ WRX, the first section of exhaust no longer requires a downward turn but instead uses a sharp "j-turn" to route exhaust towards the back of the vehicle. During testing, COBB discovered when running a stock cat-back with an upgraded J-Pipe, there was a resonance issue when cruising at highway speeds. Thus, they have gone a step above and beyond to offer a resonated version to customers that want to keep their stock cat-back. You can also use the resonated J-Pipe if you want to quiet down the turboback system!
Features:
200 Cell Metal Substrate High Flow Cat
3" 304 Stainless Steel Construction with Resonator
CNC Mandrel Bent Tubing
Cat-Back Connection - 3" Flat Flange or Donut Adapter
Ready to Run with COBB OTS Maps
WRX 6MT Only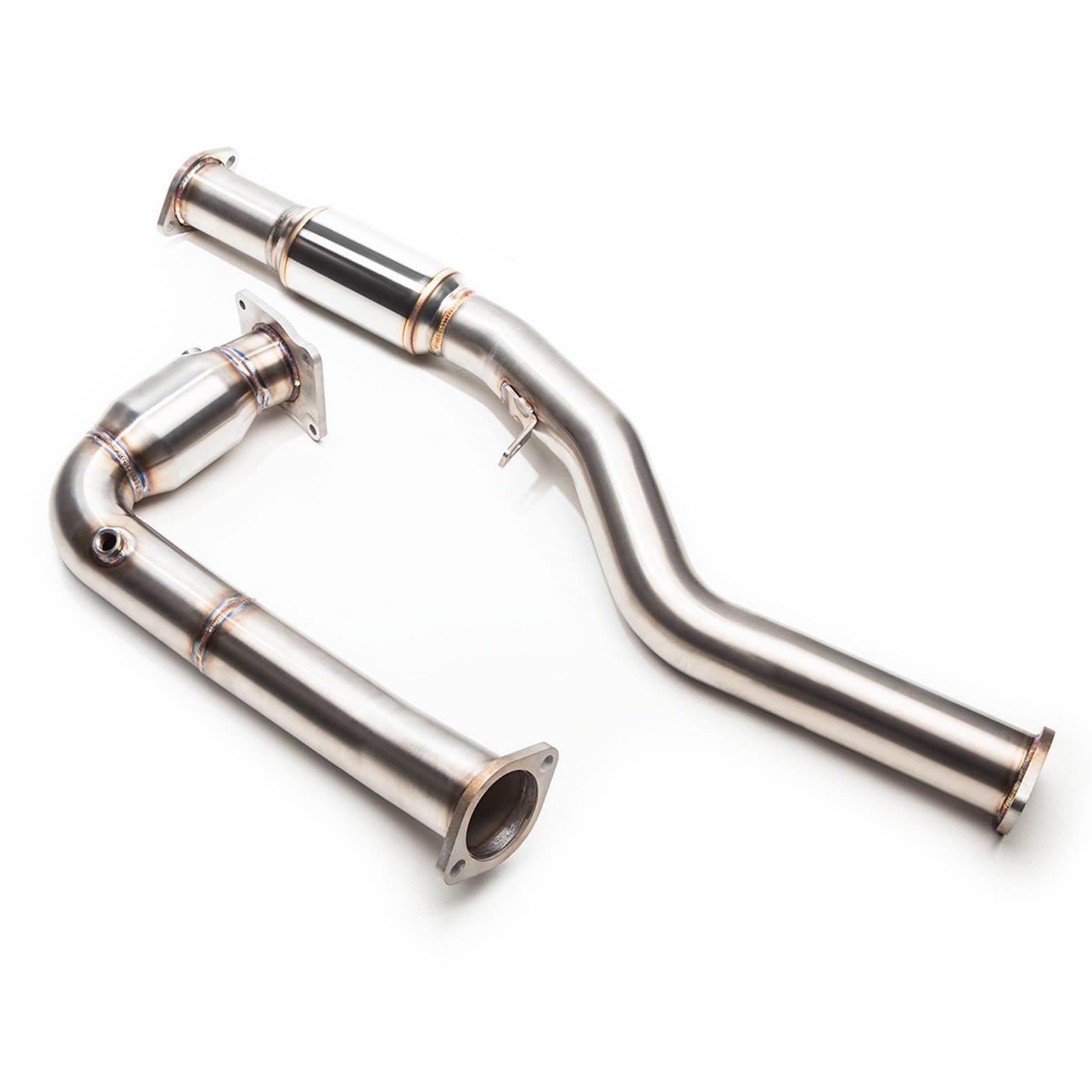 ---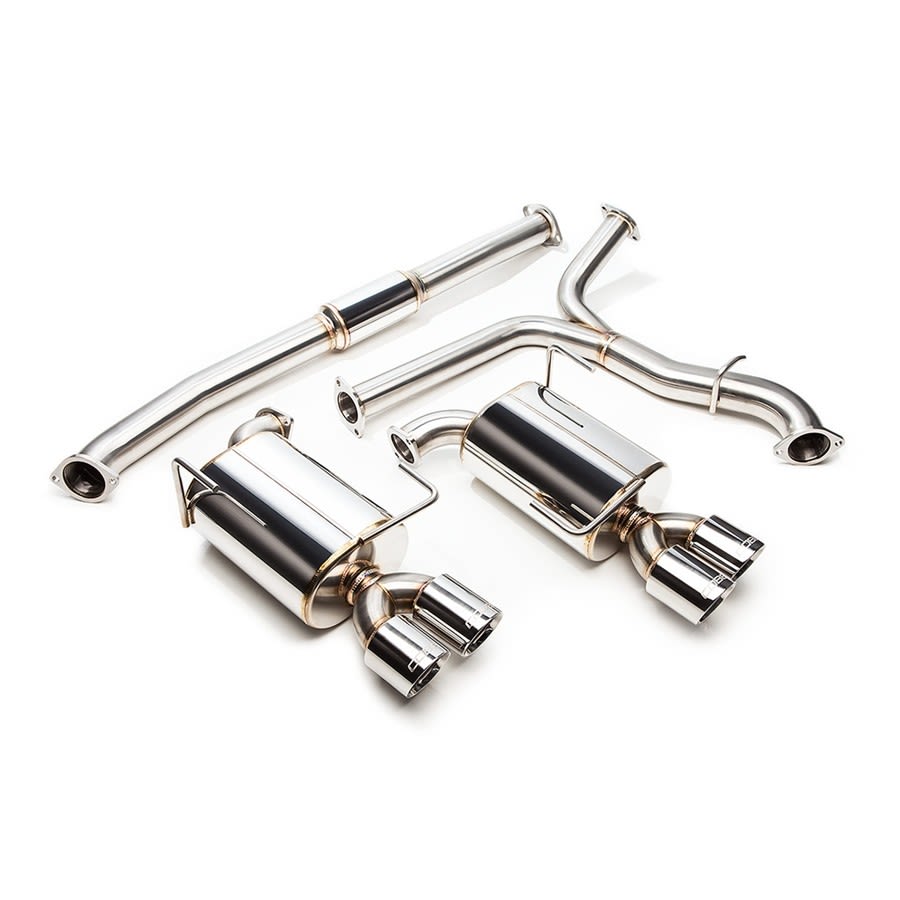 Cat-Back Exhaust
304 stainless steel is used throughout the exhaust construction. All components are meticulously TIG welded for outstanding appearance and strength. Four custom exhaust tips fill the factory bumper cut-outs perfectly, protruding just enough to show off the COBB logos etched into the top of each polished tip. Perfect fitment is achieved with either the Subaru factory downpipe or the COBB 3" SS Downpipe. The COBB 3" SS Cat-back Exhaust for the 2015 Subaru WRX/STI is a triumph in design and execution. Install the COBB 3" SS Cat-back Exhaust on your WRX/STI and experience performance like no other.
Features:
2.5" & 3" 304 Stainless Steel Construction
Ready to run with COBB OTS Maps
Quad 3.5" Tips
CNC Mandrel Bent Tubing
TIG Welded
Hardware Included
*The Turboback requires secondary restrictor pill removal. Click here for instructions.
---
Big SF Intake
This intake for the 2015‐2016 Subaru WRX is constructed of full 3" aluminum tubing, a custom aluminum airbox, and a dual cone intake filter. Mandrel bent and powder‐coated black, the 3" intake tube and custom airbox look great in the engine bay and increase airflow potential substantially. The reusable Green filter can be cleaned and re‐used for the life of your vehicle!
Note: Proper tuning is REQUIRED for this intake!! Use associated +BigSF OTS Maps or have your car tuned by a Certified Protuner
Black 3" Mandrel Bent Aluminum Tubing
Black Airbox with Laser Etche
Dual Cone Green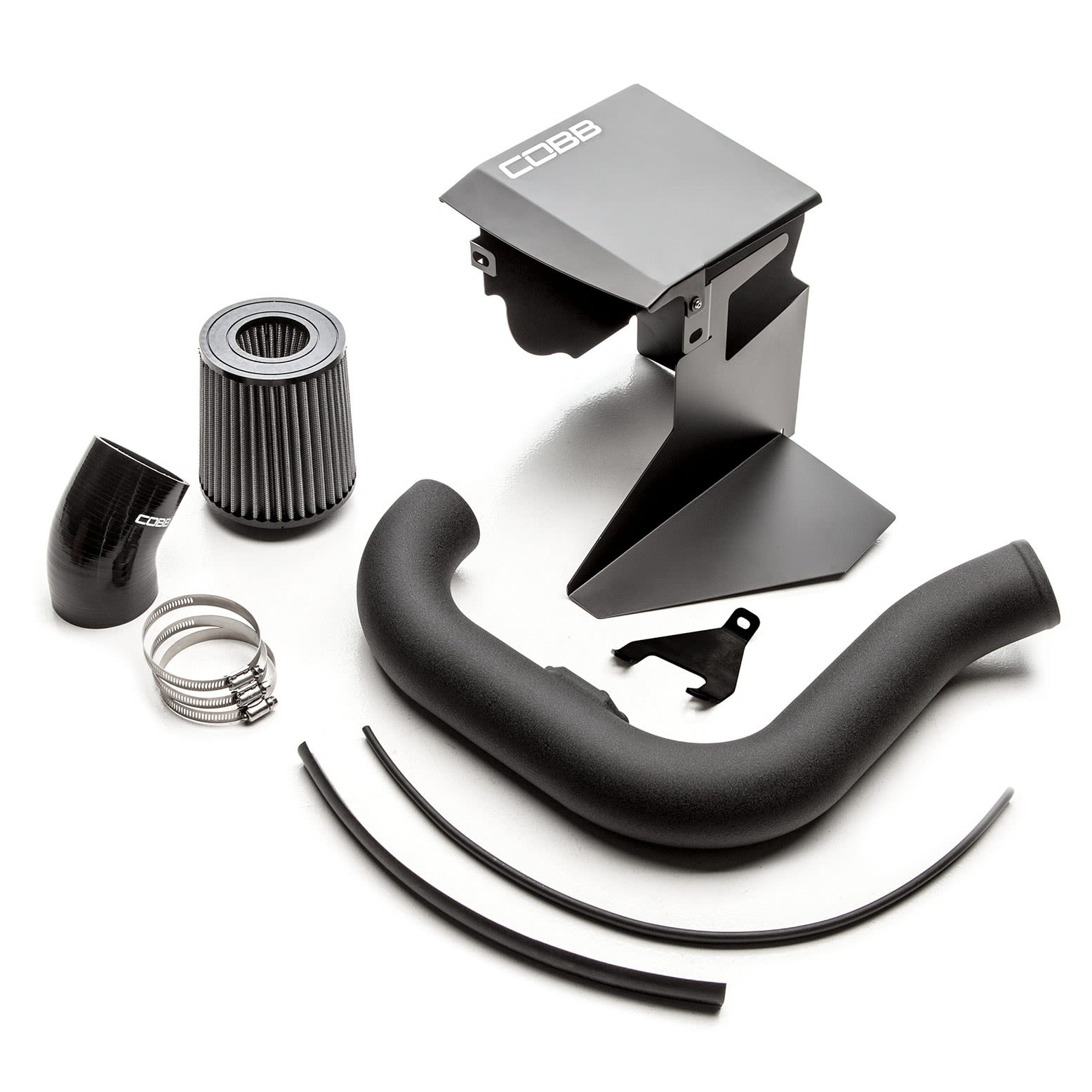 ---
COBB Accessport
The Accessport is the world's best selling, most flexible, and easiest to use ECU upgrade solution for your Subaru. Unlock power hidden within the vehicle by replacing conservative factory settings with more aggressive calibrations. Follow their staged upgrade path with pre-loaded Off-The-Shelf (OTS) maps or use custom mapping for any modification level. It's the last engine management solution you'll ever need.
6 Speed and CVT Tunes available!
SubiSpeed First Impressions
---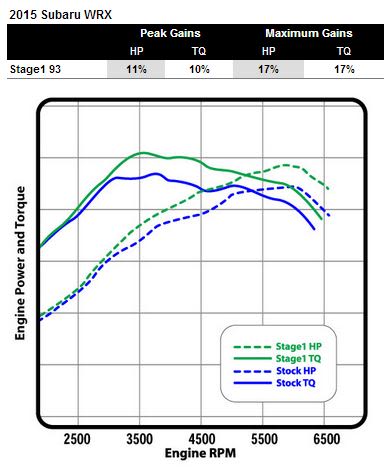 PROVEN GAINS
COBB has a proven record of pushing the WRX past its factory power while maintaining reliability and driveability. Don't trust your brand new vehicle in the hands of just anyone. COBB's Accessport is a great value and its price point matches what many tuners charge for just a standard tune with no hardware.
With the Accessport you have a product which can be unmarried from your vehicle and be reused in another!
*Stage 1 93 octane and Stage 1 91 octane maps are currently available!
*As with all handheld tuners, we recommend that you connect the device to your computer and check for updates prior to vehicle installation.
Optional Accessories
Anti Glare Protective Film
High definition protective film and cleaning kit for your Accessport V3. Light Matte Finish. Reduces glare by about 25%. Minimal noise/pixeling, Highly scratch resistant and Fingerprint resistant.
A-Pillar Mount
The Accessport V3 A-Pillar Mount attaches to the driver's side A-Pillar. The swivel allows the driver to set the angle of the Accessport for optimal viewing. Installation is simple and quick. The mount uses the spaces between the panels with no need to dismantle the interior and no damage is caused by proper installation. Mounting your Accessport to the A-Pillar with the ProClip USA Vehicle Mount will keep your device in the perfect location. You'll be able to view the data being displayed on your Accessport without taking your eyes off the road!
QUESTIONS & ANSWERS
No questions have been asked about this product.
Upload images for this product