Private Label MFG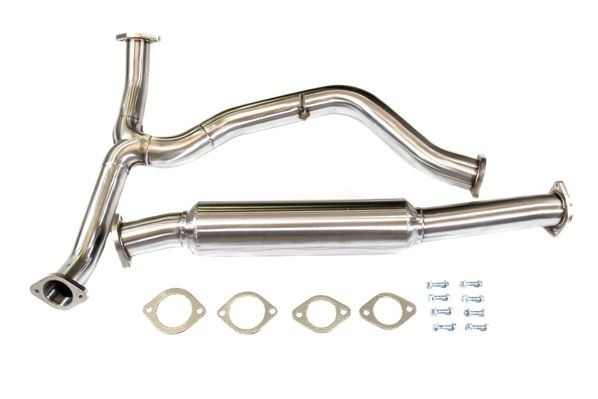 PLM Resonated Midpipe Kit for Axle Backs
2015+ WRX / 2015+ STI
Ships for free in the 48 states
PLM Private Label Mfg. Power Driven 3" Resonated Midpipe Kit for Axle Backs - Subaru WRX STI 3" 2015-2019 was made for maximizing HP gains, more flow, more Power, more Torque & more Sound without sacrificing ride height. For PLM Axle Backs - Also Fits Remark Axle Backs
Details
PLM Resonated Midpipe
---
PLM Private Label Mfg. Power Driven 3" Resonated Midpipe Kit for Subaru WRX STI 3" 2015-2019 was made for maximizing HP gains, more flow, more Power, more Torque & more Sound without sacrificing ride height.
CNC mandrel bending allows for a constant tubing diameter throughout the bend, which results in precise fitment as well as improved exhaust gas flow. Each system is fitted with a resonator, includes stainless steel flanges, and area direct fit to our muffler deletes / axlebacks ( not included) to be finished off with a straight-through, low-restriction racing muffler for uninterrupted flow.
Features
Brand New In Box
Made of Stainless steel
Fits Subaru WRX STI 2015-2019
REPLACEMENT GRADE 8 NUTS AND BOLTS
Machined CNC-ed flange
Stainless Steel Construction
Precision CNC Mandrel Bent
DOLPHIN TIP MUFFLER
3" split to 2.5"
Gaskets and bolts included
Resonated Version
Professionally Tig welded and assembled
Direct bolt on easy installation to PLM Axleback (please note : this product MAY NOT fit other axleback systems)
Works with PLM and Remark axle backs to convert to full cat back.
Upload images for this product