Details
Subispeed Air Freshener
Give your vehicle a tune-up with a new fresh scent from SubiSpeed. A one of a kind smell that everyone loves.
Car air fresheners have been around for ages and almost everyone has one inside their cars these days. Just like any other type of air fresheners, car air fresheners are designed to keep the car smelling nice at all times and to rid the car of any nasty odors that might otherwise make the drive unenjoyable. And that's exactly what our team at SubiSpeed did, we put endless hours into perfecting our SubiSpeed Air Freshener.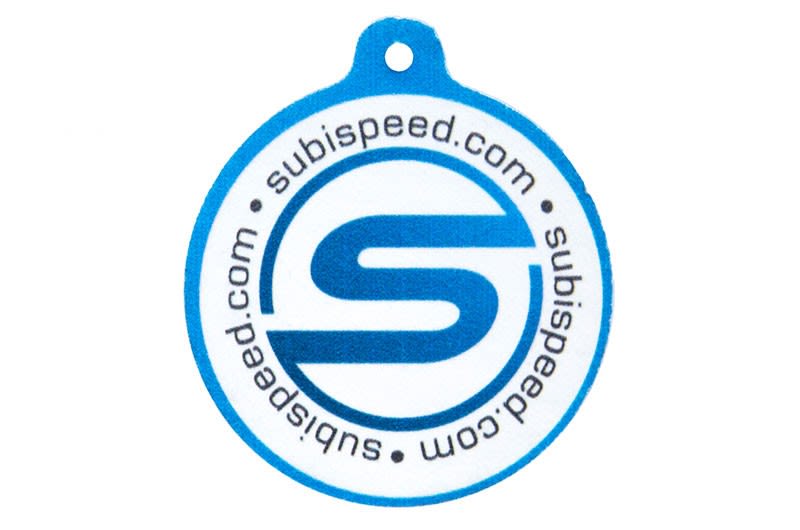 ---
Featured In Subispeed's New Products February Video
10 customer reviews
Pretty good

Chris March 14, 2022

By

Smell is pretty good. It has a nice clean smell that isn't overpowering. Lasts about 2 weeks before it starts to fade.

Great look!

SG December 20, 2021

By

Dual purpose! Must buy if you are already buying something from the website

Smells Great

Michael ;) April 14, 2020

By

I like the scent, satisfied.

SMELLS GOOD AF

Marvin September 18, 2019

By

The smell is awesome and unique. Never using anything else for my car!

Amazing

Angel February 14, 2019

By

I love this.!!!!! I'm going to order like 1 every order I place here .!!!

OMG

Nick March 15, 2018

By

These thing smell amazing!! I actually order only 1 and you guys sent me 2 and I'm totally gratefully, I will also be ordering more and I would say that for $1.00 I would add one to every order. definitely pick up 1 or 10. WOW this thing smells awesome.....

Good scent gonna reorder

Quinton March 12, 2018

By

Really good air freshener should start including these with orders

ERMAGAHD XD

Dylan February 18, 2018

By

What an amazing scent. Unlike any other air freshener I have had yet. I bought two just to try them out and see if I would like it, and now I know I will have to buy more! One of them did arrive broken out of the packaging, but it's not the end of the world. Anyone thinking about it, just give them a try. I guarantee you'll like it. You should definitely start including this with orders!

The best air freshener out there!

Jason January 18, 2018

By

I remember when they included this with an order. I liked it so much I called and asked if it was for available for sale. They told me no, only as a complimentary thing, so I was told they would include a few extra on my next order. Now they have it for sale and I think I'm going to buy a few. Awesome!

Amazing

Sti Adrian January 15, 2018

By

The smell is awesome! just ordered 20 lol
QUESTIONS & ANSWERS
No questions have been asked about this product.
Upload images for this product