SubiSpeed
SubiSpeed V2 Redline Sequential LED Headlights
2018-2021 Subaru WRX Limited & STI
Here we go. Finally a solution for Subaru vehicles that were equipped with LED headlights for model years 2018-2020. This is for you, 2018+ WRX Limited / STI owners.
Please see notes about functionality in the main description below.
NOTE: Not compatible with the OLM K.I.S.S. fog light kit. If you have a 2015-2017 WRX / STI or 2018+ WRX Base / Premium, please visit our original headlight listing.
Details
SubiSpeed V2 Redline Sequential LED Headlights
---
Special Edition
15+ WRX / STI owners have become very familiar with our first headlight. Their feedback has encouraged us to create a special edition with a few updates.
The vertical fins inside the housing are still lit, however the sequential turn signal feature has been moved to the C-light. The LED covers are darker. Also the orange reflector isn't as noticeable as before. The red line that was present in the prototype has returned to this full production unit as well.
Since this is a special edition, there is no DRL only version available.
COMPATIBILITY: Works with ALL 2018-2020 WRX Limited / STI models. Please see note at the very bottom about the SRH light. For other models, please see our original listing.
Subispeed Headlight V2 Showcase
---
Vehicle Compatibility
2018-2020 WRX Limited
2018-2020 STI (all models)
---
2013 Concept WRX Inspired
This vehicle was praised by enthusiasts across the world for its modern look. Subaru's attention to lighting impacted the 2013 New York Auto Show and brought immediate attention to the next generation of the WRX . Once production models hit the market, it was apparent they were inspired by the concept model but still far from them design wise.
---
Specifications
Full LED headlight
LED High / Low Beam in one projector
Vertical light fins
C-light with sequential turn signal feature
Plug and play compatible
Due to various regulations, the sequential turn signal feature can be turned off.
---
WARRANTY
All SubiSpeed head lamps will be properly serialized and backed with a 2 year warranty.
Existing DRL Harness Notice
If you are already using an existing DRL harness that utilizes the high beam AND low beam slots, you can piggyback the new one onto the HIGH beam add a fuse. Please do not connect it to both the low beam and high beam fuse.
---
New Harness
This new harness allows you to connect this lamp to your 18-20 WRX Limited and 18-20 STI.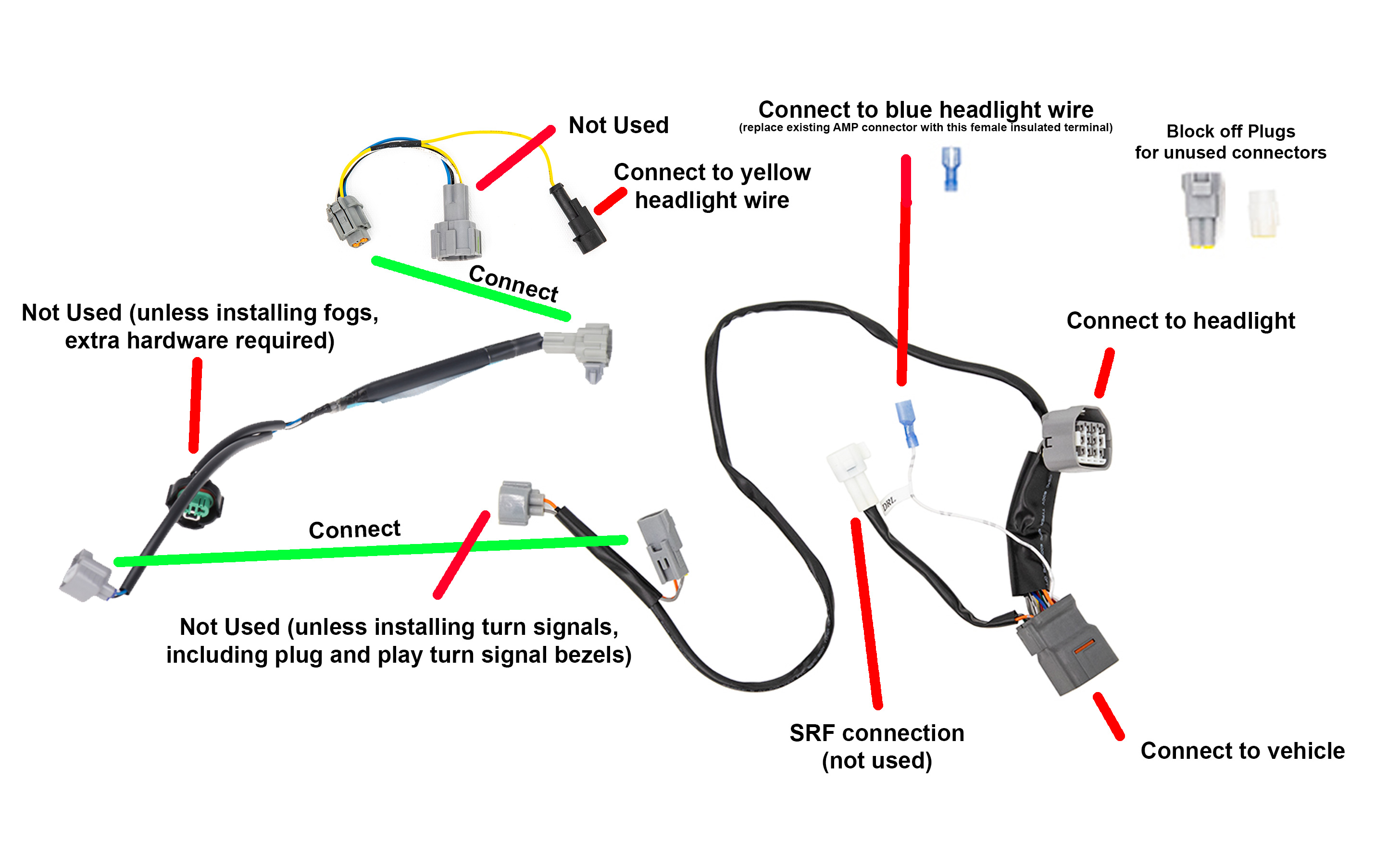 Update (post 1/7/2021 sales)
Plug and play connection has been added to the DRL setup. See new diagram.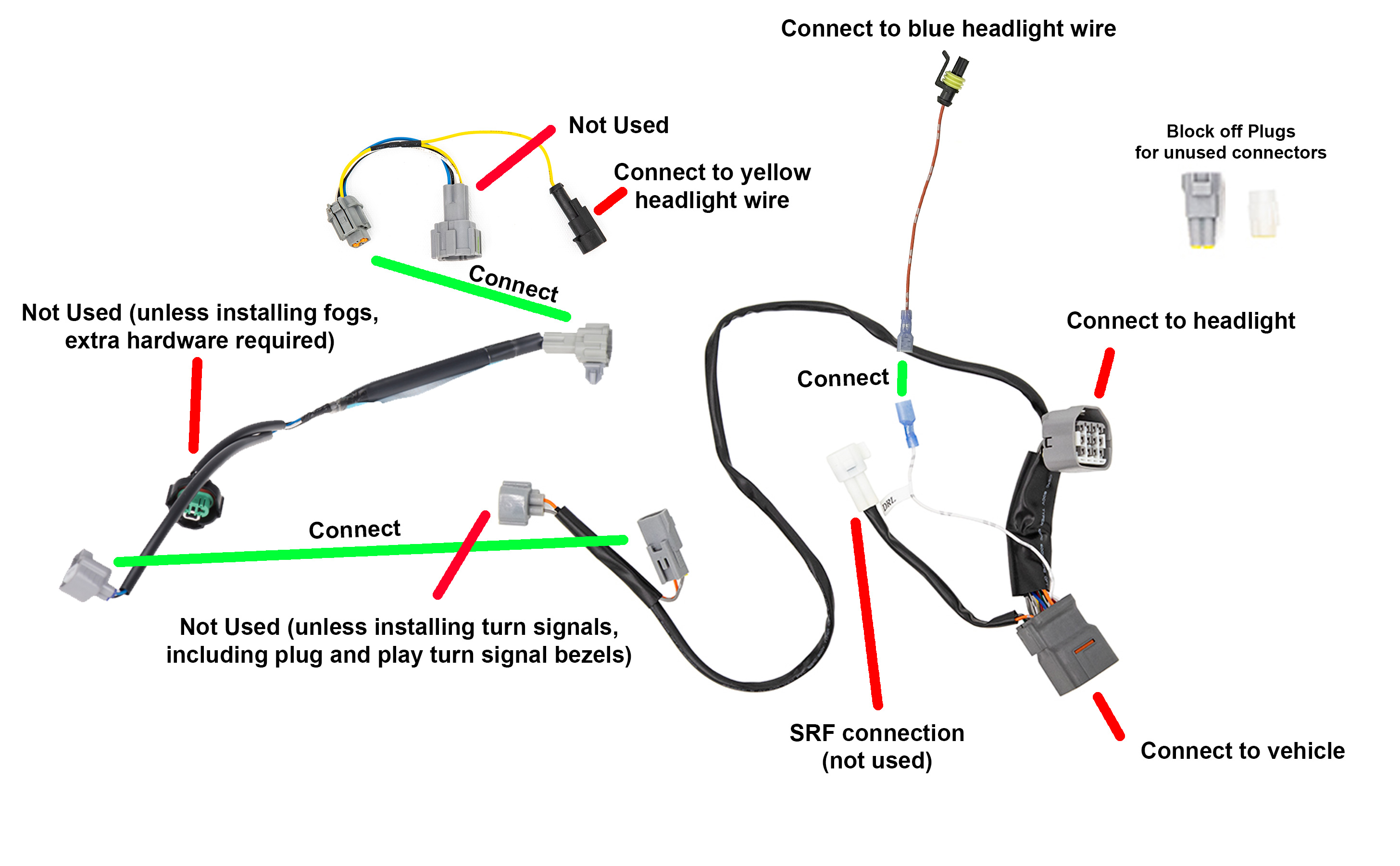 ---
SRH Light
NOTE: There will be a small SRH light in your center display (speedometer cluster). Included with this kit are two "knock out" patches. We recommend using the SRH patch, but use of the "i" patch is up to you. This modification is simple and reversible. It does not cover any important menu items. Turn the vehicle on so you can see the location of the lights. The speedometer cluster trim is held in by two screws and the actual cluster by 4. You only need a screwdriver to remove it from its mount. After you pull it forward a little, you can get the clear plastic cover off by releasing the tabs. Then apply the "knock out" patch over the light.
Smoked Headlight Overlays
If you want to darken out the sidemarkers and the corner of the headlight lens, check out these overlays by Sticker Fab. Click here.
People who viewed this item also viewed
10 customer reviews
Don't buy them

KB May 16, 2023

By

There's no way of replacing any bulbs. After a few years they stop working and you have to buy new headlights.

Good quality installation is a little difficult

Jbutt April 1, 2023

By

The product itself is great, but there was a little trouble with the wiring for me I had to manually splice some wires. Other than that the fit is great. Only problem is now I have a warning on my dash (No SRH)

Easy Install

Alee January 18, 2023

By

Easy install and gives the car an aggressive look

Very Nice

Willy December 1, 2022

By

Definitely pricey but if you have the extra cash they look sick af. Had a problem with the DRLs going out after a few months but it was due to a blown fuse. Haven't had any issues since!

Total facelift

Brandon November 23, 2022

By

Makes the whole front end of the car look real aggressive and the sequential function is a showstopper. 10/10

Great customer service

Dave September 25, 2022

By

I got a pair of these about a year ago and within the first 2 weeks the DRL's went out in both lights. I emailed customer service and they sent me out a new pair within a week. Since the new pair I have not had any issues. They look great at day or night

Amazing look

Blugatti April 12, 2022

By

Recently installed these on my 2021 WRX and it really gives it that mean look, love it

Overall satisfied

Blugatti March 30, 2022

By

Just put these on my 2021 WRX and it is amazing

Hyperblink issue

Daniel April 4, 2021

By

Have a 2019 WRX series gray model, installed these headlights and instantly had a hyperblink issue with the regular and sequential turn functions. Even after replacing the flash relay with the LED relay supplied I still had the issue. Looked around online and found out by sanding down the relay internally it would fix the issue. By doing this I was able to get the regular turn function to work but still have the sequential hyperblink issue. I have JDM style sequential tail lights installed as well so don't know if this is causing an issue too. I have a feeling it's a flash module problem but don't know for sure. I've ordered relays to see if it will help this issue. Will update if anything changes.

Great!

Bryant March 4, 2021

By

Would recommend. Easy installation. The headlights are very bright
QUESTIONS & ANSWERS
No questions have been asked about this product.
Upload images for this product