OLM
OLM Silverline S4 Style DRL Fog Light Bezels
2015-2017 WRX / 2015-2017 STI
Ships for free in the 48 states
OLM Silverline bezels are part of their value series which result in premium looks at an affordable price.
NOTE: Bundle does NOT include fog lights.
Details
The success and popularity of the VA chassis WRX / STI has resulted in many manufacturers producing vehicle specific parts for it. These OLM Silverline S4 bezels are offered as an alternative to pricier options on the market.
It has the look of a USDM fog light bezel with the JDM light bar running across it. Unlike the OEM JDM piece, the LED board runs across the whole length of the bezel creating a bright, uniform appearance from end to end.
No modification to the bumper cover is required for installation. Sold as a pair.
NOTE: Bundle does NOT include fog lights.
S4 Bezel Comparison
---
Color Comparison
While all monitors are different, this picture should give you an idea of overall light output. Since they were all shot in the same conditions and with the same camera settings, you can tell which products have a warmer color output vs a cooler color output.
Layout
Upper Left - Diode Dynamics C-light
Upper Right - Morimoto C-light
Lower Left - SubiSpeed S4 Style Bezel
Lower Center - OEM JDM S4 Bezel
Lower Right - OLM Silverline S4 Style Bezel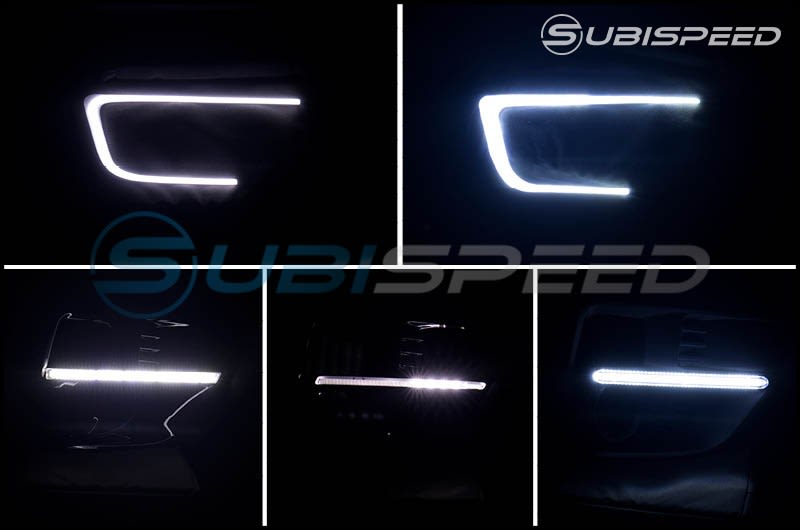 ---
Optional Quick Connect Harness
SubiSpeed has a quick connect harness to make wiring painless. This makes the install virtually plug and play.
NOTE: If you already have the SubiSpeed DRL harness (base / premium / limited), you already have the proper connections for a quick connect setup.
The installation is the same for the fuse box connection, so please view the video here for more details.
Warranty
1 year
3 customer reviews
Good product, but needs some improvements

Stephen August 10, 2017

By

The part fits good, and looks good. I feel like not all the tabs locked in. Wiring for the opposite side is a bit short, so you need to take apart more just to run the wires across the front of the car. The quality of the bezel does not feel as good as the OEM Subaru bezel. The light looks great as my DRL. The biggest issue is the loss of almost all radio reception. I've even tried ferrite beads, which slightly reduced the interference, but not enough to use the radio.

Looks Great!

Chad July 22, 2017

By

Easy installation and didn't have any issues. All the clips didn't seem to snap in but it's still in there solid.

Awesome!

Garett July 21, 2017

By

This product is awesome! So easy to install with the optional quick connect harness ( I recommend getting it ) Only issue I had was running the wires, I'm a very picky person when it comes to running electrical wires. Really makes the bezels pop! Great combo with the OLM fog lights!
Upload images for this product