Sticker Fab
Special Edition Highlighter Yellow Emblems
2015-2021 Subaru WRX & STI
Ships for free in the 48 states
These overlays are the same which were used on our SEMA 2016 vehicle. Please note that the stickers are ultra bright and definitely pop. Fluorescent colors fade faster than normal colors, so please read the description.
Details
SubiSpeed SEMA Car
Our car was wrapped in using this fluorescent color for SEMA 2016. This material is a special run and has a very limited availability. Once stock is deleted, we will have to discontinue the item.
We are offering both interior and exterior overlays. The front and rear emblem overlays install over the blue Subaru logo insert. Fender letters install inside the original fender emblems. Interior steering wheel and shifter overlays are available as well.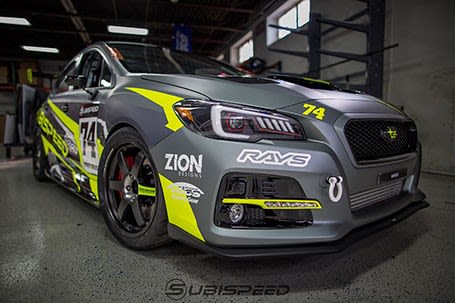 ---
NOTE: Fluorescent colors fade quicker than other colors. 12 month rated durability outdoors. Each item comes with two full sets which can extend the usable life of the product (excluding rear bumper and mirror pinstripes).
---
HIGHLIGHTER FENDER EMBLEM OVERLAYS (WRX LOGO)
This is only available for customers with WRX fender emblems. STI owners can opt to purchase WRX fender emblems and use this inlay. It's brighter than any color on the market. You will not see painted fender emblems with a WRX logo this vibrate. Sold as a set of 4. Save two for install later. It is recommended that the letters be placed on the end of a pencil or Xacto knife to drop in the proper position.
In this picture the overlay is shown on our optional gloss black fender emblems.
---
Highlighter Front and Rear Emblem Overlays
To match the theme of our vehicle, the final touch would have to utilize 3D Carbon Fiber Vinyl with highlighter yellow stars. This premium carbon fiber like material is made in the USA and highly resistant to fading. It's texture gives it a unique look and air egress channels allow for easier installation. It is recommended that you use a little water and even a small soapy mixture to help center the overlay. Once in position, light heat and dry out the water and aide in activating the adhesive underneath.
Comes with 2 full sets (2 front and 2 rear overlays). Frames are sold optionally to replace stock, chrome portion of the emblem.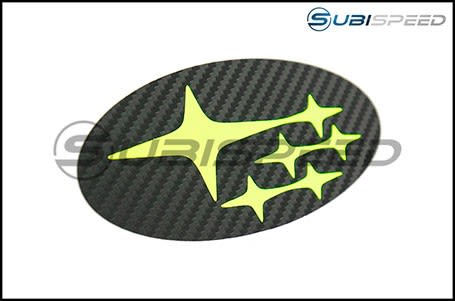 ---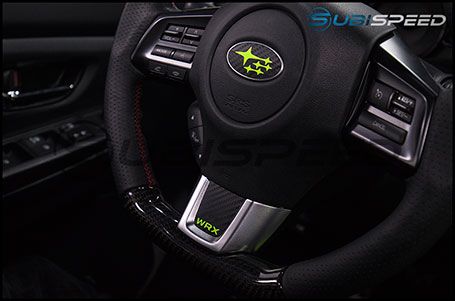 HIGHLIGHTER Steering Wheel Overlays
There are some great areas for vibrant colors inside the cabin of the 2015+ WRX / STI. This is the same 3D Carbon Fiber Vinyl used for the front and rear emblems on the exterior. It can cover the factory emblem on the steering wheel and the lower trim.
Ships with two complete sets. Save one for later.
---
Highlighter Shifter Trim Inlay
This inlay is just for 6MT WRX owners. Cover the dull WRX logo with this inlay to attract attention inside the cabin. The smallest modifications can really make a difference in the overall feel of a vehicle.
Comes with 2 full sets.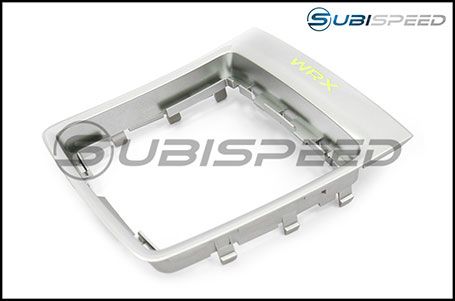 ---
S207 / S208 / Type RA Grille Pinstripe
Accent the front of your vehicle with this highlighter yellow pinstripe. Available in two different versions (depending on model year). Based on Subaru's pinstriping on their special STI models.
S207 / S208 / Type RA Style Rear Bumper Pinstripe
This rear bumper pinstripe stretches right above the exhaust pipes. It spans just about the entire width of the vehicle. Subaru designed this stripe for special vehicles both in Japan and the US. This only comes as a single pinstripe due to its length.
Mirror Pinstripes
These have been popular in standard colors, but will attract even more attention in highlighter yellow. This also only comes as a single pair.
6 customer reviews
Cool

Haley March 18, 2020

By

These look nice. They really stand out. They are pretty easy to put on if your good at that kind of thing. I'm not so I had to pull them back off a couple times to get it more straight. Even after I had to take them off they still stick really good. There is a extra set tho if you really mess up.

STICKERS not emblems!

Devin February 26, 2019

By

Color match is rad! Ease of installation awesome! I should have read the description more carefully. An Emblem is NOT a Sticker, a sticker is NOT an emblem. Emblem overlay is a fancy way to say "STICKER". Very expensive sticker that, YES, does look very awesome! Is NOT an emblem... this is a STICKER... that you place over an emblem... sticker overlay? Emblem overlay? Sticky "not" emblem, overlay? Sticky "sticker like" emblem overlay! Overall when I read the description I definitely expected a true emblem. I got a fancy carbon sticker with color vinyl sticker on top of sticker. Partially my bad, 2 out of 5 for poor product description. Otherwise they look BADASS!

Amazing look, especially on the 18' STi

Manny November 18, 2017

By

These look amazing, especially on the new 2018 WRX STi with the highlighter yellow Brembo brakes. Easy to install and if you mess up they're easy to remove and put back on. Definitely recommend if you want something different that's going to pop.

Nice subtle touch!

Darwin July 22, 2017

By

The color really pops out and that's what I wanted! Vinyls have a very stern adhesive to hold to surfaces but won't leave any residue when you take it off. The only hard part I'd say is the emblem lettering. Please take ur time with those, it doesn't came already placed on the emblems if you do decide to buy the black set. Overall though very pleased!

Nice product

Bob July 6, 2017

By

Easy to apply, Good for someone who wants to make your WRX different than others. Lol

Looks great!

Jordan June 12, 2017

By

The offset in color with these emblems go great and really pop out. Go great with WRB
Upload images for this product