Crawford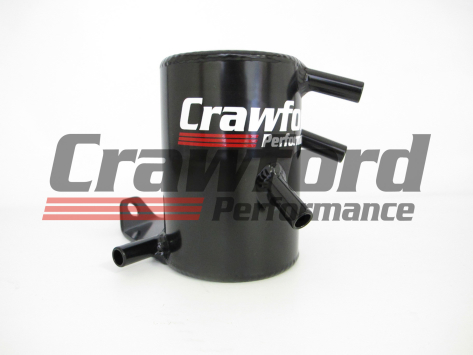 Crawford Performance Air / Oil Separator
- 2013+ FR-S / BRZ / 86
Ships for free in the 48 states
SKU: S0711
Ships today if ordered in
6 hrs 20 mins
Drawing on our 35 years of racing knowledge, the Crawford Closed Loop Air/Oil Separator was engineered and designed to keep all the oil where it belongs, inside the motor. Newly designed for the BRZ/FRS/GT-86 to maintain the OEM PCV valve. The Air/Oil Separator solves a simple problem from the manufacturer; it transfers the oil back into the engine via the block not the intake. This not only keeps the vehicle within specs of smog but keeps the oil from coating the tops of the pistons. So if you want to keep your engine running consistently and strong for years to come make sure you install a race and street proven product from leaders in the industry. Crawford Performance RESULTS NOT RUMORS
Details
Drawing on our 35 years of racing knowledge, the Crawford Closed Loop Air/Oil Separator was engineered and designed to keep all the oil where it belongs, inside the motor. Newly designed for the BRZ/FRS/GT-86 to maintain the OEM PCV valve.
The Air/Oil Separator solves a simple problem from the manufacturer; it transfers the oil back into the engine via the block not the intake. This not only keeps the vehicle within specs of smog but keeps the oil from coating the tops of the pistons.
So if you want to keep your engine running consistently and strong for years to come make sure you install a race and street proven product from leaders in the industry. Crawford Performance RESULTS NOT RUMORS
Upload images for this product

Feel free to share pictures of your vehicle with this product!