Details
Saying No to Silver
We've been looking at the interior of the WRX for quite some time now. The CVT vehicles have had options to cover up their shifter trims for a while, but the WRX didn't have a single thing on the market until now. This subtle change is nice and unique. Choose between matte black or piano black (gloss) trims.
This trim was designed to OEM specifications and is therefore a direct replacement for the original. Installing is easy and can be done by popping out the old trim, popping out the clip which holds the shifter boot in place, and transferring it over to the new frame. Then reinstall and you're good to go.
Looks great matched with the Suburu OEM black door handles.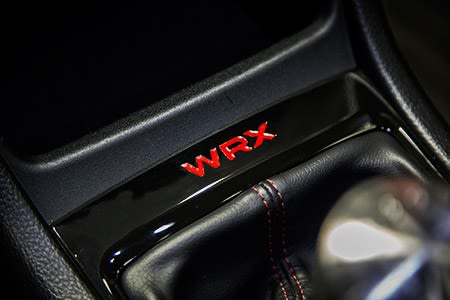 ---
SubiSpeed Install Video
People who viewed this item also viewed
18 customer reviews
Better Than Stock

MattRex January 28, 2023

By

The gun metal OEM shifter trip just didn't do it for me. This one looks way better and is OEM quality.

Okay not great

StepheJZ September 17, 2021

By

I was curious as to why the price of the gloss black with red trim was so cheap so I bit the bullet and purchased. Install was super easy, idk why people complain about removing the boot from the trim. With a flat head came out super easy, didn't even have to remove shift knob, literally 5 minutes. Fits perfect and looks good from afar. Up close the red lettering looks like it was painted by a 1st grader.

Perfect

Wes July 11, 2021

By

Wow, does this simple mod make all the world of a difference! Got the gloss black, eliminating the blinding silver, making it look amazing. Took about 30 mins. Advice when taking off the tabs…use a flat head screwdriver, start with one of the larger tabs and work your way around, keeping up pressure in the corners as you press in on each tab. some of the smaller side tabs I didn't have to mess with, but once you get a couple, you'll get them all. Just take your time.

Finishes interior

Alex December 4, 2018

By

The gloss black look completely finished the interior of my car. The biggest problem is taking off the old shift boot from the old shift trim. It sucks that there isn't a video out there that truly helps, just take your time and you'll get it.

Tight fit

Daniel November 17, 2018

By

The video definitely makes the installation look deceptively simple. That being said start at a corner and start working your way around slowly when removing the boot. I recommend a thin flat head, some sharp needle nose pliers, and a beer. I got the gloss version and my only complaint that there should be more attention to detail to the red lettering at the top. It is nothing major but I am a bit of a stickler when it comes to line cleanliness. I'm going to paint my original and see how I like it without the lettering.

Nice Interior Upgrade and Easy Install

Juice February 12, 2018

By

It took me less than 30 mins to install it. Hardest part is taking out the boot from the OEM piece. This is a nice and subtle interior upgrade especially if you wanna just get rid of the silver interior color.

Why isn't this stock?

r3ing January 5, 2018

By

Always disliked the incongruity of the '15 WRX interior. Carbon with leather with black plastic with silver with chrome (etc). Adding this really cleans up all that design craziness. Easy install, love the look.

Perfect for the Interior

Craig October 13, 2017

By

I bought the matte version, and I must say this goes really well with the interior compared to the original silver trim piece. The red lettering goes well with the red stitching on the boot. Installation was very easy. The most 'difficult' part was removing the boot from the original trim piece, but definitely worth it!

Good

Mario September 17, 2017

By

Getting the leather piece out of the stock trim was a pain but thats something everybody can do with a little time and patience. Maybe its just me but there's a tiny gap on the drivers side of the new trim, might just be my clips though. Other than that, stupid simple to install and it looks amazing, especially when paired with other things like the red E-brake button and steering wheel red/black logo.

Paint

Andrew April 19, 2017

By

I'm very pleased with the way the gloss black w/red letters look. There a few (6) impurities in the paint around the W and R which are causing small bumps. There is also a small pit in the paint right below the R. I'm not to concerned with it because they are small, but it's just a heads up for anyone who need it to be perfect.

Great interior upgrade

John April 9, 2017

By

Get rid of that ugly silver trim piece and order this! It looks great in the car! I couldn't be happier.

Must Have

Jason March 20, 2017

By

Very nice added feature. What a difference! Doesn't seem like it would make a big difference from the stock silver but wow! I got the black gloss with red lettering and glad I did. Super easy to install took about 10 min if that.

Glossy is an understatement

Kyle February 16, 2017

By

This piece is a must have for the interior to compliment the rest. i bought the gloss black with red lettering and it sets the interior apart. When taking out the old piece, make sure you pay attention and be careful not to scratch the trim around the shifter. The clips are a pain, but they give so no problems there. Overall, it's a brilliant piece that you have to have. Don't try painting your own because i tried that and it did not come out the way I wanted, so pick this thing up, you won't regret it.

Looks much better than stock silver piece

Tilden February 15, 2017

By

I bought the matte black surround with red letters for my '15 WRX. It makes a huge difference in the overall look of the interior. As Scott said above, the hardest part of the installation is removing those shift boot snaps. It really ties the interior together!

Better than the shiny stock piece!

Aaron February 15, 2017

By

Still don't understand why car companies put shiny/reflective trim near the driver. This was super easy to install, only took me about 10 mins to get everything apart and switched over, and back to together. Well worth it. One less thing reflecting light at me!

Very nice additionto the interior.

roger February 6, 2017

By

Had been disliking the sliver bezel around the shifter for some time and finally broke down and bought the matte black with red lettering bezel. For a small piece it makes a big difference in how the interior of the car looks. Installing was a breeze and the video showed you how to do it exactly.

Stunning and Perfect Fit!

Joseph February 3, 2017

By

What more can I say, the gloss black with red lettering. This was a piece of cake to install and looks incredible!

Very nice looking piece!

Scott December 2, 2016

By

I bought this piece in gloss black with red letters for my '17 WRX and it's pretty awesome! The gloss black goes so well with the other already gloss trim pieces in the car! This piece in general is a breeze to remove and put back into the car. The most trouble I had was removing the shifter boot from the stock piece to snap to this piece. Other than that probably about a 10 minute job!
QUESTIONS & ANSWERS
No questions have been asked about this product.
Upload images for this product