JDM Station
WRX Matte Black Fender Emblems
2015+ WRX / 2015+ STI
These unique emblems offer your vehicle a completely new look. Remove the factory fender vent and remove the OEM emblem. The new emblem will fit in the exact same manner.
Details
These unique emblems offer your vehicle a completely new look. Remove the factory fender vent and remove the OEM emblem. The new emblem will fit in the exact same manner.
Includes a pair of matte black WRX fender emblems. This emblem is made with a matte black finish. There is no paint or coating to chip. Includes pre-applied 3M adhesive for easy mounting.
All Emblems ship via USPS when purchased alone. This is the safest method available when not shipped with larger items in a box.
SubiSpeed Install Video
---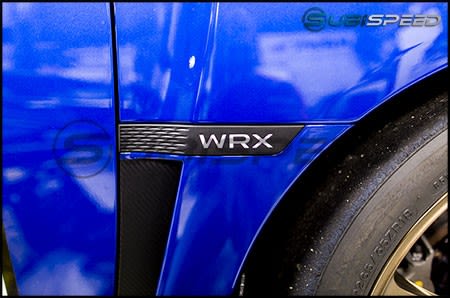 Optional Overlays
These overlay vinyls are easy to apply and give you the option of a variety of colors. Simply use a hair dryer / heat gun and your fingers to press the individual letters into the emblem.
Includes enough to do 4 emblems so you can save some spares.
15 customer reviews
Fitment

Indiana Chons February 16, 2022

By

They look great in the box but the fitment is REALLY bad. Sticks out too much for my liking. Might wrap the OEM badges so that it sits flush in the fender. Major bummer as I was really excited for these to come in.

Doesn't fit my 2019 wrx

Blace November 23, 2021

By

Removal of OEM fender was simple, simply use heat (I used a hair dryer) to warm up the fender, then I had a plastic pry tool to help lift one side. Once I can get my fingers behind, just gently pull and most of the 3M tape came off. When installing, make sure to clean the surface so that the provided 3M tape will stick well. Simply peel the back and stick it on. There are 2 plastic protruding parts that fit into the body of the car, so it's hard to mess up placement. Issue is after... I found that the top corner, closest to the door, is lifted out slightly. It's not due to misplacing the fender or not pressing hard enough. The curvature is simply not the same as OEM. I compared the second piece I haven't used yet and sure enough, it had a slightly bigger curve than OEM. I may just pull these off and stick the original ones back. Maybe I'll spray paint the originals.. it's that bad. I won't recommend for the 2019. Not sure about other years, but it seems older ones may fit better due to the few reviews found on here.

Not a perfect fit for 2019 wrx

Blace November 22, 2021

By

Put these on to find that the curvature is not the same as the original. The end especially (the top corner closest to the door) curves out more than the original so it sticks out and does not stay in the slot perfectly. Both sides look the same. Compared pieces to original and found it's not the same.. not sure if I got a bad batch, but wouldn't recommend this for 2019 wrx (premium). I'll probably resort to painting the original and using 3M tape.

Awesome but be careful

Mike June 7, 2021

By

I love how they look, but I did chip my paint when installing. I used a small interior trim tool wrapped in microfiber cloth to pry the old one off, with a blow dryer on low - still managed to take a tiny chip out of the bottom fender. I ordered some touch-up paint from Subispeed to fix my mistake, but the paint is super thin, especially once warm. So just be careful. They are attached to plastic behind the fender, so you gotta get behind it and pry it off.

Dont Buy

Kevin March 20, 2021

By

The install and everything was straightforward and easy. The only complaint is that the piece isn't the right shape for the car at all I put them on my 2018 wrx without sticking it on yet and when you fit it into place to test the fitment it's complete trash. It's not flush anywhere but that's not the part that bothers me. It's the rear of the piece doesn't have enough bend to match the car so it sticks out A LOT more than the rest of the piece. Don't buy this you've been warned.

Don't Buy

Kevin March 20, 2021

By

These are terrible. There not even the right shape at all for the car. It doesn't fit at all and I don't mean it not being flush because yeah it's not flush but that doesn't bother me to much. They just aren't curved enough for the car and the back ends up just sticking out like a sore thumb even with heat and trying to bend the emblem into the shape of the car no luck the thing sticks out like crazy and it sucks. DONT BUY.

Not happy with the fit

CAB December 31, 2020

By

Not sure why, given all the other great reviews, but these did not fit well on my 2020 WRX. I was very careful about getting all the old adhesive off, but on both sides part of it sticks out a decent amount. It was a little cold when I installed, but don't see why that should make a big difference. I'm gonna switch them out for some OEM black ones that are pricier, but hopefully fit better.

Nice touch

Les from HOU August 24, 2020

By

Maybe was too hot in my garage but will have to pull my passenger side because the front keeps coming loose. Cleaned area and pressed firm but thinking summer heat stopped from securing tight to the car.

Imperfect Fit

Ryan July 12, 2020

By

Got these to replace the chrome ones that come from the factory. The fit is meh. There are definitely gaps no matter how you wiggle them around. They don't fit flush to to body like the stock ones. They stick out and feel like if someone brushed up against them they would peel off. That brings me to the 3m tape on the back. there is some there but its much less than coverage than the stock, so my passenger side emblem is starting to peel off because the tip doesnt have any tape. Apart from all those things, I do enjoy the color. It matches the matte emblems on the back of the car perfectly. I just wish they fit much better. Might have to buy another brand to get better fitment.

Nice bit of kit.

Mych November 4, 2017

By

These are perfect for the look of my Lapis Blue WRX, especially after de-badging the trunk. The chrome fender emblems were a bit much for me. Sturdier and better made than the factory pieces. Definitely recommend. Use a blow dryer to warm up the glue on the old one and then pry it off. Be careful when pulling it off. Do your best to hold down the insert it's attached to while pulling the emblem. Once it's off you can clean the area and apply thr new one. I even heated up the new one a bit prior to application.

Very Helpful

Jayson Z. September 14, 2017

By

I got these in the matte black emblem/badge pack. Overall they help a lot in reducing the amount of cheap plastic chrome on the vehicle. Removing the old ones is a pain if you don't have a heat gun, so use an old blowdrier on it for longer until it heats up. These new ones pop right on and fit perfectly. As with the other emblems/badges, the price is a little steep for what they are.

Worth Every Penny

Anthony April 29, 2017

By

Overall I want to say I am please with this product. It is not a simple vinyl overlay, rather a complete badge replacement. I wanted to get rid of the unwanted chrome and this did the trick! Looks amazing and was simple to install with some goo gone and a heat gun.

subtle beauty

Kurt April 26, 2017

By

I slapped these on a couple months ago and they still look perfect! I'm not into shiny chrome and matte black looks great! I used a heat gun for like 10secs then a piece of fishing string and bam! Then I used a little goo gone and cleaned it up. Watch Kevins video, he makes it really easy.

Simple Styling

Fultron January 11, 2017

By

This product is a subtle change, and looks great. Install is simple and quick.

What a breeze

Claes December 21, 2016

By

This puppies were too easy to install. They look great and the quality is fantastic.
Upload images for this product