OLM
OLM V2 Type A Full Width Roof Vortex Generator (USDM)
2015+ WRX / 2015-2016 STI
After a few months of measuring and remeasuring OLM has created a vortex generator to fit USDM models. Attaches with automotive grade double sided adhesive (included). ABS plastic construction with a matte black finish.
NOTE:
Please read the differences between Type A and Type B vortex generators in the description below.
Details
OLM Version 2 Vortex Generator - Type A
This new vortex generator is larger than the OEM model in all dimensions. It fully extends to the rain gutters and surrounds the factory antenna.
ABS plastic construction with a matte black finish.
2015-2016 & 2017+ Vehicle Fitment
ALL 2015-2016 WRX & STI models CAN use this vortex generator. The charge below highlights the 2017 models it can fit in green. Note that if you have a 7 inch Starlink headunit, it will not fit. However, if you have a 6.2 inch Starlink radio, it will.
2015-2016 WRX
2015-2016 STI
2017+ WRX Premium with STANDARD 6.2" Starlink Radio
The image below shows the 2017 models the Type A vortex generator fits (in green).
2017 Model Lineup

---
2018 Vehicle Fitment
Subaru has been changing things up a lot over the last couple of years. If your antenna measures front to back approximately, 9 1/8" inches, you can use this vortex generator. However, if your antenna is approximately 8 1/2" from front to back, please use the 2015-2016 model OLM / SubiSpeed Vortex generators.
8 1/2" long antenna - use this vortex generators (Type A)
9 1/8" long antenna - use 2017 version vortex generators (Type B)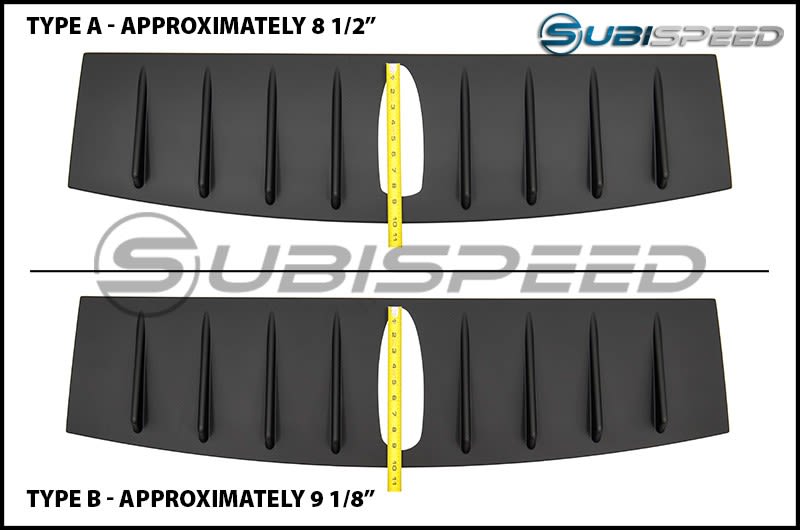 ---
Bolder Design
While the Subaru OEM vortex generator is a neat addition to the 2015+ WRX / STI, OLM's version makes a bolder statement. One of the biggest gripes was that the factory piece did not go all the way to the sides of the vehicle or the back. It also stops half way up the antenna.
Using automotive grade double sided adhesive (supplied), the OLM Vortex Generator can be installed with ease. Alignment is simple because it goes around the antenna and the sides rest in the rain gutters.
---
Vortex Generator Comparison
Featured in March's New Products Video
NOTE: Please do not apply Isopropyl Alcohol to the Vortex Generator during the installation process. This may lead to discoloration. Alcohol is intended for cleaning the vehicle installation surface only.
People who viewed this item also viewed
10 customer reviews
Looks over Quality

Brett June 28, 2021

By

This thing looks great on the car, much more aggressive than OEM version BUT after 3 days of it on the car im already noticing poor adhesion and some warping in the NYC heat. The top corners even with adhesive all the way to edge just dont want to stay down. First one I was sent didnt fit at all seemingly due to warping so not suprised if the plastic used for these is poor quality.

Awesome........

Tyron October 13, 2018

By

Straight forward install and gave my WRX a new look. Glad i got V.2 cause i haven't seen nobody with it on their car so far..... i luv it.

Nice look for an Easy Install

JP January 19, 2018

By

Came with a roll of 3m double sided tape and made installation a breeze. Took me less than 20 minutes to do. Looks great on the car, definitely recommended.

Looks great but...

Jordan May 29, 2017

By

I love that it looks great! I definitely love how it gives the car a more aggressive look! However, I do understand other people's point of view about the installation part. The tape doesn't make it easy to put it on your car. I would recommend it to anyone though!

VORTEX V2

Engle-Jones May 5, 2017

By

AWESOME this vortex G v2 FITS PERFECT!!! mudflaps from subispeed too..

EASY INSTALL

Anthony March 13, 2017

By

Pretty much straight forward installation. But the tape came with it was not long enough. But the tape was durable, durable enough that it was giving me some hard time to re-align the vortex than other than that it was really easy install. Will recommend to anyone :D

Easy Install/Great Aesthetic

Anthony February 16, 2017

By

I am very happy with my purchase of this vortex generator for my '17 LBP WRX. Out of the other options I wanted a more subtle, yet aggressive look and I felt this did the best job. It looks great, super easy to install as well especially since it goes right over the antenna. Subispeed provides you with 3M double sided adhesive tape which was just enough to place on the vortex generator. If you're looking for subtle, but aggressive then this is the generator to get. Tip: when installing, make sure to test fit the generator and push down around the antenna to create a tight seal in the center.

The Good and Not Bad.

Bobby January 26, 2017

By

The Good: The install was easy and smooth. Even for someone with a hint of OCD. The tape install and placement couldn't have been simpler. The Not Bad: I do see where there will be need to replace the tape eventually, and that will be a little work. Overall adding a routine maintenance aspect to the product. The Overall: I like the look, and I have had a few compliments on the look of it as well from random appreciators. I would purchase this mod again for cost and effect.

Awesome fit

Alex January 12, 2017

By

It's easy to install and looks great!

Poor Adhesion

William January 3, 2017

By

I think it looks really nice on the car and the installation couldn't be anymore simple, but I'm not too happy with the tape. After about 8 months or so the tape started separating from the Vortex Generator. The tape stayed stuck to the roof of the car, but pulled away from the generator. Going to have to get some stronger tape and try to re-apply.
QUESTIONS & ANSWERS
No questions have been asked about this product.
Upload images for this product