Morimoto
Profile Prism RGB Switchback LED Halos
Universal
Here's a unique modification for your headlights. Pick a color that matches your mood or your car's theme. Formerly known as Morimoto XBT halos.
Sold in pairs. Ships with REQUIRED LED Drivers. Do not connect halos without LED drivers connected. RGBWA controller also required.
NOTE:
80mm, recommended for 15+ WRX halogen headlights. 70mm, recommended for 15-17 WRX with LED headlights 15-17 STI
NOTE:
We strongly recommend testing the lights before installing them inside the headlight housing.
Details
Profile Prism RGB Halos
With the change of name comes a great feature (formerly known as Morimoto XBT). These are now RGB halos with Switchback override! By adding another couple of wires, you now have the ability to use these as turn signals. Simply tap these into your existing turn signal wiring, and when they are switched on, they will become turn signals essentially. This is done by overriding the current color with an amber blinker. Once the turn signal is turned off, they will go dark for about a second and then switch back to your original color.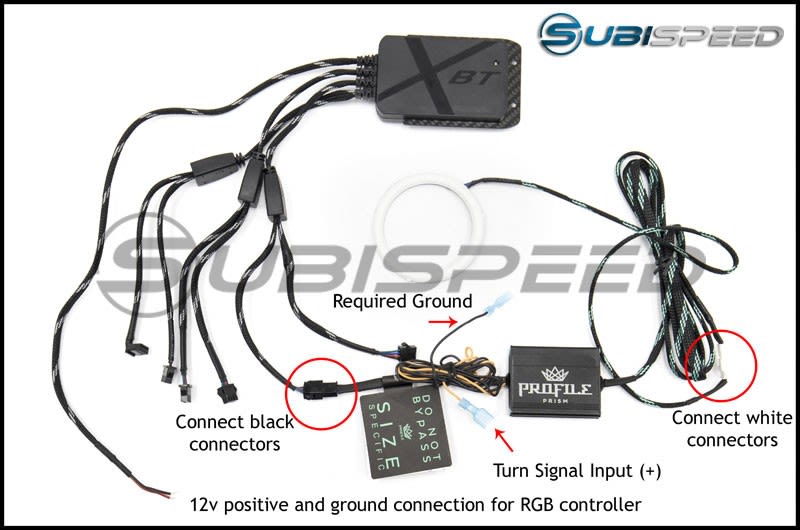 NOTE: 80mm, recommended for 15+ WRX halogen headlights. 70mm, recommended for 15-17 WRX with LED headlights 15-17 STI
---
PROFILE PERFORMANCE: The automotive aftermarket's best name in LED Lighting and when it comes to Universal LED Halos; easily the one we recommend. Fact is that while the rest of the industry is busy sticking their name on a generic or standing still with the same-old same-old; Profile is working hand-in-hand with the industry's experts to produce the performance that we all expect. Their color changing halo kits are unrivaled, and here's why.
WHAT'S WEIRD: Most everybody who buys an RGB setup is crazy focused on how it works in the white-mode...almost as if that's even more important than the rest of the colors. Well, the good news is that the new XBT rings and their drivers have been tuned to produce an amazingly clear, neutral white, as well as an amber, and every other color in the spectrum for that matter. When paired up with the new XBT Controller & smart phone App, these produce very accurate colors...reds, blues, greens, teals, purples, pinks...you name it! (and white...and amber!)
UNIFORMITY: We've never seen an RGB ring produce such uniform, bright light. An updated blend of phosphorous silicone coats the front face of the XBT LED halos and is responsible for their neutral "white when off" look and their amazing, uniform intensity - which is unlike anything else on the market. If you want to go for the "braces" look with all those exposed, spotty LED's...go for it...but you wont find any of that old-school stuff here.
EZ-MOUNT: There are three micro-mounts integrated into their backing, making the XSB's the easiest and cleanest rings on the market to install. (Patent Pending) Now you can forget about failing glue or wires wrapped around the face of your halos. Don't be "that guy" with dripping glue or picture hanging wire visible inside your headlights.
RELIABILITY: The innovative Hybrid-LED color-changing technology delivers a virtually infinite lifespan of 50,000 hours. That's almost six straight years! Because they're based on much more stable and mature SMD-LEDs; they are considerably more reliable between hot/cold cycles compared to "new" COB based products. The complexity of their circuit boards has been minimized to reduce the chance of a failed contact, and the four solder points on the back are protected with resin.
PLUG N PLAY: Unlike competing RGB "systems" that require complicated wiring from the user's side, the XBT LED setup is 100% Plug n Play. There is no wire stripping, cutting, or splicing involved. In traditional Morimoto style; All wiring is insulated by rubber tubing then protected with TechFlex mesh for an OEM-like appearance, durability, and abrasion resistance. The LED drivers are housed inside an aluminum housing that's been anodized with an attractive piano black finish and laser engraved with the XBT graphics. Make sure your setup looks good inside and out!
XBT FAMILY: First-time users will need to purchase the optional XBT Bluetooth Controller to run their halos. You can then expand with up to two more sets of XBT color-changing accessories (more halos, demon eyes, or strips) without another controller, since it can control up to three pairs. While the XBT halos will work with other 4-wire RGB+ controllers; Morimoto's XBT Controller is recommended for the best performance and color accuracy.
TRUSTED: For more than a decade, we've worked hard to earn our killer reputation. Car guys world-wide know that TRS carries the internet's best selection of high performance automotive and powersport lighting products at the best prices, and we've got the best, most knowledgeable team of real enthusiasts to help back it up. If we sell it, then you bet we've put it to the test on our own cars, trucks, and bikes.
Recommended Sizes
For 2015+ WRX's we recommend 80mm halos. This allows the halo to mount safely away from the projector and minimize the chances of failure due to heat.
---
Optional Items
Morimoto XBT Bluetooth RGB Controller
BLUETOOTH BENCHMARK: So you just invested $2000 and plenty of your time building a set of completely custom headlights with RGB accent lighting....you want to control it via bluetooth from your smartphone. Now what? Well, you could either rig up some generic white-box bluetooth controller and download some sketchy app to your iPhone, or you could plug-n-play with the all new XBT controller from Morimoto and control it with their proprietary app that puts the power of control in the palm of your hand!
IPHONE & ANDROID APP: The specialized app works on both iPhone and Android devices. Inside, you've got control over nearly everything! The color-wheel allows you virtually infinite control over the exact hue and intensity of your RGB accessories. Adjustable Fade, Strobe, and pre-programmed color-changing themes provide a handful of special effects to spice it up. If you've got a few favorite combinations, you can save them to your favorites list and load 'em up again later with ease! Watch This Video from our friends at Headlight Revolution that goes over the XBT Controller!
THREE ZONE: The XBT controller is capable of controlling up to three different zones/pairs of RGB accessories. Two pairs of halos and a set of Demon eyes? No problem. Demon eyes, strips, and halos? You bet. You can apply a different color or effect to each zone, or lock them together to easily apply the same settings across the board.
LEGALIZE IT: If you like green, that's great! but it just so happens that white and amber are the only colors that are street-legal inside your headlights. For your safety and convenience - whenever the XBT System powers up (aka whenever you turn your vehicle on) - it defaults the output to white. So when you hop in the car in morning and head off to work - you don't have to worry about pulling up to the parking deck with your headlights still in rave mode because you hadn't had any coffee yet.
PLUG-N-PLAY: Unlike other options out there that require DIY wiring from the user's side, the XBT Controller is 100% Plug-n-Play. There is no wire stripping, cutting, or splicing involved. The outputs are based on an industry-standard JST 4-wire RGB+ setup - making it compatible with most any RGB accessories (not just ones from Morimoto) and it has a 2-pin 9006 male 12V input. Easy!
WHAT A BEAUTY! As if you hadn't already made your decision...the thing just looks plain badass and the quality is apparent from every angle. Pick it up and you'll feel the weight from the potted internals, making it completely waterproof. The combo matte/gloss finish on the injection molded shell is a nice touch, and in true car-guy fashion...we can't argue that the real carbon fiber mounting bracket makes us drool. Mmmm, carbon fiber stuff.
SubiSpeed Sidemarkers
These sidemarkers are a direct fit replacement for the factory orange sidemarkers that come with 2015+ WRX and STIs. This is a great modification to perform when you're working on your headlights.
Upload images for this product

Feel free to share pictures of your vehicle with this product!