OLM
OLM LED Rear Fog / Brake / Sequential Turn Signal Lights and Sidemarkers
2014-2018 Forester
SKU: RBR-FORSJ12-NWe price match!
Adding functionality to your Forester, this light will also look great.
Details
OLM Forester Rear Reflector Upgrade
It's not common for US vehicles to have rear fog lights, while their European and Japanese counterparts often do. These lights are mounted low on the bumper and aide other drivers in low light environments.
These light pops in just like the OEM sidemarker and can be used as a rear fog / brake light / turn signal / standard sidemarker. It is recommended that you wire this up to your stock tail light harness.
T taps included.
---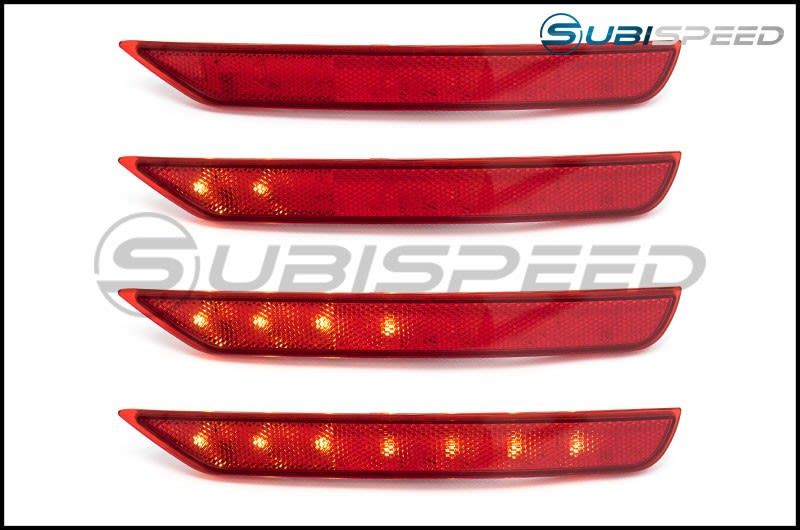 New Sequential Turn Signal
This product has been updated to include sequential turn signals (amber). You can use this in conjunction with the factory turn signals OR disconnect the factory turn signals and only use these OR not use this function at all (leave the yellow wire disconnected).
Wiring
Sidemarker
Black - Ground (-)
Red - Parking / Running Lights (+)
Blue - Brake Lights (+)
Yellow - Sequential Turn Signal (+)
Factory Wiring
Black - Ground (-)
Blue - Parking / Running Lights (+)
Brown - Brake Lights (+)
White with Red Stripe - Left Hand Turn Signal (+)
Green with Red Stripe - Right Hand Turn Signal (+)
---
SubiSpeed Install Video
This video was created prior to the turn signal feature being added.
NOTE: For added weather protection, you can run the wires inside the vehicle to the factory trailer harness and use that to power these lights.
People who viewed this item also viewed
23 customer reviews
Great product while it lasts

Hoosier December 8, 2022

By

Great product, cool aesthetic. Only lasted less than 90 days to individual LEDs have already burnt out with a normal installation. Disappointed in the build quality, but satisfied with the look.

Great until it wasn't

Colin October 26, 2021

By

had these installed for about a year, came out yesterday to half of the passenger side reflector not working. Checked all the taps, even spliced out 2 of the wires, 99% sure the circuitry inside the unit went bad and of course it can't be taken apart. That said i am going to buy another pair because I really like them but I hope I get more than a year out of them this time... if not I will be going back to stock :(

Looks great

Sam August 20, 2021

By

Very happy with these lights. The fitment is good and the light output is very bright.

Best upgrade for the price

Tim June 25, 2021

By

These are super easy to install if you use the included T-tap connectors. I have minimal wiring experience and it took me around 45 minutes. They look great, feel like great quality and make a huge difference to the rear end. When you're installing, the right hand turn signal wire may be either green with red stripe or just a plain gray. On my 2014 XT it was a plain gray NOT the green with red stripe. Other than that everything is the same as in the description

Excellent

Vjscott20 July 22, 2020

By

Just bought a 17 forested 2.5 and with lack of Hp upgrades appearance upgrades are a huge plus on this the price is great shipping fast to nj installed quickly as above stated customer they could be snugger and could have a up to date wiring diagram for the yellow wire overall works great looks great will keep coming back hopefully for more Forster n/a parts !

Great While it Lasted

Eric April 13, 2020

By

I got this for my '14 Foz barely 3 years ago and I love them. Sadly, one of them(driver side) just stopped working the other day. I've checked the wiring and it seems to be okay but to no avail. I didn't expect it to go out so soon.

Blink-up!

Razlan July 31, 2018

By

Just received part yesterday. Within a week of order, fast delivery to Malaysia. Installation was not difficult. If the cables have the same color as the factory cables, would be even better. T-tap was easy but i pray that it could withstand the weather here in Malaysia. Fitting was bad. Not tight enough. I'm afraid after driving on bad road conditions, maybe it will fell of from the car. have to put 4 layer of double tape inside to make the fitting tight. Now, i'm pretty sure people will notice something awesome on my car. Hope it will last forever!!

Easy and Looks Great

Hunter January 16, 2018

By

I've been trying to do a few aesthetic and practical mods to my '14 2.5i and this is one of my favorites so far. Uninstalling the stock reflectors was very easy and the wire tap connectors made it just as easy to install the new lights.They look great and it's fun to see the sequential turn signals when you lock/unlock the car :) Note: the factory tail lights do resit being pulled off but if you pull straight back they should pop off just fine, gloves with some extra grip can help here

Nice Product

Nick November 13, 2017

By

Overall the quality is quite good, however, the fit is not quite as tight as the OEM reflectors because these to not utilize a center stud with plastic retainer like the OEM reflectors. May want to find your own improved connectors and use those for a more professional connection, but you will never see it as it is behind the taillights. Very bright and works as advertised.

Give me a break (light)!

Edward September 17, 2017

By

Good as an additional set of break lights. I only use the break light function (afraid for the cops you know...). Installation is simple. Fits like a glove on my MY 15 Forester and works like a dream. Happy so far! Good customer service too. Quick reply on questions and fast shipping (3 days from USA to the Netherlands).

Easy install

Thomas July 20, 2017

By

These snap right into Forester 2017... easy to wire... only waiting to see the longevity of these leds... pretty satisfied...

Amazing product, install had a few snags but works great

Samual July 16, 2017

By

I have been eyeing these for awhile now, and I had to order something else, so I decided this was the time. They arrived pretty quickly, and they feel like they should be OEM. The video walks you through the main part, and explains the colors. I would say the install would be as easy as possible if the cables in the reflector harness matched the ones on the car. BUT at least this page has the quick color chart at the top, just make sure you print that out / have it loaded on your phone when you go out to the car. The included vampire taps I have never had good luck, and that continues. I wired one side up, and tested them. They didn't work. I pulled the taps, and did a military splice, and they worked perfect. I tossed the bag of the vampire taps and did the rest with military splices and we were all good. To save yourself alot of headaches get yourself a cable fisher / cable threader, they are cheap to buy and they make fishing the cables from the bumper into the light housings a breeze. Once everything was wired, and tested I bolted the lights back up and fell in love. This item I feel is worth more then the price they are currently selling them for which is amazing! They drastically change the backend of your car. One thing to note, with install the tail lights do not have to be connected to test them, I suggest once wired test them, and see if they work BEFORE buttoning up your install

Nice functionality with oem styling

Benji July 1, 2017

By

I first want to express my disappointment that this kit did not come with the T tap style connectors as advertised but came with bulkier displacement style connectors that require a bit of electrical tape or shrink wrap to help secure the connections so that they are not pulled out of the connector. However, I am sure the T tap connectors have their own set of faults. Also, it would be a bit easier if there was a brief wiring writeup so a person would not have to spend additional time sourcing it online. So as far as the lights go they look great and fit is the same as the oem reflectors. They are a nice upgrade for additional rear lighting. Installation was simple.

May be my favorite upgrade yet!

Ron June 15, 2017

By

Installation was super simple. Other than fighting to get the tail lights out everything was a breeze. I love the added light and styling this provides. My only complaint is I bought them before the turn signal upgrade. Subispeed, how about a discounted upgrade program please???

Awesome product

Robert June 2, 2017

By

Super easy instal looks great and ads a nice touch.

Easy install, looks great!

David May 13, 2017

By

Probably one of the more easier things I've done, aside from swapping out my headlights. Only issue is that the video provided is outdated and doesn't tell me what to do with the yellow wire. Since I didn't think the turn signals looked good, I didn't care. 10/10

Love them so far

Kyle May 9, 2017

By

Just installed this kit and love the way they look and function. The only thing I would have added to the kit is a harness to plug into the tail light. I didn't end up using the scotch locks because they aren't weather sealed. I spliced in with waterproof connections and I'm certain these will last much longer. To verify the wiring was correct before splicing I put the stripped wire into the tail light connector. The signal flashed really fast without the tail light being plugged in but it still shows you if you're on the right wire or not.

Easy install. Looks great.

Danny May 2, 2017

By

Installed in less than an hour. Looks and works great! Thanks Dennis for posting wiring help for the turn signals.

Should have came like this from the factory....

JD April 2, 2017

By

Absolutely in love with this mod. Subtle yet very functional. Nice and bright and very noticeable. Easily one of my favorites. Was extremely simple to install and love the fact that it literally functions as rear fog lights, brake lights, and sequential turn signals. You can never have too many lights to increase safety, especially in the rear of the car. Probably the best aspect of this part is that I did not have to swap out the factory flasher relay to accommodate the LEDs while still using the standard halogen turn signal bulbs. That means NO hyper flashing!

Looks Like a Factory option

Dennis January 16, 2017

By

I own a 2016 Subaru Forester. OLM LED Rear Fog / Brake / Sequential Turn Signal Lights are a perfect addition to this vehicle. Others have noted, and I agree, the wiring instructions do not say what to hook the yellow wire on lights to, on the harness. The Video is great for the instalation of the original lights without the sequential turn signals.Follow those instructions for the connections of the Red, Blue and Black wires from the new lights to the Harness.. On my 2016, on the passenger side, the yellow wire on the new light connects to the Green with red stripe on the harness. On The drivers side the yellow wire coming from the new light connects to the White with red stripe on the wiring harness. Hope this information will help anyone who is installing the lights?

Awesome Looking!

Edzel January 6, 2017

By

Just received my rear fog lights right after Christmas. Install is pretty straight forward, the only issue was wiring up the sequential signal lights to which wire. Found the answer from someone's reply on the YouTube comments of this install video; Thank you whoever you are!

awesome... love it

Eric July 24, 2016

By

love it the olm rear fog/ brake light/ additional signal light easy just figuring out the wiring harness black for negative red on signal light positive blue for tail light positive... super love it the way it look in my car ....

Love it ........

Jeffrey June 26, 2016

By

I just installed the rear fog lights and love them.. Install was pretty easy. Hardest part was figuring out how to wire them to the brake lights.. On my car the red wire on the fog went to the the blue stripped wire on the harness. You can't beat the way it makes the car look for the price.. Go for it....
QUESTIONS & ANSWERS
No questions have been asked about this product.
Upload images for this product