Perrin
Perrin Trunk Pull Handle
2015+ WRX / 2015+ STI
Trunk pull handles are showing up in a number of cars, but it's absent from the 2015+ WRX / STI. Give yourself something to grab on to so you don't have to leave fingerprints on your paint or even worse... scrape dirt and mud across your clear coat.
Price is per each. So if you want to replicate the photos with 2 shown, snag 2pcs on your order.
Details
Perrin Trunk Pull Handle
The PERRIN Trunk Handle, add it to the interior of your trunk lid and never have to grab its dirty exterior to close it again!
Check out our do it yourself install video.
---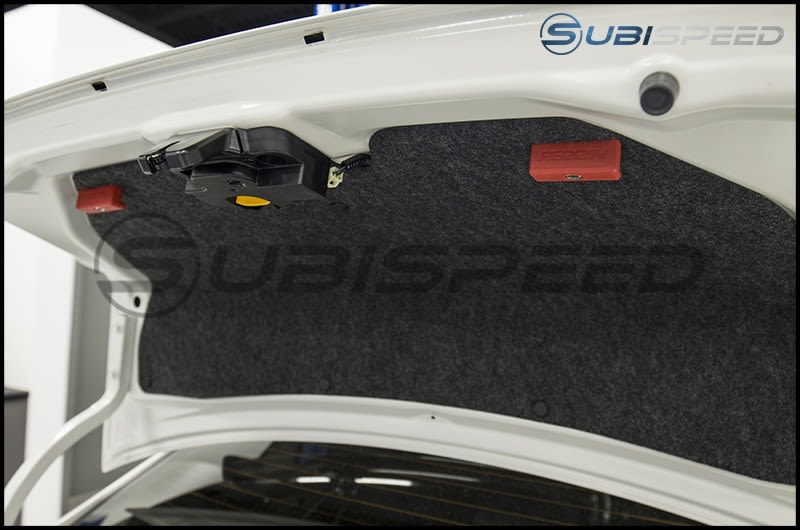 ADDING WHAT SUBARU FORGOT
The PERRIN Trunk Handle is exactly what it sounds like it is: it's a handle for your trunk lid. Since the inside of the trunk lid is flush and has nothing to grab onto, there is nothing to use on the inside to close the trunk. Rather than closing it by touching the oftentimes dirty exterior of the lid, just bolt on the PERRIN Trunk Handle to the interior of the trunk lid to use to shut it while keeping your hands clean.
People who viewed this item also viewed
8 customer reviews
works great

dom September 11, 2022

By

look good

Nice Touch

JVR July 18, 2022

By

For those of you who don't to touch the paint when closing the trunk, it's worth the money. I installed 2 and drilling was non-issue, just take your time and don't rush it.

Great Item to Have

Mitch2411 June 4, 2022

By

Extremely easy install. Adds nice accent to trunk area and keeps you from having to touch the painted areas to close the trunk.

Off the chain

Nycqueens78 March 14, 2022

By

Great add-on … no more grabbing on to the truck .. SubiSpeed thank you for the video Kevin the man .. this is a great addition and suck easy with install thank you guys …

Installed just like in the videos

Chris January 27, 2020

By

Again, great video. the only thing i did differently was I bought a piece of 16th. inch sheetmetal and slid it in-between the sheetmetal of the hole and inside of the trunk lid that your drilling out to enlarge it for the press in nut-cert. This made it impossible for the drill to grab the hole your enlarging and indent or worse drill into the outer shell metal of the trunk. I have learned the hard way in the past and now try to hedge my bet when doing jobs like this, you can cause damage in a heartbeat thats going to be either time consuming, expensive or both, taking a moment to think it through and prevent it is so much easier. Nice product, works as stated, I bought 2, I couldn't make and supply the parts included for less by any means, definitely a value.

For the picky Subaru owner.

Aaron July 18, 2019

By

Simple enough install minus the odd sized drill bit. Definitely love the ability to close the trunk without having to touch the paint.

So helpful

Derek May 26, 2017

By

This is a great little add-on to any wrx sti. Install was simple enough. Quality product will probably buy another one for the other side

Awesome mod

Mike May 23, 2017

By

Got this from Perrin for free to test it out, waited to install till a video came out. Installed in about 10 minutes. I wanted a more hidden install so I used the pop clip location right behind the truck latch (DGM WRX picture included). Great mod to not have to touch the paint to close the trunk and in my location barley noticeable.
QUESTIONS & ANSWERS
No questions have been asked about this product.
Upload images for this product