Details
Perrin Short Shifter Adapter
The PERRIN Performance WRX Short Shifter Adapter uses a unique way of shortening your shifters throws with out replacing or cutting the length of the shift rod.
SubiSpeed Install Video
---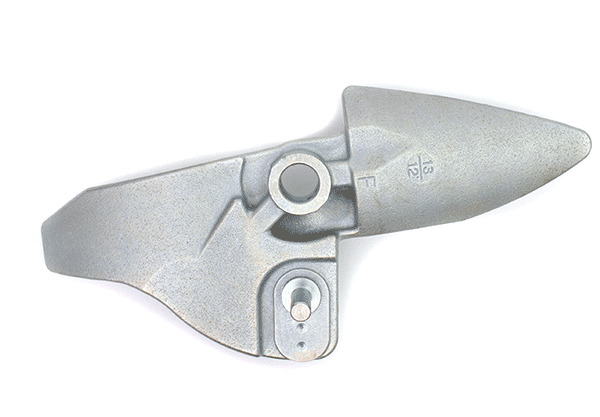 Why you need this part today
Their easy to install shifter adapter makes your shifts feel solid and positive. This should be the first part you put on your car to improve your driving experience; instantly feel the difference. The PERRIN Short Shifter Adapter reduces throw by 30%.
Compatibility
OEM Shifter
OEM Short Throw Shifter
*Boomba Short Throw Shifter
---
Construction
The PERRIN shifter adapter is made from CNC Machined steel and is Zinc-Yellow coated. This coating will guarantee a lifetime of performance without any rust and is perfect if you drive on heavily salted roads. You will never see rust on your PERRIN Short Shifter Adapter!
Installation
The PERRIN shift adapter is easy to install with one of the quickest install times of any 6-speed shifter. Since cutting of the shift rod is not required, this mod does not cause any permanent changes to your WRX.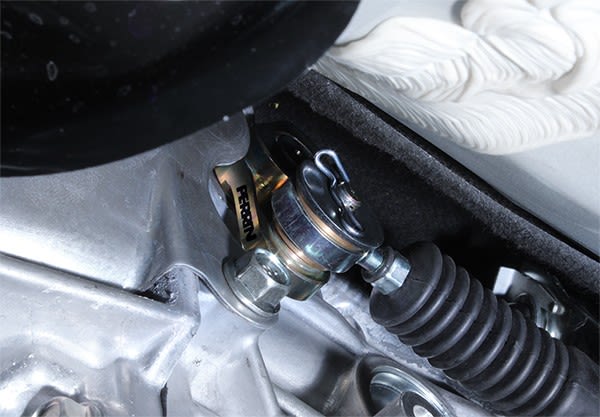 5 Year Warranty
PERRIN Performance warrants to the original purchaser, all PERRIN products to be free from defects in material and workmanship within a sixty (60) months period from the date of purchase. *Some exclusions apply.
Optional Products
We do recommend installing the Perrin Brass Shifter Bushing Kit when installing this product. You will be working in the same area and the added benefit will be noticeable.
NOTE: Please refer to the "additional" tab for installation instructions. *Adjustments may be required to shift stops. Using a short throw shift lever and adapter will reduce leverage.
People who viewed this item also viewed
14 customer reviews
Improved feel, challenging install

Lee October 1, 2022

By

As many have said previously, the install to get the drive pin back in is the hardest part w/o a doubt. Got it mostly in, then gave up. After a few weeks, my shifter came loose and checked and the pin had backed out. Ended up using an old school round file as an extension instead of the punch as the head of the punch just kept slipping off after every hit. This worked well and haven't had a problem since. Definitely an improvement for better driver feedback and makes going thru the gears much more enjoyable, but be prepared for a battle getting that pin back in.

Works

Randy June 24, 2022

By

I'm a certified technician. That being said: this part did not fit my 2020 WRX out of the box. I had to open up the inside diameter by .002 for a super snug fit. Fortunately I am capable of doing so and have the tools to do it, or it would have been going back. Once installed, it is a bit clunky, it is not smooth like the oem one replaced, but it works exactly as described. I do like it, it is noticeably shorter throws, and I would still recommend it. Recommend replace bushing and adding shift stop at same time.

Works

Randy June 24, 2022

By

I'm a certified technician. That being said: this part did not fit my 2020 WRX out of the box. I had to open up the inside diameter by .002 for a super snug fit. Fortunately I am capable of doing so and have the tools to do it, or it would have been going back. Once installed, it is a bit clunky, it is not smooth like the oem one replaced, but it works exactly as described. I do like it, it is noticeably shorter throws, and I would still recommend it. Recommend replace bushing and adding shift stop at same time.

Prepare mind for install

David September 29, 2021

By

As some of you already mentioned the roll pin on this install is definitely a pain in the butt. As far as removing the factory shift adapter the subispeed video is definitely misleading. You can not by any means remove this by hand. I'm a certified mechanic and just wanted my fellow subie lovers to know that this job should be done by a professional. I had old one off and new one on in two hours. Besides the pesky install, I absolutely love this shifter adapter. Very notchy, love the hard solid shifts.

High Quality and easy to install feels great

Joe September 12, 2021

By

I had my OEM shop put it in for me, they said it was easy to install and high quality part, and I think it feels really nice , I wish I have done this sooner

No more long throws

Zachary December 16, 2018

By

I'm 6' and 240lbs so installation using just a floor jack was a pain because of my size and lack of mobility. Other than that, this is awesome and I highly recommend this along with the brass shifter bushing (you're right there so you might as well) and the shift stop.

Do you think you get frustrated easily? If you don't think so you've never attempted this.

Kid May 26, 2017

By

You can check out the installation video here https://youtu.be/Fm-WSnRLnk0 on my YouTube Channel 'The K&R Collaboration!'

Fantastic!

Christopher January 11, 2017

By

Installed this with the Perrin Brass Shifter Bushing at the same time. When paired with the Perrin Shift Stop, running through the gears is a blast! The throws are crisp, short, and overall greatly improved over stock. I highly recommend.

Worth it but a pain in the *** to install

Valery December 14, 2016

By

Huge improvement over stock although I would have bought the Bomba instead of this one since it has the counterweights at each end. Getting that pin out is a huge pain. I actually rented space from a local spot with a 2-post lift to get the car way off the ground.

Combined with Boomba shifter

yacos October 22, 2015

By

I combined this with the Boomba short shifter and was very satisfied. Throws are at least half of stock and make a very satisfying click into each gear. Looks durable and high quality. Tricky to get the roll pin out, but other than that very simple install.

Shift throw just right, very notchy. Install challenging without a lift, right punch.

Senior Tortuga October 9, 2015

By

I have a 2015 WRX with the normal factory shifter. Adding this and the Perrin bushing made reduced the throws by 30% as advertised. I really like the new shorter distance. I'm glad I did this upgrade. This Perrin part has a lot less mass than the factory part you take out. That means you need about double the force to push/pull it into gear and if feels very different. I think the heavier factory part builds just a little momentum and smoothness. Nothing wrong with this - it is a matter of preference. I personally like it, but I expect my wife will complain when she drives it as it does not feel like a 'normal' stick shift any longer. I regret not looking for a place to rent a lift and buying a punch for the install. I think I could do this install in 20-30 min with a lift and proper punch, as it was it took over three hours - most of that struggling with the roll pin. Tips: *You need an extension set for your socket set to do this install. *The higher you can get the car safely off the ground, the easier it will be to drive the roll pin out. *You don't need to remove the clip for the shifter cable - mine was stuck. *You can use a wedge shaped door stop or block of wood to hold the shifter cable and bushing out of the way while you drive the pin out. *I made my own punch as follows (do this at your own risk) - I cut off a 5mm Allen wrench so I just had a straight piece. I put that piece in a tiny socket that fit it closely. I put that socket on a 1/4 to 3/8 socket adapter. I then took my 3/8" impact socket extension and put the socket adapter on that. I wore SAFETY GLASSES and hit it with a heavy hammer. This worked really well. Could have done the install in under an hour if I had this to start. *Consider putting down something to keep the roll pin from rolling away just in case. I used a 2x4 on the downhill side of my car and few rags. It dropped straight down and did not roll in my case, but you can't drive the car without the shifter and you can't use the shifter without this little roll pin. Safety glasses are critical for this, especially if you are using a normal socket extension and a normal hammer. Both are hardened steel and can shatter. I used an impact extension making this a little safer. A brass hammer would make it even safer, but if I was going to go to the store to buy a brass hammer, I would have just bought a proper punch. I'm cheap and a long time do it yourselfer, but if someone offered to do this in a shop for me for $60-$100 it would be worth it.

Great Shifter Upgrade!

Jayman July 18, 2015

By

This was one of the harder mod upgrades I have installed on my cars. Make sure you have the right tools if you are planning on installing this. The hardest part by far is getting that pin out and then back in. It would have probably been easier on a lift versus laying on your back like I was. As mentioned by the other reviewer, use a socket extension on the punch to safely strike to get the pin out and in. I started off with a regular hammer but then switched to a 4lb engineering hammer and it came out much easier. There is a definite difference between this and the OEM short throw shifter. Combine this with the Perrin shifter bushing and shifter stop and it is like driving a whole new car. It took me a couple of days to get used to it but now that I have I love it! Very happy with the product.

Get a Shop To Install

Mike June 14, 2015

By

Don't let Subispeed's install fool you. If you don't have a lift, it's going to take you more than 15 minutes. Perrin quotes an install time of 2 hrs and 45 mins, which is about right if you have jack stands. Definitely get the Perrin shifter bushing. That install itself would take 15 minutes. If you're going to do the shift adapter, might as well do the bushing. Once you get past the install though, the shifter feeds great! Short, crisp, slick shifts! I already had the STI short shifter, but felt throws were still long. This does the trick. I was also afraid the throws after install would take a lot more effort, was not the case. Overall satisfied, but would probably have a shop install if I had to do it again.

great option

William May 26, 2015

By

I recently bought my 2015 wrx and when the short shifter was not included I looked for other options. this adapter is very well made and works great once it is in and seemed like a better option compared to the boomba shifter. the install can be a little tricky, i found i had to move the braces (i was also installing the whiteline transmission mounts so it wasn't a huge deal. the trickiest part is driving out the roll-pin. no standard roll punch is long enough to reach in and give clearance for a safe strike. the trick (in the install video but not verbally mentioned) is to extend the punches length with a socket extension capturing the end of punch (I used a 3/8" socket to fit the end of my punch). once i figured this out it was only a few strike from coming out. this with the brass bushing, whiteline mounts and perrin shift stop make for a very crisp and short experience. more effort is required for the shifts but that is to be expected with a shortened lever arm.
QUESTIONS & ANSWERS
No questions have been asked about this product.
Upload images for this product