Perrin
Perrin E4 Series Equal Length Big Tube Header
2004-2021 Subaru STI / 2002-2014 WRX
Create a smooth sounding exhaust note while increasing horsepower and torque with the PERRIN E4-Series Equal Length Header
Details
Create a smooth sounding exhaust note while increasing horsepower and torque with the PERRIN E4-Series Big-Tube Equal Length Header
---
COMPLETELY REDESIGNED - WHAT'S NEW
The new PERRIN E4-Series Big-Tube Equal Length Header comes with collectors that have been designed for better exhaust flow while allowing the headers to be constructed much more accurately. The improved exhaust flow and more precise construction increases power and reliability. The new E4-Series also has a low-profile design, allowing for lots of ground clearance.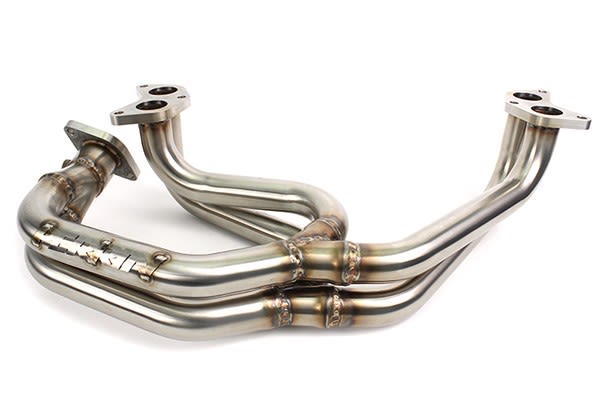 ---
EQUAL LENGTH DESIGN
The equal length design of the PERRIN E4-Series Header produces smooth, balanced exhaust flow from the heads to the turbocharger giving you the best of two worlds: quicker turbo response as well as more horsepower and torque throughout the entire RPM band. While designed to fit to the factory up-pipe, our header will also mate with an aftermarket up-pipe that fits factory header and turbo, as well as any rotated turbo kits compatible with the factory header.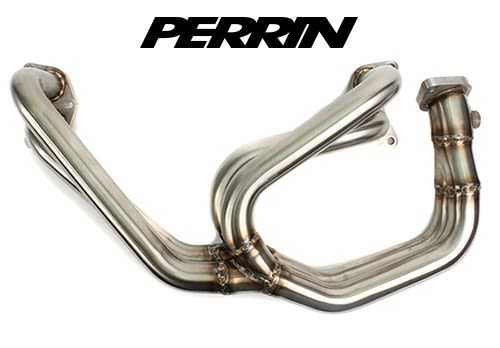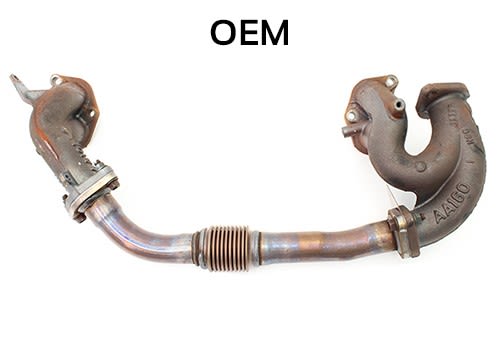 ---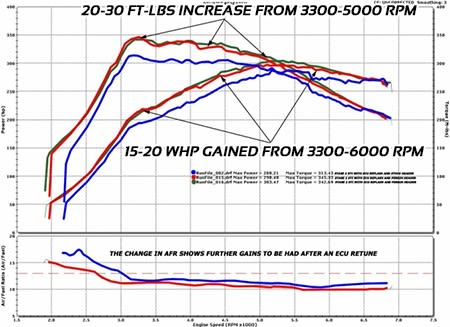 PERFECTLY SIZED FOR MORE HP
You won't see grossly over-sized tubing to make our header "look" impressive, this just slows exhaust gas flow and reduces response. This header uses 1.625" primary tubing that is expanded at the flange to fit the Subaru exhaust port size. This size tubing is perfectly designed for cars making more than 500WHP. You can see from our dyno graphs that there is a significant gain in horsepower and torque across the entire RPM band compared to an OEM Subaru header. For those looking to get more power out of their stock turbo, check out our E4-Series Equal Length Header.
---
FLANGES & PORT MATCHING
PERRIN Flanges are CNC machined from 304 stainless steel and counterbored on the back side to make smoother transitions. Flange ports are sized properly to ensure exhaust coming out of the head has a smooth, unobstructed path to the tubes. The ports are not over-ported which would cause gaskets to burn out quickly. The tubes are expanded inside the flanges for a perfect fit and smooth flow of exhaust gases to the tubes.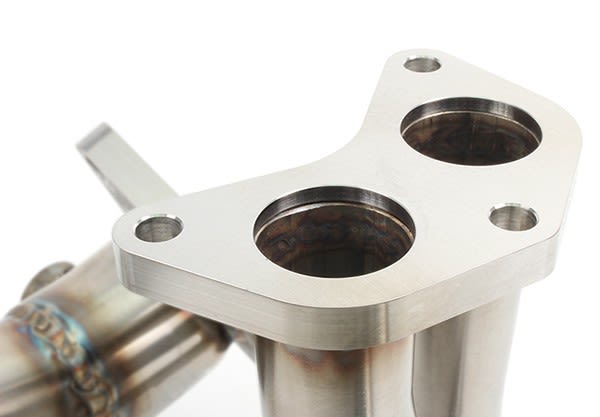 ---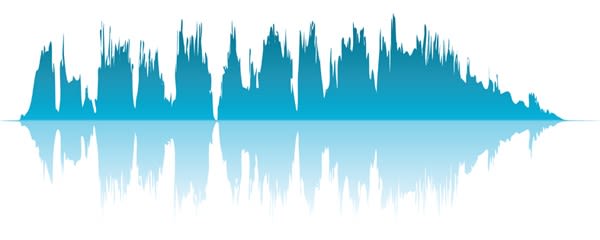 SOUND
Due to its equal length design, the PERRIN header will alter the tone of your exhaust. The exhaust pulses from the engine are equalized and spread out producing a smoother, more refined sound. A byproduct of the equalization is a significant reduction in the volume of your exhaust sound. Some describe the sound as being similar to an inline four cylinder engine exhaust.
---
FINISH
PERRIN headers feature a brushed stainless steel finish.
---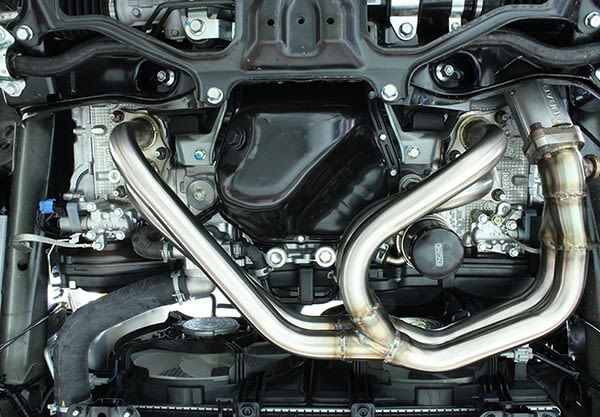 OIL PAN
Most headers collect on the passenger side of the engine, and due to space constraints, are not equal length and compromise exhaust flow. Because we use the added room provided by the oil pan (only on 2.5L turbo pans), we can create a smooth transition of the header primaries to the collectors, and collectors to up-pipe, providing more power and torque then the competition.
---
5 Year Warranty
PERRIN Performance warrants to the original purchaser that all PERRIN products will be free from defects in material and workmanship within a sixty (60) month period from the date of purchase. *Some exclusions apply.
Off Road Use Only
This product is legal in California only for racing vehicles which may never be used upon a highway. Check your local and federal laws prior to installation.
Warranty Exclusions
We will not warranty any exhaust part that fails or has warped flanges with header wrap installed. While header wrap protects the engine from heat as well as provides some performance benefits, it greatly reduces the life of any stainless steel part. Header wrap greatly increases the rate of corrosion (even stainless steel corrodes), added to that the actual temperature of the metal is much hotter, reducing its lifespan even further. Operation of vehicle without installation of splash guard will void warranty.
We will not warranty any flanges that are warped away from the weld if any aftermarket gaskets are used. Only OEM Subaru gaskets are to be used on this PERRIN Exhaust part, with the exception of downpipes for turbo kits. Subaru provides the proper crush gasket that still becomes flat when tightened (or over tightened) in comparison to aftermarket gaskets which can have a crush ring that is too thick, causing a hot-spot in the middle of the flange. These will warp the flanges of your PERRIN exhaust part, causing a permanent exhaust leak that will not be fixable with a new gasket.
People who viewed this item also viewed
QUESTIONS & ANSWERS
No questions have been asked about this product.
Upload images for this product