Spyder
Spyder Apex LED Series Headlights - Black (LED Vehicle Version) not compatible with factory LED model with AFS
2015-2020 Subaru WRX & STI
These projector headlights are designed to improve looks and visibility for your vehicle. They are made by OEM approved and ISO certified manufacturers. They are made with OEM standard quality and are designed for stock lights direct replacement.
NOTE: Not compatible with factory LED model with AFS.
Details
Spyder Apex LED Series Headlights - Black (LED Vehicle Version)
---
Highlights
LED Model (Not Compatible With Factory Halogen Model and Factory LED model with AFS)
High-Power LED Module ( High Beam And Low Beam )
Sequential Switchback Turn Signals
Sequential Switch Back White Light Bar Turn Signal Light
DRL White Light Bar Parking Light - Low Beam
This headlight DOES NOT require a CCFL inverter
2-Year Warranty
Increased light output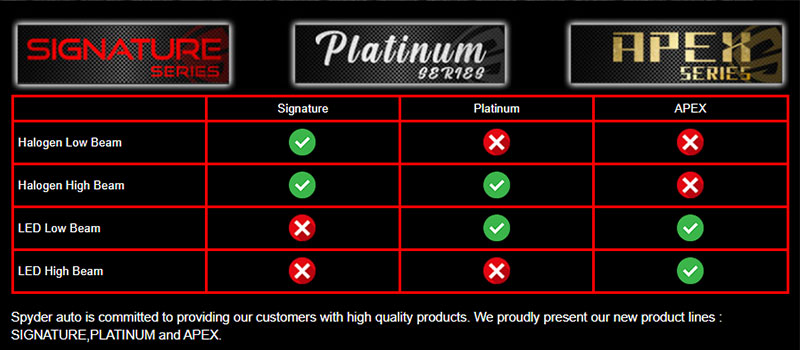 Upgrade Your Front End Lighting Mods
Spyder Auto Apex series shines a bright luminous steady beam with crisp cut off line up to 40% further than factory halogen bulbs.
The headlights are an important element when it comes to styling and safety of your aggressive 2015-2020 Subaru WRX / STI. The Spyder Apex Series Headlights appeal to owners who want to upgrade to a modern lamp that elevates their car to another class.
Sequential Turn Signals
Give the front end of your 2015-2020 WRX or STI Build a great look without losing output with Spyder Apex Series Headlights!
Make it easier for others on the road to notice when you are wanting to take a turn.
See Even Further with LED
Spyder Auto has added integrated LED bulb technology directly into their housings. Spyder Auto has taken existing housing as well as new designs and added LED bulbs to the Low and High beams to maximize night time driving visibility. This is the highest quality and most technology equipped set of lights on the market.
What are LED's and what do they consist of?
Basically, an LED consists of several layers of semiconductor compounds. Semiconductors, such as silicon, are materials whose electrical conductivity lies between that of conductors, such as the metals silver and copper, and non-conducting materials (insulators) such as PTFE or quartz glass. The conductivity of semiconductors can be greatly influenced by the specific introduction of electrically effective external substances (by means of a process known as doping). The different semiconductor layers together form the LED chip. The type of structure of these layers (various semiconductors) has a crucial bearing on the luminous yield (efficiency) and light color of the LED.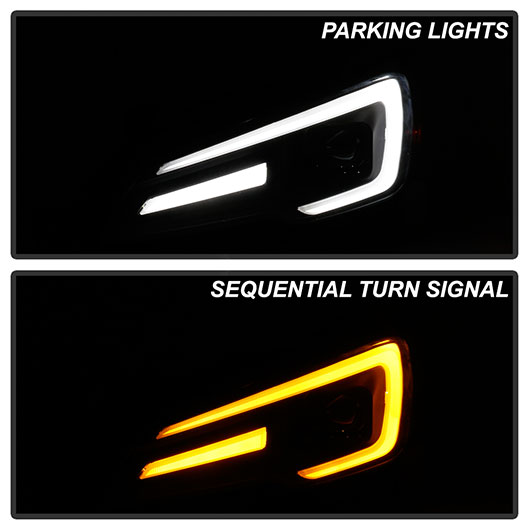 ---
Spyder Auto's Installation Video
Spyder Auto Headlights Showcase Video
People who viewed this item also viewed
QUESTIONS & ANSWERS
No questions have been asked about this product.
Upload images for this product