Project Mu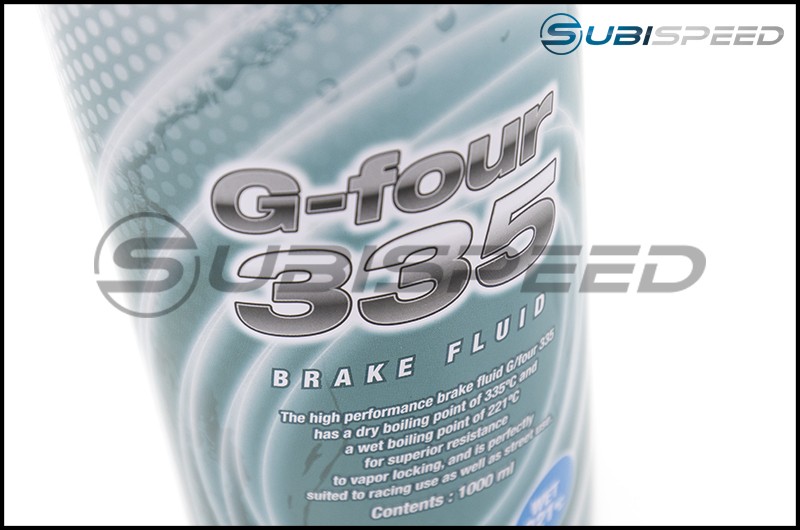 Project Mu G-Four 335 Brake Fluid
- Universal
Totally reliable brake fluid that combines a boiling point so high it's in another dimension with durability and maintainability. You know it's time to change your G-four 335 brake fluid, which can reach close to 300C, when the color changes from green to crystal clear. This is a huge 1L can so you got plenty to do your car once or twice.
Details
The Project Mu G-Four 335 Brake Fluid is capable of withstanding temperatures as high as 335 degrees Celsius (635 degrees Fahrenheit, dry boiling point). However, repetitive high temperatures, time, and vaporization can lead to fluid that isn't as capable. Another issue is when you bleed your brakes, sometime it's hard to tell if all of the trapped vapor because of the very light and even clear color of the fluid. This is where G-Four 335's unique color and color changing ability will come in handy.
The color of the Project Mu G-Four 335 Brake Fluid is a two-fold feature; first the green color of the fluid will allow the user to see the vapor bubbles flow out of the caliper bleeder much easier than normal brake fluid. This is not only great for track day customers, but service technicians as well. Second, the color changing feature will allow them to bleed out the exhausted fluid (which is clear) and pull fresher fluid from the brake master cylinder reservoir to the calipers (which will be green). This means that track day enthusiasts will be able to have a safer outing after bleeding the trapped vapor out and service technicians can rest assured that they will know if the fluid is truly bled properly.
Project Mu G-Four 335 Brake Fluid is a 100% Synthetic Glycol fluid that meets and even exceeds DOT-5 requirements. It is not to be mixed with other DOT Brake fluids and a complete flush is recommended prior to use. G-Four 335 is sold in 1 liter cans.
Upload images for this product

Feel free to share pictures of your vehicle with this product!