OLM
OLM LE V2 Type B Full Width Roof Vortex Generator (USDM)
2017+ WRX / 2017+ STI
After a few months of measuring and remeasuring OLM has created a vortex generator to fit USDM models. Attaches with automotive grade double sided adhesive (included). ABS plastic construction with a matte black finish.
NOTE:
Please read the differences between Type A and Type B vortex generators in the description below.
Details
OLM Version 2 Vortex Generator - Type B
This new vortex generator is larger than the OEM model in all dimensions. It fully extends to the rain gutters and surrounds the factory antenna.
ABS plastic construction with a matte black finish.
Type B refers to the opening for the antenna which is explained below.
---
2017 Vehicle Fitment
This vortex generator fits all 2017 WRX models with 7 inch Starlink Radios (with or without navigation) and ALL 2017 STIs (with or without navigation).
2017+ WRX Premium with OPTIONAL 7" Starlink Radio
2017+ WRX Limited
2017+ STI
The image below shows the models a Type B vortex generator fits (in green).

---
2018 Vehicle Fitment
Subaru has been changing things up a lot over the last couple of years. If your antenna measures front to back approximately, 9 1/8" inches, you can use this vortex generator. However, if your antenna is approximately 8 1/2" from front to back, please use the 2015-2016 model OLM / SubiSpeed Vortex generators.
9 1/8" long antenna - use this version (Type B)
8 1/2" long antenna - use 2015-2016 version vortex generators (Type A)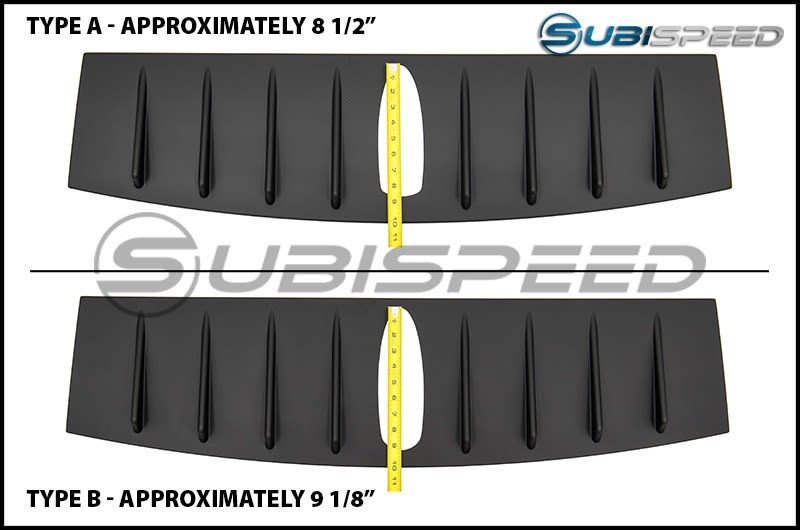 ---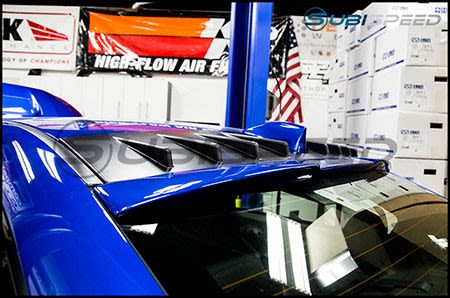 Bolder Design
While the Subaru OEM vortex generator is a neat addition to the 2015+ WRX / STI, OLM's version makes a bolder statement. One of the biggest gripes was that the factory piece did not go all the way to the sides of the vehicle or the back. It also stops half way up the antenna.
Using automotive grade double sided adhesive tape (supplied), the OLM Vortex Generator can be installed with ease. Alignment is simple because it goes around the antenna and the sides rest in the rain gutters.
NOTE: Please do not apply Isopropyl Alcohol to the Vortex Generator during the installation process. This may lead to discoloration. Alcohol is intended for cleaning the vehicle installation surface only.
---
Vortex Generator Comparison
Featured in March's New Products Video
People who viewed this item also viewed
7 customer reviews
Looks great!

dlrainer December 14, 2022

By

I really like how this looks! I did use extra 3M tape when installing. I got the clear 3M from Walmart and it worked perfectly. This thing ain't coming unless I want it to. haha

Did not fit my 21' STI

Chad January 26, 2022

By

Tried installing assuming the double-sided tape accounts for the fitment issue, but still couldn't fit around the antenna area in the end. It created a very noticeable bend around the middle of the vortex generator so I had to take it off the car. Since installation was attempted, Subispeed won't allow returns so I'm down $85. There has to be an actual person grabbing each item to fulfill each order, but with my recent orders from Subispeed, quality check seems to be left out of that process.

Fitment wasn't great and adhesive wont stick

Womp December 7, 2021

By

Cleaned and prepped the surface before install, even tried reheating the adhesive. Came off going 40 mph driving around to test. Now I have to go buy more tape. Hopefully it stays on this time.

Glad i got it

Tyron October 2, 2018

By

I'm certainly happy i got it, cause the V2 makes my WRX stand out amongst others now. Installing it was a breeze and for future reference u guys should add a lil more of the double sided tape, i came up a Lil short but i managed and made it work. Thanx for having the best items for the WRX/STI and i can't wait to get my next items. Thanx Subispeed

Great look

David April 19, 2018

By

Installed this today. It's super easy and it looks great. It gives the wrx a more aggressive look.

Easy Install

Jesse August 4, 2017

By

Such an easy install and great look from this product. Such a simple add-on makes a huge difference in your cars look. I would recommend doing this with two people simply because the 3M tape sticks so easily.

Easy, simple, looks mean.

youloveenvy June 1, 2017

By

I have a 2017 wrx, the installation was easy all you really need to do is apply 3M tape. I really do not think you need the tap due to the tight fitment the product has. The package also comes with a air fresher which is cool. Only problem is that on the back of my wrx fin it has a small gap between the fin and the generator. Other than that I recommend.
QUESTIONS & ANSWERS
No questions have been asked about this product.
Upload images for this product