OLM
OLM V1 Type A Full Width Roof Vortex Generator (USDM)
2015-2020 WRX / 2015-2016 STI
After a few months of measuring and remeasuring OLM has created a vortex generator to fit USDM models.
Attaches with automotive grade double sided adhesive (included). ABS plastic construction with a matte black finish.
NOTE: Please read the differences between Type A and Type B vortex generators in the description below.
Details
OLM Version 1 Vortex Generator - Type A
This new vortex generator is larger than the OEM model in all dimensions. It fully extends to the rain gutters and surrounds the factory antenna.
ABS plastic construction with a matte black finish.
2015-2016 & 2017+ Vehicle Fitment
ALL 2015-2016 WRX & STI models CAN use this vortex generator. The charge below highlights the 2017 models it can fit in green. Note that if you have a 7 inch Starlink headunit, it will not fit. However, if you have a 6.2 inch Starlink radio, it will.
2015-2016 WRX
2015-2016 STI
2017+ WRX Premium with STANDARD 6.2" Starlink Radio
The image below shows the 2017 models the Type A vortex generator fits (in green).
2017 Model Lineup

---
2018 Vehicle Fitment
Subaru has been changing things up a lot over the last couple of years. If your antenna measures front to back approximately, 9 1/8" inches, you can use this vortex generator. However, if your antenna is approximately 8 1/2" from front to back, please use the 2015-2016 model OLM / SubiSpeed Vortex generators.
8 1/2" long antenna - use this vortex generators (Type A)
9 1/8" long antenna - use 2017 version vortex generators (Type B)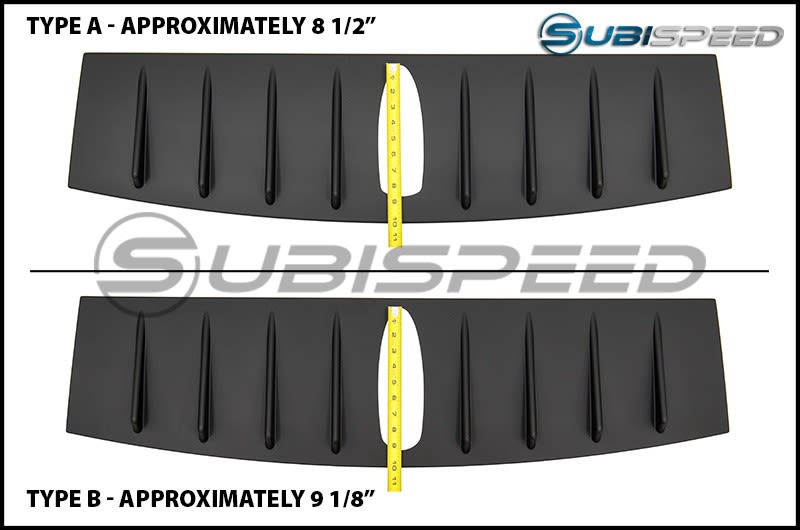 ---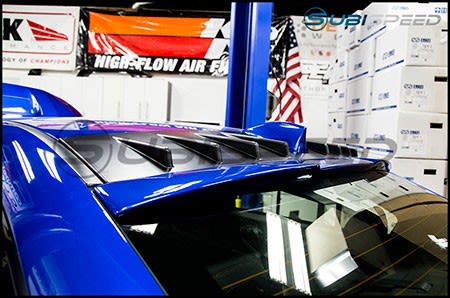 Bolder Design
While the Subaru OEM vortex generator is a neat addition to the 2015+ WRX / STI, OLM's version makes a bolder statement. One of the biggest gripes was that the factory piece did not go all the way to the sides of the vehicle or the back. It also stops half way up the antenna.
Using automotive grade double sided adhesive tape (supplied), the OLM Vortex Generator can be installed with ease. Alignment is simple because it goes around the antenna and the sides rest in the rain gutters.
---
Vortex Generator Comparison
Featured in March's New Products Video
NOTE: Please do not apply Isopropyl Alcohol to the Vortex Generator during the installation process. This may lead to discoloration. Alcohol is intended for cleaning the vehicle installation surface only.
5 customer reviews
Excellent fit!!

Anthony wrx May 24, 2019

By

Awesome product... easy install fitment is spot on.wasn't sure at first , I have my roof wrapped and like that look. But once I test fit it to the roof looked great and it's on .. type A for 2018 wrx 81/2 shark fin... looks good with the Perrin gurney flap just added also... thanks subispeed!!

Looks amazing

Juan September 28, 2018

By

Easy installation but I would recommend buying a thinner 3m tape from a store because the one givin is a bit to thick and raises it a bit on the front end.

Great for the money

Jay June 10, 2018

By

Fitment was on point. Only thing is to make sure you have some extra 3m tape kicking around. I attempted to do all 4 sides and wanted to make sure that it wasn't going to go anywhere in the next few years and I was short about 6-8 inches of the tape. After I installed it I checked it all over and it fits perfect as expected. After seeing it on the car the only thing I wish I had done different was get the painted one but my own fault. Thanks for the top notch customer service and products.

Great piece!

Aaron March 9, 2017

By

Easy installation and it looks great! Thanks, Subispeed!

Perfect

Christopher December 17, 2016

By

I only have one thing to say about this piece, Amazing!
QUESTIONS & ANSWERS
No questions have been asked about this product.
Upload images for this product