Details
OLM Carbon Fiber OEM STI Style Spoiler
Carbon fiber has made a huge impact in the aftermarket scene. It requires a lot of attention to detail, but the results can be spectacular. This wing doesn't stray away from the beloved STI style. It just wraps it in a coat of carbon fiber.
---
Templates and Hardware
While it is quite common for aftermarket accessories to include no installation assistance, the OLM STI style carbon fiber wing comes with a reversible template and mounting hardware.
This will help you get your spoiler mounted, fastened down, and put your car back in action with minimal down time. Install it and still have time to enjoy your weekend!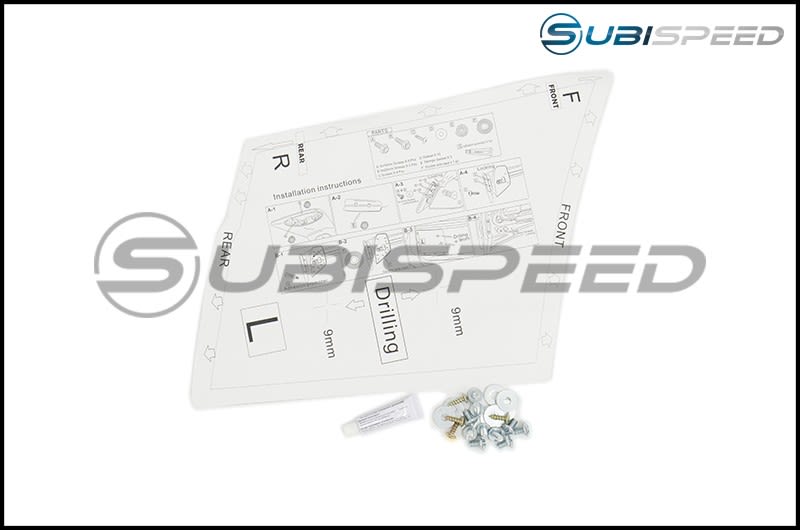 People who viewed this item also viewed
1 customer review
Nice looking lightweight affordable wing that doesn't need paint

DocJekl October 26, 2021

By

I would buy again. I got this wing for $200 more than the cheapest Crystal Silica Black pre-painted "STi-Style" wing on eBay, and only $100 more than the most expensive one, and I really think this is a much better value. My local body shop that we've used before charged me $100 to install it for me same day. It would have been $300 to have them paint match a cheap $120 ABS plastic wing, plus the install, but even more costly if the cheap wing needed as much prep as the used one someone tried to sell me (sanding, shaping, smoothing). The CF weave is almost perfect throughout this wing, with only one 2-3 mm spot where the weave doubled and had a rectangle instead of a square, out of tens of thousands of "squares" in the weave. It was not easy to find. The shiny clear-coated CF surfaces on the sides are not perfectly mirror flat when looking at light reflecting off of the wing, like you might expect with a 5-figure cost Lambo wing, but it's close enough for me! The thing I should note is that not only are the bases painted a gloss black, which looks fine sitting between the stock paint on the car and the CF surface of the wing, but the inside or underside surfaces of the wing are also painted gloss black as well. So, the CF weave pattern is seen on the outer surfaces of the wing and wing sides only. Outdoors, the fact that all surfaces were not CF weave was not noticeable at all from 6-10 feet away. And if DDE can't paint over some CF so can OLM, especially when it's hidden anyway. I would recommend this wing to anyone not wanting to worry about paint matching a stock wing, and are on some sort of budget. I would also recommend this CF wing over a cheap painted ABS wing any day. If you need your body shop to prep and paint a wing to look like stock wing and paint, then just go stock. Personally, I prefer this over a stock Subaru wing. If not on a budget, I might have tried the ALL-CF version of this wing for $200 more, but only if it was indeed a CF weave pattern on every surface of the wing and the bases. Otherwise, it's not really necessary to spend the extra (also it was not in stock), unless you're in car shows where they will pick apart your design choices.
QUESTIONS & ANSWERS
No questions have been asked about this product.
Upload images for this product