OLM
OLM Vision+ DRL Gen 2 Fog Light Housings
OLM has a full replacement LED Fog Light Housings. These casings have an extremely wide beam pattern We're talking about a 90 degree spread! These utilize the latest LED and optics technology. This product also has bright DRL bars for improved visibility during the day.
Details

OLM's Gen 2 Fog Light Housings take design queues from the original, but increases light output significantly over the previous generation. It comes with a pair of full replacement LED housings for your vehicle. These casings have an extremely wide beam pattern. We're talking around a 90 degree spread!
They utilize the latest LED and optics technology.
Optional accessories include Lamin X tint kits. With Lamin X kits, you add protection and can get it in clear, yellow, or gunsmoke.
---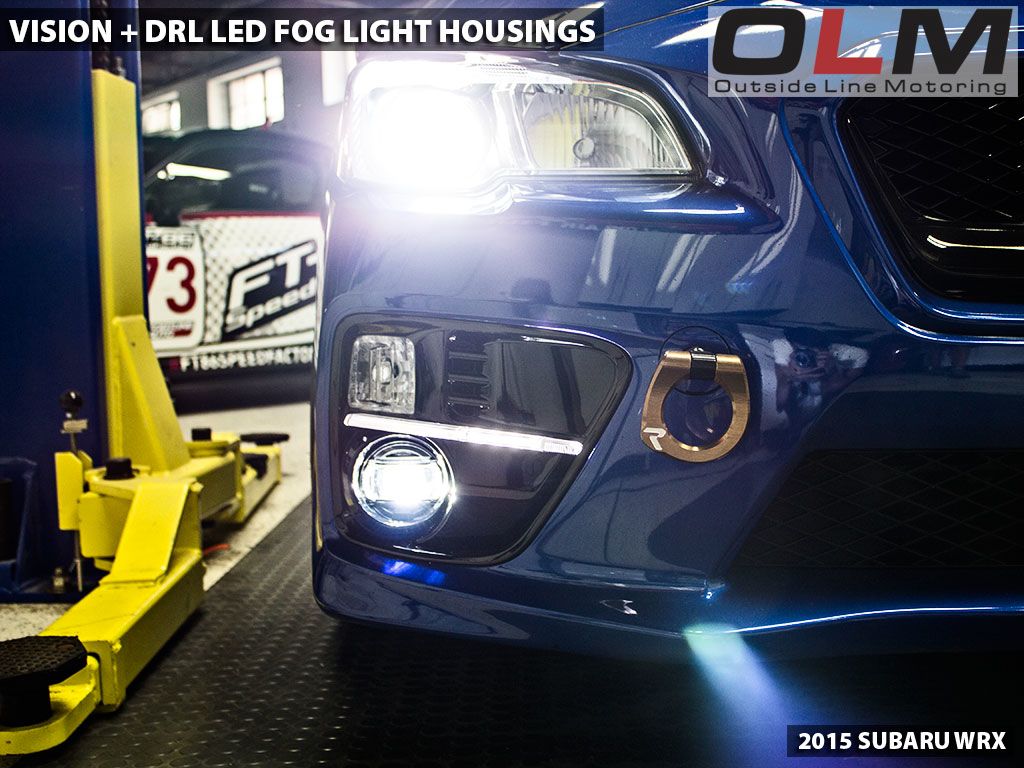 VAST IMPROVEMENT
The spread on these lights are REALLY wide. Not only are these good for foggy situations, but you'll feel better driving down any road where objects might appear beside your vehicle.
NOTE: Previous generation Vision + DRL shown in picture.
---
INSTALLATION - FOG + DRL
Installation is simple! Just turn your wheels, undo some fasteners, and the factory housings can be swapped without lifting the vehicle or removing the bumper.
The factory plug provides positive and ground for the main fog light.
The DRL requires additional wiring. You must connect it to the power source you want it to turn on with. Our DRL harness is a great place to tap into for power (not included). You can also just run an add a simple fuse to the high beam fuse in the engine compartment (optional).
NOTE: DRLs can OPTIONALLY turn OFF when the fog light is ON. Previous generation Vision + DRL shown in picture.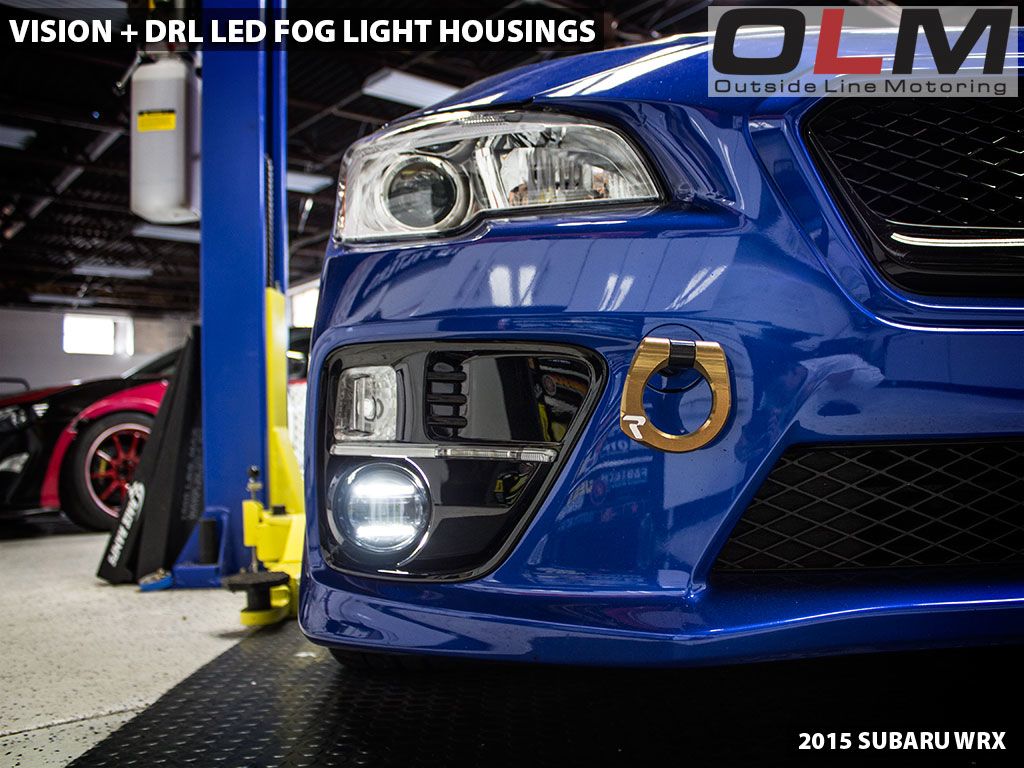 ---
Benefits
Current draw does not exceed factory wiring limits
Does not require mounting of items like LED drivers or HID ballasts
Improved visibility both during the day and at night
Plug and Play for vehicles equipped from the factory with fog lights
Easy to install
BRZ setup includes 5202 converter harness.
Wiring
The fog light has a standard H11 plug. The rest of the wires are shown below.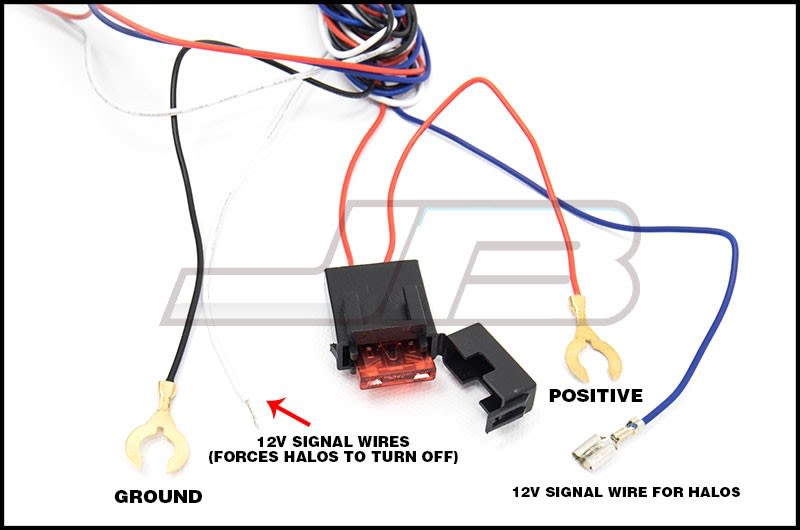 Optional Install Items
Most installation will ONLY use ONE of the items below and not BOTH.
Add a fuse - All Vehicles
This add a fuse can be plugged into the high beam fuse located in the engine compartment. This will allow for easy wiring of the DRLs. They will function as a DRL whether or not your DRL resistor is plugged in or unplugged.
DRL Harness - 2015 WRX / STI
SubiSpeed's DRL harness was originally designed for base and premium 2015 WRXs. It comes with Vision+ boomerang / C light bulbs and will allow you to keep these lights on as a DRL. The additional wiring can also be spliced into to provide power for accessories like this DRL fog. Includes harness, 2 bulbs, and 4 sets of T-taps for wiring this accessory. There is also a Limited / STI harness which can provide power for these accessories. It comes with the harness and 4 sets of T-Taps.
Parts for FR-S Owners without Factory Fog Lights
Fog Light Switch and Relay - This is a 12v relay and OEM style switch for your vehicle. It will allow you to add a switch inside the cabin and power your new fog lights with ease.
Gloss Black Fog Light Bezels - These are styled after the OEM plastic fog light bezels, but have a gloss black finish to them.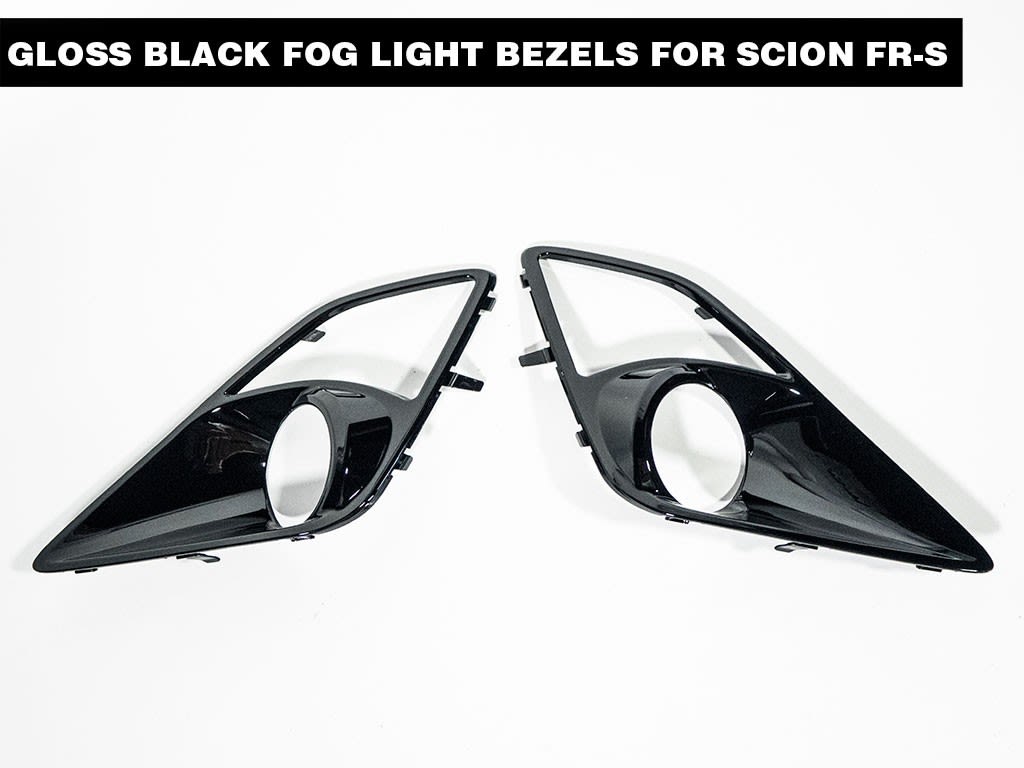 Warranty
1 year manufacturer's warranty
People who viewed this item also viewed
5 customer reviews
Love the look!

Neal May 19, 2016

By

Hey guys, I have had my 2015 STI for just over a year, and love the hell out of it. I am a novice when it comes to car modification with this install being the most challenging modification I've made to date. I was able to successfully install these fog lights, the additional DRL harness, and disable the factory high beams as DRLs setup on the first go. While the install was a bit stressful it is fairly starlight forward. I'll walk you through my experience, and I apologize for my rambling nature. This is probably a no-brainer for many of you, but I am a newbie and was enticed by the simplicity of installing through the wheel wells on the ground as shown in the install video. I was successful with this method, but would advise you NOT to do this. Lift the front of your car using ramps or jacks and save yourself time and hassle. My arms were very scraped up when I was finished, and I think I would have reduced the install time be over an hour. Stepping back for a minute. You will get the two fog lights which look to be hand made, their simple but sufficient mounts, and the fog light wiring harness included with the fog lights. The fog light harness allows your fog lights to have the DRL mode in addition to the normal fog light. If you go for the additional DRL harness you are essentially getting another set of wires with some 'heat shielding'. This harness feels a bit pricey, but I would have never tried to make my own. In addition to allowing you to wire your C lights as DRLs, the DRL harness will leave you with two extra wires which I presume I will use on the fog light inlet light bars SubiSpeed also sells. For me, the most stressful part of the install was connecting the DRL harness and the fog light harness. If you are not going to make your C lights into DRLs, this does not apply to you. Connecting the two harnesses is not in any of the Subispeed videos, but I found some step by step installation notes with screenshots on one of the other fog lights pages which I will link below for you. These helped immensely but did not fully depict this connection step. Essential you are clipping the fog light harness into the DRL harness. Which stressed the hell out of me because I did not want to accidentally cut the ~$80.00 DRL harness in half. The DRL harness wiring is thick, so once you have identified the point which you will be connecting the two harnesses. I suggest you carefully score the wire with a knife to expose the metal a bit. The clips provided were not sharp enough to pierce the wire on their own. Just take your time with this and you will make it happen. If I can do this install, so can you. I suggest you do on a weekend. I did it after work and finished after midnight. ~5 hours, but a lot of it was hand ringing, doing the install the hard way on the ground, and finding these step by step screen captures which are not linked to this product, watching install videos, etc. Good Luck, and I'll upload an image of the stages of my DRLs. http://www.subispeed.com/olm-led-halo-drl-fog-light-housings-2015-wrx-2015-sti-2013-brz#.Vy0BFvkrJaQ

Nice look

Tyler February 22, 2016

By

The beam pattern was different than I expected. More of a narrow beam of light instead of cut off at top and half circle at bottom. Different but I like it.

Nice lights, look good with the DRLs

Dan August 27, 2015

By

I have a 2016 STI and got these to replace the stock fogs. The fog lights installed easily, only took a few minutes once I got the car up on the jack and all the fasteners out. The DRL resistor was easy to find and disconnect to get the ugly halogen DRLs off. The t-taps provided make it easy to power the DRLs from the harness. The hard part was installing the DRL harness. The video is just for the wrx and it's a much easier install than on the STI. Getting the light bundle plug and retaining clip out were a pain, plus the subi speed pins don't snap into place like the stock ones do. So you have to tape them to keep them in place and if they're not lined up perfectly when you plug the bundle back into the housing it'll push out the subi speed pin. So that took a few tries. As for the fog lights themselves they look great, they are much brighter than the stock lights and the DRLs along with the c-lights make the car look mean. As one of the other reviewers said, there's no way to adjust the beam height and they're a bit higher than you'd expect but I haven't had any complaints from other drivers. Good product and easy installation (for the lights themselves).

Fog light brightness

Bryan June 1, 2015

By

Amazing, install was easier then I thought. I put the car on ramps for ease of access and it surely helped. I wired the fogs with add a fuse and connected to the high beam fuse spot. Looks great and the drl's I had recently upgraded them to the new gen2 Philips 6k and spot on perfect. Thanks subispeed...

Great Improvment over Stock

Adam J December 20, 2014

By

I got these lights to replace the factory fogs which I never really used as they didn't really provide much extra light. The install was easy once you knew what you had to do. I took off 2 fasteners under the car on the fender well and folded it down. I found that using a Jack to jack the car up to get more room underneath helps a lot too. Once under there take off the old Fogs and install the new ones. Make sure you also check the polarity and don't close everything up before testing them out! They are super bright and look really nice. The DRL feature is also really cool I used the add a fuse to the high beam fuse and disconnected the DRL resister as the halogen highs are ugly. Looks great with the Clights as DRL. Only Con I can really think of is the fogs seem a little high and there is really no way to level them. Seems to be no issue as no other drivers have flashed me. Great Product!
QUESTIONS & ANSWERS
No questions have been asked about this product.
Upload images for this product