OLM
OLM Nighthawk DRL + Fog Light Housings
2015-2021 Subaru WRX & STI / 13-16 Scion-FRS / *BRZ / Toyota 86 / 13+ *Crosstrek / 14+ Forester
Ships for free in the 48 states
These premium OLM LED DRL / Fog lights have a sleek, modern projector style design. The inside of the housing is black for a stealth appearance. With OE mounting positions, these lights are easy to install.
Details
OLM Nighthawk DRL + Fog Light Housings
These fog lights LED technology in a sleek matte black interior housing. Factory style mounting positions make this an easy swap. Just add a small amount of wiring for the DRL setup, and you'll be up and running in no time.
They utilize the latest OSRAM LEDs and optics technology.
Optional accessories include Lamin X tint kits. With Lamin X kits, you add protection and can get it in clear, yellow, or gunsmoke.
Benefits
Current draw does not exceed factory wiring limits
Does not require mounting of items like LED drivers or HID ballasts
Improved visibility both during the day and at night
Plug and Play for vehicles equipped from the factory with fog lights
Easy to install
Specifications
Voltage 9V-12V
Power DRL 12V, 3.8W ; Fog 12V, 9W
Color Temperature 6000K
LED Driver Built-in
Connector DRL: AMP 3Pin (with pigtails); Fog: H8/H11
Optical Lens Material PMMA
Outer Lens Material PC with coating
Outer Lens Color Clear
Housing Material Die-cast Aluminum
Housing Color Black
Mounting Bracket Designed for OE Fog Location
Certificate ECE SAE
NOTE: BRZ and Crosstrek (without Steering Responsive Foglights) will require the optional PSX24W converter harness.
Wiring
H8/H11 Plug - Plug and play for main fog light
Red - DRL (+)
Yellow - DRL or Accessory (+)
Blue - Forces DRL Off (+, connection is optional)
Black - Ground for DRL (-)
NOTE: Do not leave yellow wire plugged into a constant 12v power source or your battery will slowly drain. DRL turns off automatically when fog lights come on.
Optional Install Items
Most installation will ONLY use ONE of the items below and not BOTH.
SubiSpeed Quick Connect Harness
This pair of add a fuses is designed for Subaru vehicles and plugs into the high beam and low beam fuse slots underneath the hood. Transfer your existing fuses from these slots and place them in the lower fuse slot of the add a fuse. The lowest fuse hole always has the larger fuse. Now you will have DRL power anytime the DRLs should be on and anytime the low beams are on. If you don't want them to be on with the low beams, simply remove the upper fuse from the low beam add a fuse.
DRL Harness - 2015 WRX / STI
SubiSpeed's DRL harness was originally designed for base and premium 2015 WRXs. It comes with Vision+ boomerang / C light bulbs and will allow you to keep these lights on as a DRL. The additional wiring can also be spliced into to provide power for accessories like this DRL fog. Includes harness, 2 bulbs, and 4 sets of T-taps for wiring this accessory. There is also a Limited / STI harness which can provide power for these accessories. It comes with the harness and 4 sets of T-Taps.
Parts for FR-S Owners without Factory Fog Lights
Fog Light Switch and Relay - This is a 12v relay and OEM style switch for your vehicle. It will allow you to add a switch inside the cabin and power your new fog lights with ease.
Gloss Black Fog Light Bezels - These are styled after the OEM plastic fog light bezels, but have a gloss black finish to them.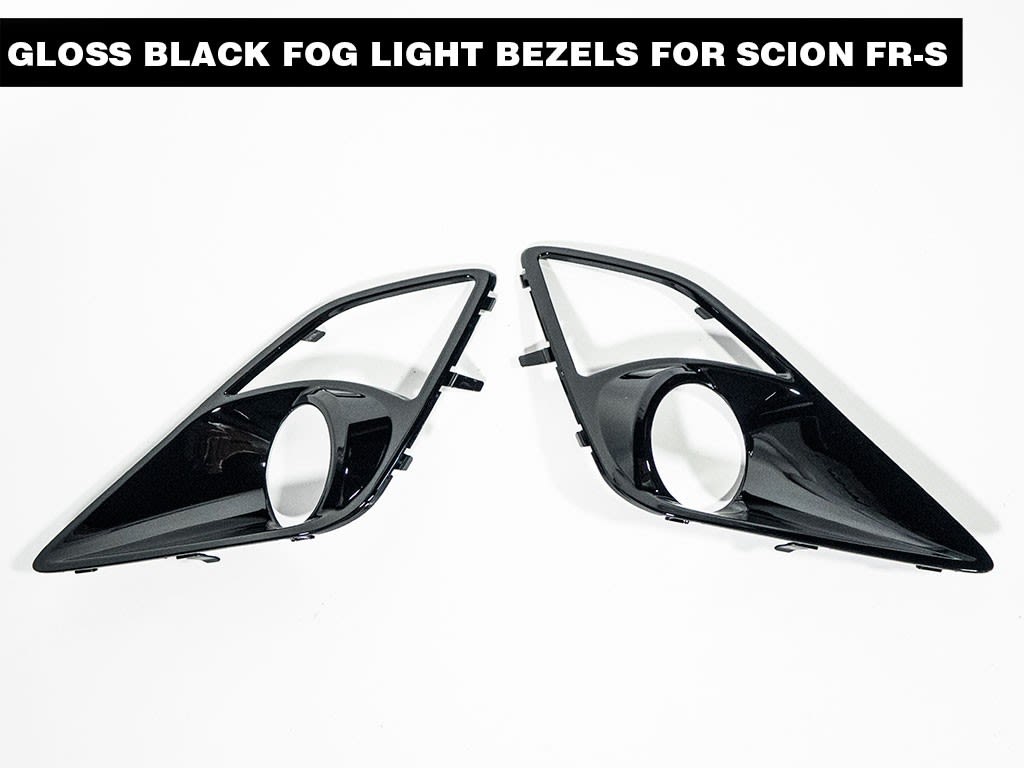 Add a fuse - All Vehicles
This add a fuse can be plugged into the high beam fuse located in the engine compartment. This will allow for easy wiring of the DRLs. They will function as a DRL whether or not your DRL resistor is plugged in or unplugged.
Warranty
1 year manufacturer's warranty
---
Featured In Subispeed's New Products June Video
Upload images for this product