OLM
OLM Wide Angle Convex Mirrors with Turn Signals and Defrosters (Blue)
2015-2021 Subaru WRX & STI / 2015-2017 Crosstrek
This upgrade is a must have for drivers who value being aware of their surroundings at all time. Lane merging can be a difficult task with plain OEM mirrors. However, these mirrors give you the field of vision to invoke confidence on the road.
Sold as a pair. Direct replacement. Does not include blind spot monitoring LED.
Details
OLM Wide Angle Convex Mirrors
This upgrade is a must have for drivers who value being aware of their surroundings at all time. Lane merging can be a difficult task with plain OEM mirrors. However, these mirrors give you the field of vision to invoke confidence on the road.
They're designed to be an OEM style replacement for the original mirrors. This means no adhesive. Snap the old mirrors out and snap the new ones in. If you have defrosters (non base models), you can detach the wires from the original and attach them to our mirrors.
As an added feature, these have LED turn signals built in. When they're off, they are basically invisible. Flip your turn signals on and you improve the awareness of vehicles around you. They are simple to wire if you already have turn signals in the mirrors from the factory. Just tap or solder the two new wires into the existing wires. If you have a vehicle that did not have these, you can remove your door panel, remove the mirror and run the wiring inside the vehicle. Existing wiring in the door will allow you to hook these up.
Check out the pictures below because they really are worth 1,000 words.
Sold as a pair.
NOTE: Vehicles with blind spot detection will not be able to use that function with these mirrors. This is standard on the 2016+ STI Limited, WRX Limited manual with Option Pkg #22, and WRX Limited CVT with Option Package #23.
---
Preview Video
---
A difference you can see
Stock Mirror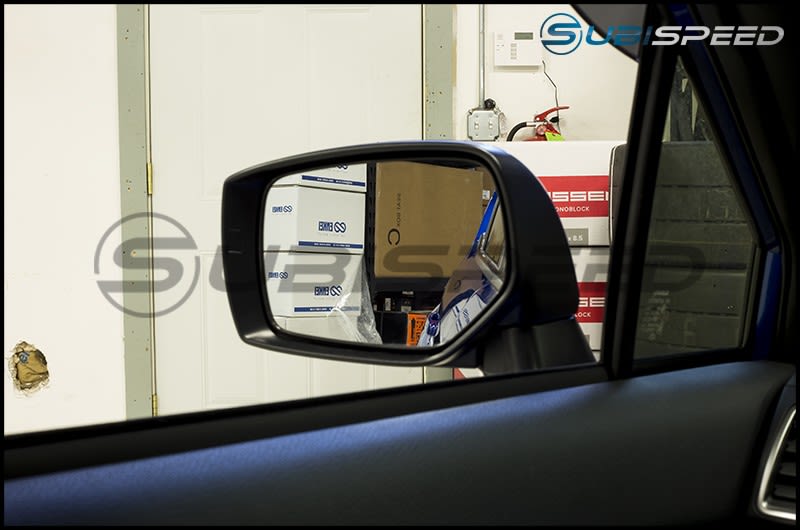 SubiSpeed Mirror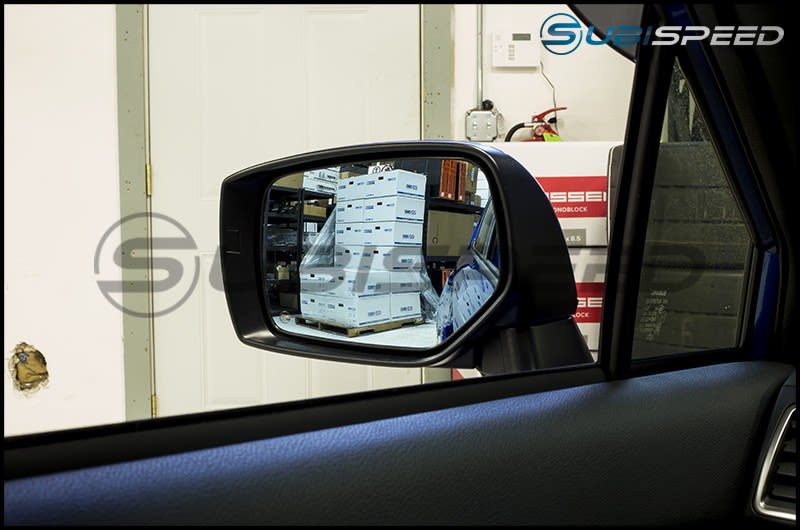 ---
Features
OEM quality fit
LED Turn Signals
Defrosters included
Blue coating to reduce glare
---
Compatibility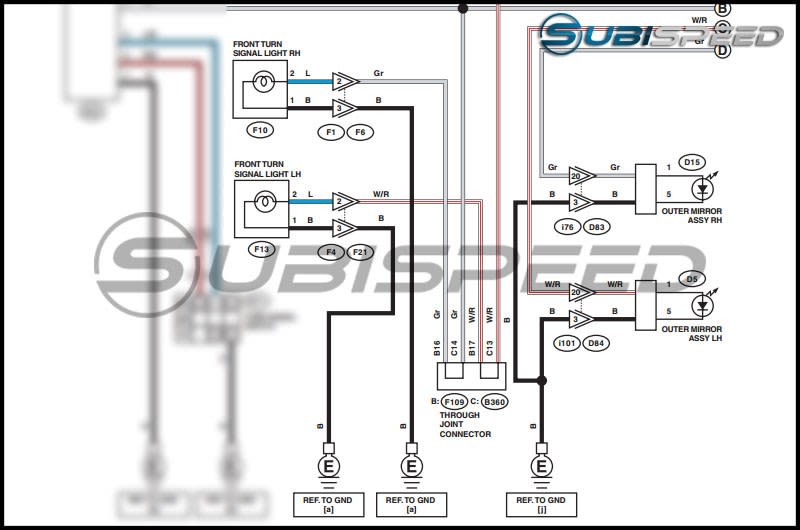 Turn Signals
All 2015 WRX / STI models have turn signal wiring inside their door harness. If you already have a turn signal in your mirror, you can attach the wires inside the housing. For 2015 WRX Premium, base, and Limited owners that did not opt for the factory turn signal mirrors, you can run the wires into the door and attach them close to the harness plug.
---
Defrosters
Every 2015 WRX / STI except base models have side mirror defrosters. For these vehicles, the defroster wires can be disconnected from the older mirrors and reattached to the new mirrors in a matter of seconds. Base owners can attach the defroster wiring (+ positive) to the red wire with green stripe at connector B97. Attach the black wire from the mirror to the chassis at any location which makes contact with the body (- ground).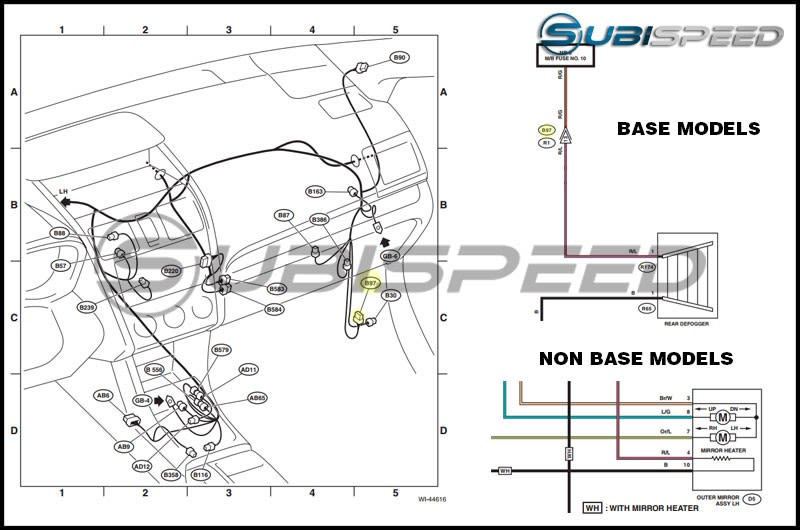 ---
Blink Rate
Both the SubiSpeed mirror turn signal and the factory mirror turn signals utilize LED technology. Unlike halogen bulbs, they will be at full power almost instantaneously. Since they are using the same circuit, they should blink at the exact same time.
Installation Video
Additional Vehicle Fitments
2015 Subaru XV Crosstrek
2015 Subaru Impreza
People who viewed this item also viewed
6 customer reviews
Good upgrade

Serge S April 2, 2022

By

OEM fit., Plug and play. Turn signal is a nice upgrade. You will retain all your factory features ie power and heated mirror

An easy, and EFFECTIVE mod

Sirius Break March 21, 2022

By

Super easy install. I LOVE these mirrors. The blue tint reduces getting blinded by those lovely individuals that keep their high beams on behind you, lol. The integrated LED turn signals take an already slick looking addition and makes it even more appealing. The convex mirrors notably increase how much you can see on either side behind you. If any or all of this sounds helpful, then these mirrors are a no brainer IMHO. 0 regrets!

Great Upgrade

Michael ;) April 14, 2020

By

With the help of the install video, you'll get these wired up quite easily, wasn't much of a hassle. I installed these mirrors day one of owning the car as I much prefer them over the stock. I enjoy the wide angle convex, definitely helps eliminate blindspots.

19 STI

Hayu September 28, 2018

By

Mirrors are great, install was pretty straight forward. My car had the mirror blinkers so this is more for those with it the wiring inside already and with no electrical exp.) The colors on the LT and RT sides are reversed from each other, to cheat a little I just stuck the OLM wires into the stock clip and hit my key fob to see if they worked or not. the pictures are of the RT side. RT: OLM black/white = stock WHITE / OLM solid black = stock green LT: OLM black/white = stock GREEN / OLM solid black = stock white

Blindspot solution!

Stephen January 10, 2018

By

I have a 16' crosstrek and I needed to drill out the driver side mirror in order to un-clip the oem mirror. The heater doesnt seem to work as fast as the OEM mirrors but i am going to take it apart to make sure i have the cables properly seated. I did have to use some zip ties to make sure the connections wouldn't come loose. That is after i re-terminated the wires countless times. After that being said...they are great for covering up 90% of my blind spots. This is a must upgrade for added safety while on the road. ENJOY!!

1 if you have a base model 5 if you have Defroster already

By

2016 WRX Base If you have built in defrost in your mirrors the install is super easy. if you want that feature for your base its another story. I had a few issues when installing them the first being if you have a base car like i do there is no wiring for the car in the mirror to plus the defroster into and no INCLUDED wires to make that a possibility. So i had to go out and buy some wire to run into the door which was a huge pain to do. That was the hardest part of this install by far. i was pretty displeased with that but overall it made it worth it because its great to not have to de-ice your side mirrors in winter. The Blue took a few weeks to get use to but i love it at night when cars are blinding you with their lights it really makes a difference. The built in turn signals are awesome as well cause i think it really adds that side signal that this care is missing if you have a base model. I was worried when i bought these that they wernt going to be that bright in the day lights but they are definitely bright enough during the day to see. Overall its a good product i think there could be some improvements made to it but so far its been great. Worth the money and headache at first. We will see how it holds up in winter.
QUESTIONS & ANSWERS
No questions have been asked about this product.
Upload images for this product