OLM
OLM Wide Angle Convex Mirrors with Turn Signals, Defrosters, and Blind Spot (Blue)
2015+ WRX / 2015+ STI
This upgrade is a must have for drivers who value being aware of their surroundings at all time. Lane merging can be a difficult task with plain OEM mirrors. However, these mirrors give you the field of vision to invoke confidence on the road
NOTE:
Sold as a pair. Direct replacement. These are designed for vehicles that were equipped with factory blind spot monitoring. They do not provide added functionality to vehicles that do not have blind spot monitoring already. Replacement for OEM part numbers 91039AL12A and 91039AL13A.
Quick Specifications:
Wide Angle (improved field of vision)
Turn Signal Equipped (improved visibility)
Built in Defrosters (connect to your factory turn signal wiring)
Blind Spot LED Equipped (retain your factory blind spot monitoring alert)
Details
OLM Wide Angle Convex Mirrors
This upgrade is a must have for drivers who value being aware of their surroundings at all time. Lane merging can be a difficult task with plain OEM mirrors. However, these mirrors give you the field of vision to invoke confidence on the road.
They're designed to be an OEM style replacement for the original mirrors. This means no adhesive. Snap the old mirrors out and snap the new ones in. If you have defrosters (non base models), you can detach the wires from the original and attach them to our mirrors.
As an added feature, these have LED turn signals built in. When they're off, they are basically invisible. Flip your turn signals on and you improve the awareness of vehicles around you. They are simple to wire if you already have turn signals in the mirrors from the factory. Just tap or solder the two new wires into the existing wires. If you have a vehicle that did not have these, you can remove your door panel, remove the mirror and run the wiring inside the vehicle. Existing wiring in the door will allow you to hook these up.
Also for vehicles with blind spot detection, you can retain it with this mirror. This is standard on the 2016+ STI Limited, WRX Limited manual with Option Pkg #22, and WRX Limited CVT with Option Package #23.
Check out the pictures below because they really are worth 1,000 words.
Sold as a pair.
---
Preview Video
---
A difference you can see
Stock Mirror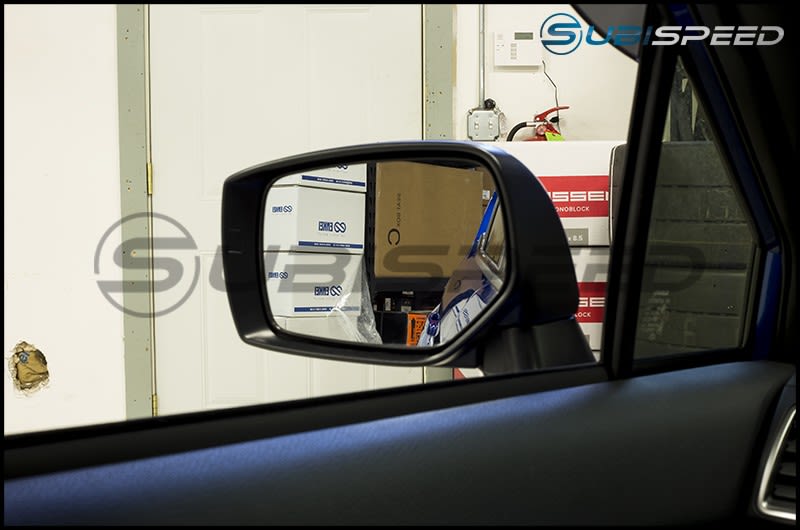 SubiSpeed Mirror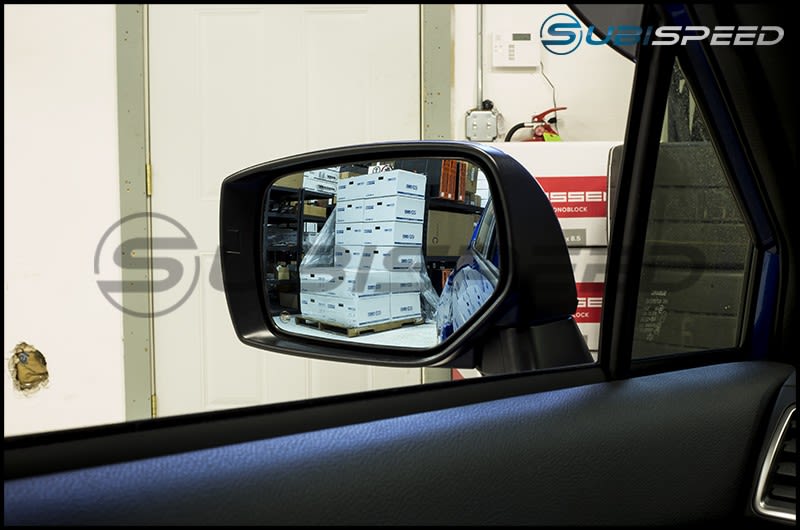 ---
Features
OEM quality fit
LED Turn Signals
Defrosters included
Blue coating to reduce glare
---
Compatibility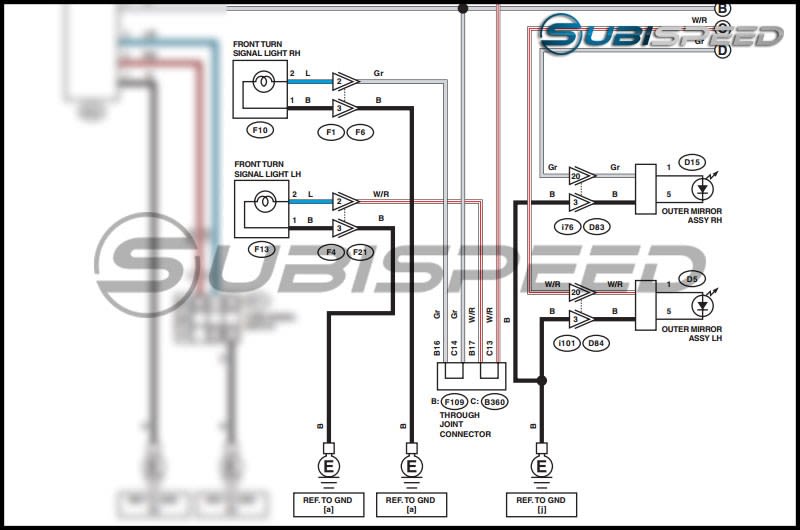 Turn Signals
All 2015 WRX / STI models have turn signal wiring inside their door harness. If you already have a turn signal in your mirror, you can attach the wires inside the housing. For 2015 WRX Premium, base, and Limited owners that did not opt for the factory turn signal mirrors, you can run the wires into the door and attach them close to the harness plug.
---
Defrosters
Every 2015 WRX / STI except base models have side mirror defrosters. For these vehicles, the defroster wires can be disconnected from the older mirrors and reattached to the new mirrors in a matter of seconds. Base owners can attach the defroster wiring (+ positive) to the red wire with green stripe at connector B97. Attach the black wire from the mirror to the chassis at any location which makes contact with the body (- ground).
---
Blink Rate
Both the SubiSpeed mirror turn signal and the factory mirror turn signals utilize LED technology. Unlike halogen bulbs, they will be at full power almost instantaneously. Since they are using the same circuit, they should blink at the exact same time.
Installation Video
Additional Vehicle Fitments
2015 Subaru XV Crosstrek
2015 Subaru Impreza
People who viewed this item also viewed
1 customer review
Some installation bumps but now working

Matt February 17, 2018

By

Installation was a bit of a challenge, mostly related to wiring but its working now without an issue. Installation video was helpful in getting the cover off and OEM mirror unattached. With the limited trim I needed to t-tap into the integrated turn signal which had green and white wires. I assumed that the solid black from the mirror would connect to green while the black with white stripe would connect with the white. On both sides the t-taps that were provided didn't work so I soldered the passenger side and it worked without an issue. On the driver side, I found the wiring was reversed on the mirror so I had to switch the connection between the provided cable and the mirror (i.e. plug the black with white stripe into the solid black wiring) and its working now. Happy with the wide angle view and integrated turn lights. Factory blind spot monitoring work just fine.
QUESTIONS & ANSWERS
No questions have been asked about this product.
Upload images for this product