Details
Scosche Window and Dash Phone / Accessory Holder
This product acts as a platform to mount phones and other smaller devices (like Accessports) to your vehicle. With it's strong magnetic mounting plate and equally strong suction cup, it will provide a stable, reliable mounting solution that can be transferred between vehicles.
MagicMount™ is an multi award-winning, innovative magnetic mounting system for conveniently mounting smartphones, tablets and other mobile devices to a wide array of surfaces.
---
A Versatile Product
Scosche has provided us with a great solution for mounting phones, navigation units, and handheld tuners. We can put the information we need within view. Remove your phone or other device when you enter an exit the vehicle in under a second.
---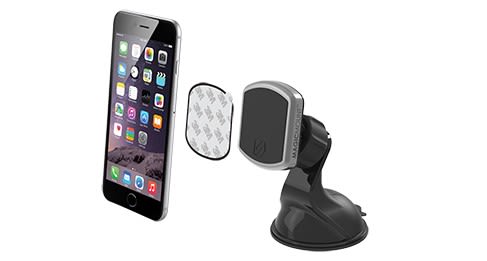 Magnetic Mount
Once the MagicPlate™ is applied as shown further down this page, just hover your device near the magnetic surface and it instantly locks securely in place. The sleek cradle-free design works perfectly with larger devices and allows you to position your screen for optimal viewing.
---
Interchangeable Trim Rings
Mount comes with silver and black trim rings. These can compliment the interior of most vehicles. Additional plates are available for purchase.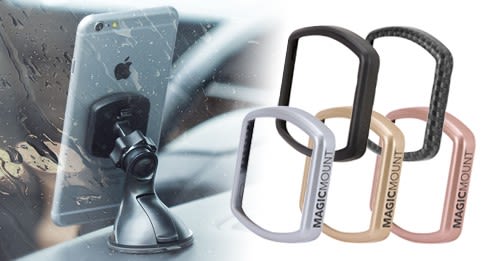 ---
100% Safe, Powerful Earth Magnets
These powerful earth magnets hold your device securely in place even on the bumpiest roads and are 100% safe for Smartphones, Tablets, GPS and other mobile devices*.
*Does not work with iPod Classic or other hard drive devices. The strong magnetic fields produced by these Neodymium magnets is enough to damage hard drive devices.
---
360° Swivel Mount
Being able to angle your smartphone just how you want it is easy. With a 360° swivel mount and soft rubber locking nut, adjust your MagicMount precisely to the angle of display that works best for you to view. Whether on your car dashboard, work desk or nightstand, get the perfect position.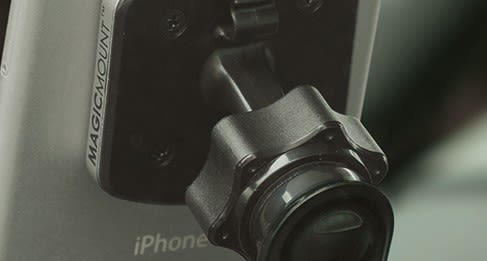 ---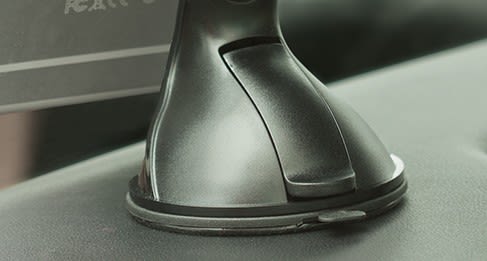 StickGrip™
The window/dash mount suctions to nearly any surface with the suction cup. The StickGrip suction cup creates a secure hold on windows and textured dashboards so you can mount your device wherever you want it. If the StickGrip ever loses its grip, simply rinse the suction cup off with lukewarm water, shake and let air dry.
---
MagicPlate™ Placement Options
The MagicMount™ system uses powerful magnets to grip safely and securely to the MagicPlate™, which is a small adhesive metal plate that can be attached very easily to the back of your mobile device. You can choose to apply the adhesive plate directly to your device, under the battery cover or to the outside of the case.
*MagicMount is not recommended for use with a mobile device encased in a wallet-style case cover.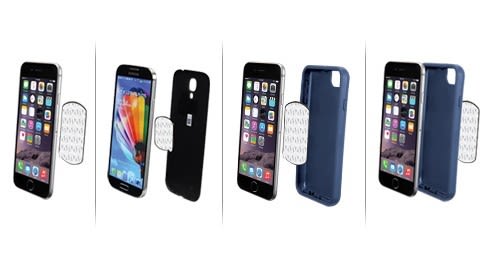 ---
Featured in Our New Products March 2017 Video
People who viewed this item also viewed
2 customer reviews
Love it

Michael June 4, 2017

By

Probably one of the best purchases I've bought for my gt86 :) love the quality of the product and works great! Also shipped super quick and came with my favorite air freshener of all time from you guys.

Hands-free at ease

Vanglorious June 2, 2017

By

For the longest time I needed a phone mount but I didn't want to buy a phone mount that was too bulky or one I I had to clip my phone in place to. I'm glad Scosche had this option. The choice was a no-brainer.
QUESTIONS & ANSWERS
No questions have been asked about this product.
Upload images for this product