Scosche
Scosche MagicMount Pro Charge Window / Dash Mount
- Universal
SKU: MPQ2WD-XTSP

Ships within 24 hours

Wireless charging's rapid ongoing growth has led to some poor-quality and low performance products being introduced that could also be unsafe. Qi Certified products, like our wireless charging products, have been thoroughly tested by independent laboratories to ensure their safety, compatibility and energy efficiency. Note: Not recommended for devices with sensors/ cameras that extend into the center of the device (i.e. Samsung Galaxy S9+)
Details
Scosche MagicMount Pro Charge Window / Dash Mount
---
Qi Certified, the symbol for Safe, Reliable Wireless Charging!
Wireless charging's rapid ongoing growth has led to some poor-quality and low performance products being introduced that could also be unsafe. Qi Certified products, like our wireless charging products, have been thoroughly tested by independent laboratories to ensure their safety, compatibility and energy efficiency.
Our products are designated as "Qi Certified" by the Wireless Power Consortium. Others may use terms like Qi compliant, Qi compatible and Works with Qi, but these terms are not the same as Qi Certified and products using such terms have not undergone Qi certification testing.
---
What is Qi (pronounced "chee") wireless charging anyway?
First off, it's the global standard for smartphone wireless charging. Wireless charging functionality is finding its way into millions of devices. Wireless charging uses electromagnetic fields to safely transfer power from a transmitting source (in this case the MagicMount Charge unit) to a receiving device (built into Qi-enabled smartphones or available as an add-on via battery covers, receivers and more) for the purpose of wirelessly charging the device's battery.
Scosche has combined the latest Qi wireless charging technology with our #1 Mount Brand for the ultimate solution in hands-free magnetic mounting and wireless charging.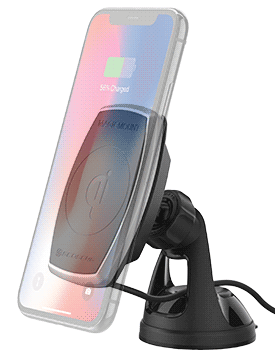 ---
Apple® & Samsung™ Wireless Fast Charge Compatible
These wireless magnetic charging mounts deliver up to a blazing 10W of charging power, making it compatible with Apple and Samsung Wireless Fast Charging.
Powerful 100% Device Safe Dual Magnets
Not only do these wireless magnetic charging mounts deliver fast wireless charging, they also provide two points of magnetic contact for a solid hold via powerful, rare-earth, neodymium magnets.
Foreign Object Detection
Advanced safety features like Foreign Object Detection safeguards your device from overheating and becoming a potential fire hazard.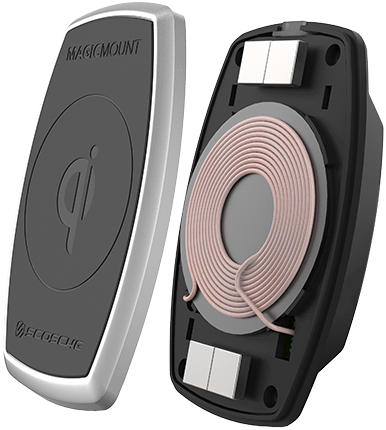 ---
Features & Benefits
Up to 10W of wireless charging power. The safe, quick, reliable, proven mounting security of the #1 Mount Brand
The peace of mind of knowing you own a Qi Certified wireless charger thoroughly tested by independent laboratories to ensure its safety, interoperability, compatibility and energy efficiency.
The open design ensures full access to all your device's controls and ports.
Easy, one-hand device use.
Advanced safety features like Foreign Object Detection which safeguards your device.
Whether you're looking for home/office or on-the-go wireless charging, Scosche has a product for you.
And no matter what product you choose, you'll get these terrific features and benefits.
---
Instructions For Applying the MagicPlate™ That Came With Your MagicMount™ Charge
Wireless Charging Devices
It is important to mount the MagicPlate in the proper location on these devices to avoid interfering with wireless charging functionality. We have created a MagicPlate Template Guide to assist wireless phone users who plan to use their device with our MagicMount Charge products or other Scosche wireless chargers.
Note: The MagicMount is not recommended with use of a wallet case.
Install MagicPlate
Includes options for mounting to a case or directly to your device.
Phone Plate
Easily removed without damaging your phone.
---
Phone Case Plates
Securely sticks to your phone case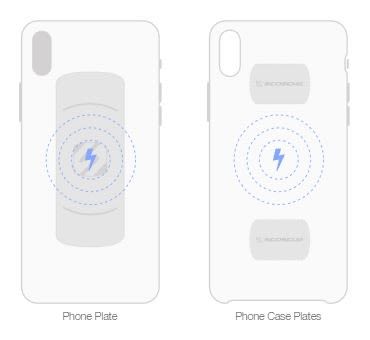 ---
Featured In Subispeed's New Products June Video
Featured in FT86SF The Best Scosche Phone Mounts
Upload images for this product

Feel free to share pictures of your vehicle with this product!