Subaru
Subaru OEM Paint Matched 2018 WRX STI Front Bumper with
- 2015+ WRX / 2015+ STI
Ships for free in the 48 states
In love with the new 2018 style WRX / STI front bumper but don't want to get rid of your 2015-2017 WRX or STI? We got you covered. Grab the new front end and make something old new again with the OEM 2018 Front bumper. comes with all the necessary hardware. Just select the color you need and you're good to go! Bumpers are factory paint matched and painted by a Subaru Dealer for factory quality. NOTE: Due to the size of this product, we cannot ship it to anywhere outside the lower 48 states. Also note that if product is in "ships from factory" status to allow 3-4 weeks for paint. We are always having more painted but demand may cause delays in this process. YOU MUST ANSWER YOUR PHONE FOR DELIVERY SCHEDULE TO BE MADE. Truck drivers need to make sure you are home before dropping off. :)
Details
Subaru OEM 2018 WRX STI Front Bumper

---
Ready to Install
In love with the new 2018 style WRX / STI front bumper but don't want to get rid of your 2015-2017 WRX or STI? We got you covered. Grab the new front end and make something old new again with the OEM 2018 Front bumper. comes with all the necessary hardware. Just select the color you need and you're good to go!
"Performance" Gloss Black Lower
You'll still stand out a little with our bumper, as we've painted the lower portion gloss black to improve the look with the stock gloss grille and aftermarket JDM DRL bezels.
---
Optional Fog Light Covers / Accessories
Subaru JDM DRL Bezels with Gloss Black Finish
These are authentic Subaru Japan parts which instantly give your vehicle a unique look. As OEM parts they have been subject to a strict quality control measures which will ensure long life, proper fit, and finish. We have supplied a quick connect harness which provides a single ground and power wire for each side. They can be wired up to our DRL harness or any other 12v power source.
These are not compatible with standalone turn signals. They will require that you have turn signals mounted in your headlights already.
For more information on these bezels, please use the links below: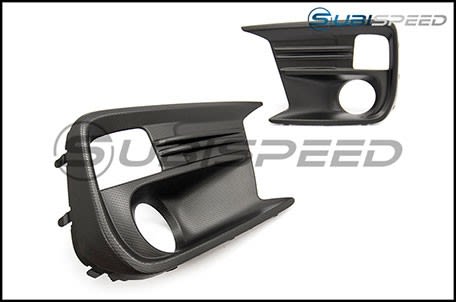 Subaru OEM Fog Light Bezels
These are the original authentic OEM fog light covers for the 18+ WRX / STI. We offer two of the most popular choices. Both support fog lights in the lower bumper. One has a turn signal hole while the other does not.
SubiSpeed Facelift JDM Style DRL Bezels
We have a lower cost solution for JDM style bezels. You can also choose to get a sequential turn signal in addition to the DRL. The bezels fit great and are close to OE spec.
Please see the related items below for more information.
---
Standard Kit
Paint matched bumper with gloss black lower portion
Paint matched tow hook cover
Bumper intake covers
Grille with center hole cover / screws (includes main Subaru emblem)
---

---
Optional Gloss Black Front Lips from Maxton
V1 and V2
Imported from Europe, these lips are constructed out of durable ABS. The finish is a high gloss black. To protect this great finish against scratches, Maxton has wrapped it in form fitting plastic which must be removed before installation.
100% compatible with 2018
For more information on these bezels, please use the links below: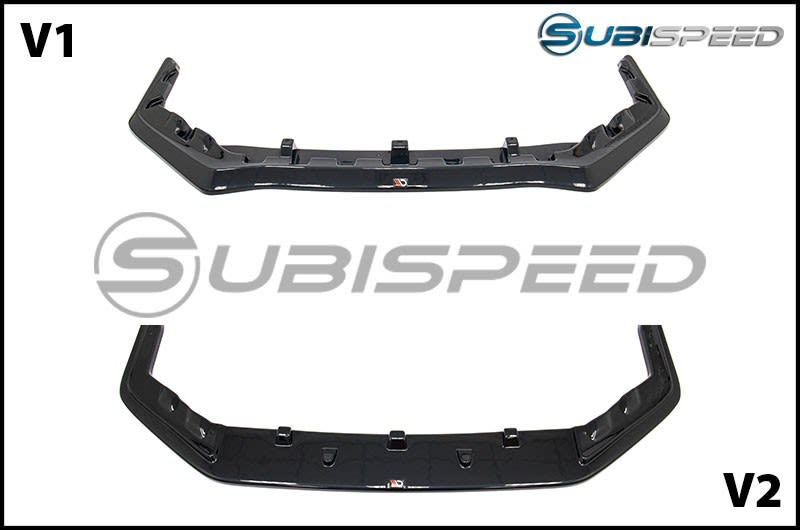 1 customer review
It's a match!

Nikolas May 26, 2019

By

I actually had a dirtbike run into my 2018 STI. I didn't want to go through insurance to fix some minor body damage so I looked into two options. Going through Subaru and their paint shop came out to $3k, so I ordered this. It came in excellent packaging (scratch free and enough packing peanuts for my kids to swim in) and arrived in 3 weeks from order. The bumper paint (pure red) is perfect, the gloss black is nice and not overwhelming and everything was in order. Thanks guys!
Upload images for this product

Feel free to share pictures of your vehicle with this product!