Details
December 2014 saw a revolution in WRX Intercooler design. They called it 'Verticooler' but behind the flash name this piece of Process West engineering turned conventional thinking on its head and changed the face of Subaru Top Mount Intercooling forever.
Sporting the efficiency of a Front Mount Intercooler system, and the neat compact packaging of existing Top Mount technology, Verticooler has quickly become a tuners favourite and entrenched in the world-wide Subaru tuning scene.
It's not just the unique mounting position and catchy name that set Verticooler apart though, as the pure raw data in terms of heat rejection, pressure drop, and overall efficiency effectively reset the benchmark for Top Mount Intercoolers. Many tuners have remarked that the data they see from Verticooler resets expectation and proves that Top Mount Intercooling really is a sensible and viable high performance solution. All the MY14 and previous Verticooler smarts have been carried over, repackaged, engineered, tested, and is now offered for MY15 cars. In short, current generation Verticooling has arrived!
DOES NOT FIT CVT MODELS!
---
COMPONENTS
The MY15 Verticooler kit comes complete with:
Bar and plate intercooler with core measurements of 400 x 205 x 120mm
Underhood duct
Scoop air diverter wings
Mandrel bent aluminium intercooler charge pipe
Engine pulley garnish
It is also available in black or silver finish.
The above parts are all included in the kit which makes it the most complete system on the market.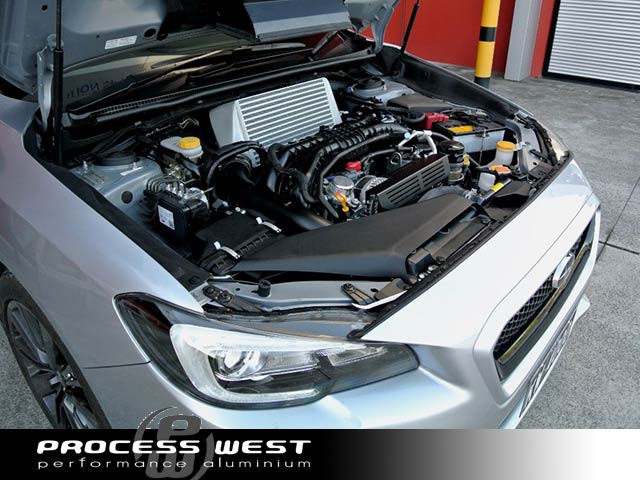 ---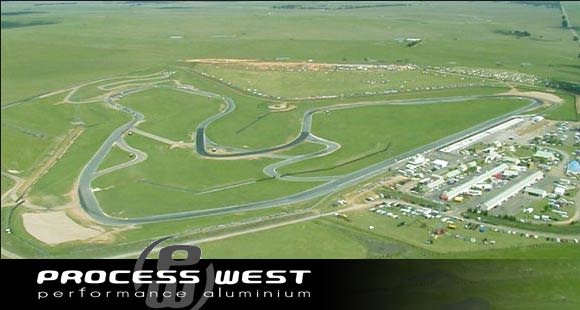 Track Testing
A hard test session was carried out at Australia's Regional Wakefield Park Racing circuit. Although being a very cold day, about 57.2F in ambient temperature, a series of rigorous tests were carried out in an attempt to pile on the heat.
Scheduled testing of 7 – 10 minutes at a time of flat out operation is enough to see the factory cooler heat-soaked and the intake temps start to rocket, but the Verticooler equipped MY15 pegged the inlet at no more than 73.4F.
Any way you look at that data it's a delta temperature change of only 16.2 degrees Fahrenheit, which is in fact the kind of temp gain you would normally expect to see in a normally aspirated application! Don't believe it? Well as they say 'The data never lies' and we have included the raw testing to show you how good Verticooler really is!
Temperature Profile
Green trace shows intercooler outlet temperatures in degree C
Red trace shows intercooler inlet temperatures in degree C
Black trace shows speed in km/h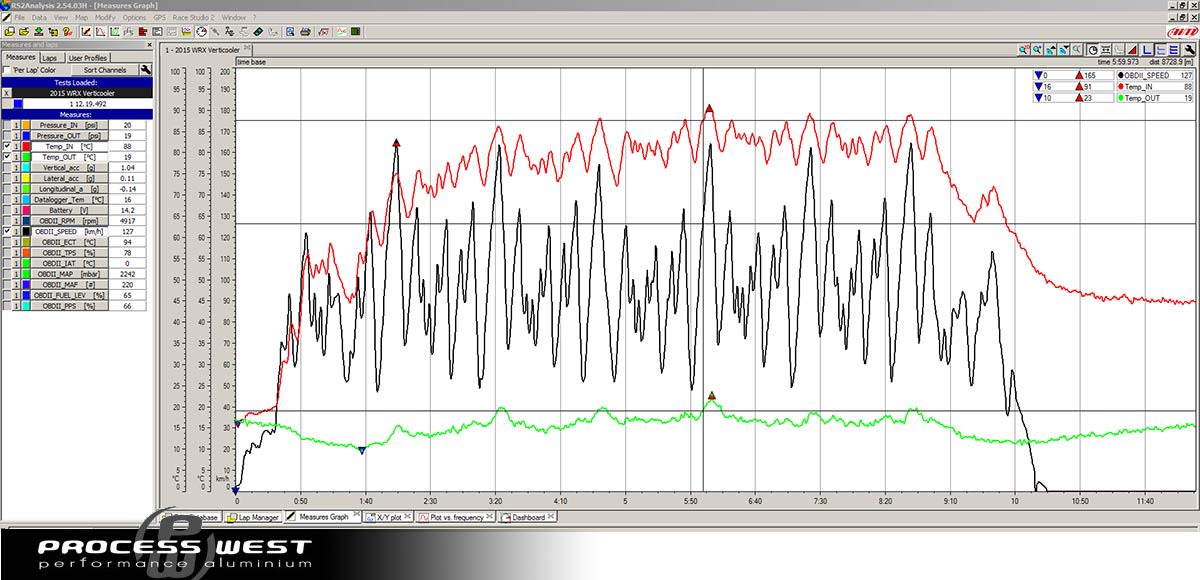 ---
Dyno Testing
Once they felt – and measured – how good the Verticooler system was on the track it was time to see how the numbers stacked up on the dyno. The procedure went like this -
First was baseline testing
Car was stock with a cat back exhaust… pink line
We then tuned the car with stock intercooler… green line
Verticooler was then installed and allowed a much more aggressive timing map and increased boost… red line
Graph shows power/boost pressure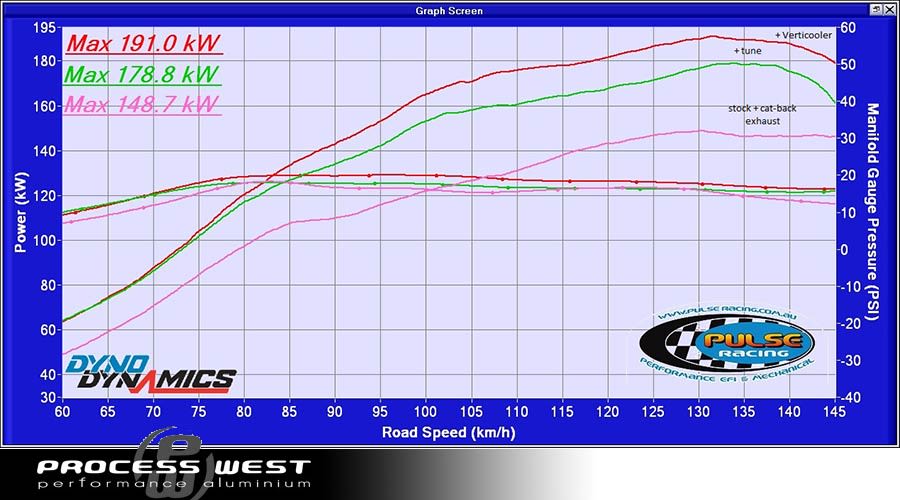 Graph shows power/torque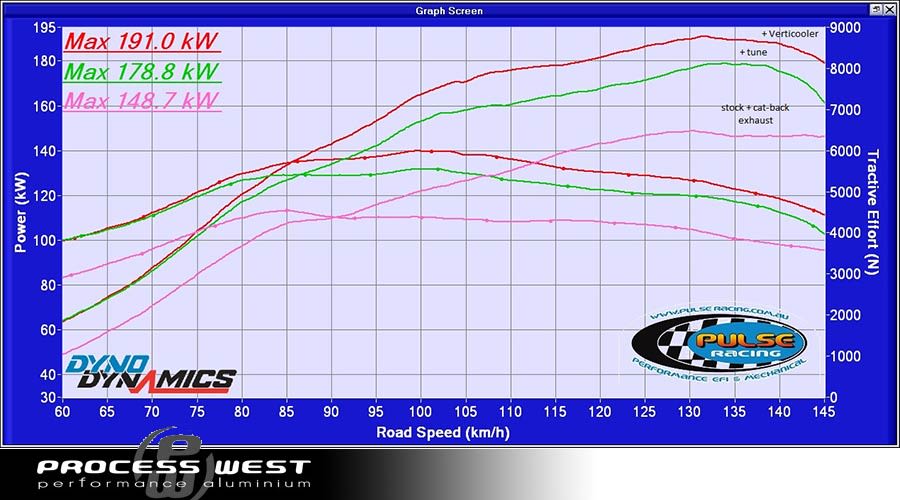 They also performed 3 back to back dyno pulls in quick sucession. The Stock intercooler saw outlet temps quickly rise to 123.8 degrees F. The Verticooler kept temps indefinitely under control with max outlet temp of 78.8 F.
.
It's also worth noting that this testing was done in the midst of winter here in Australia. Expect a much larger performance difference between the stock intercooler and Verticooler in the heat of summer.
Stock intercooler 3 x back to back runs - note intercooler outlet temperature – green trace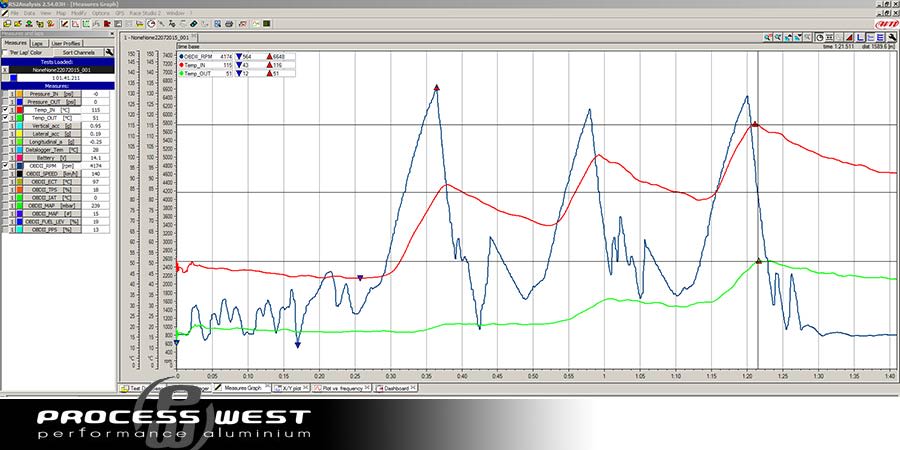 Verticooler 3 back to back runs - note intercooler outlet temperature – green trace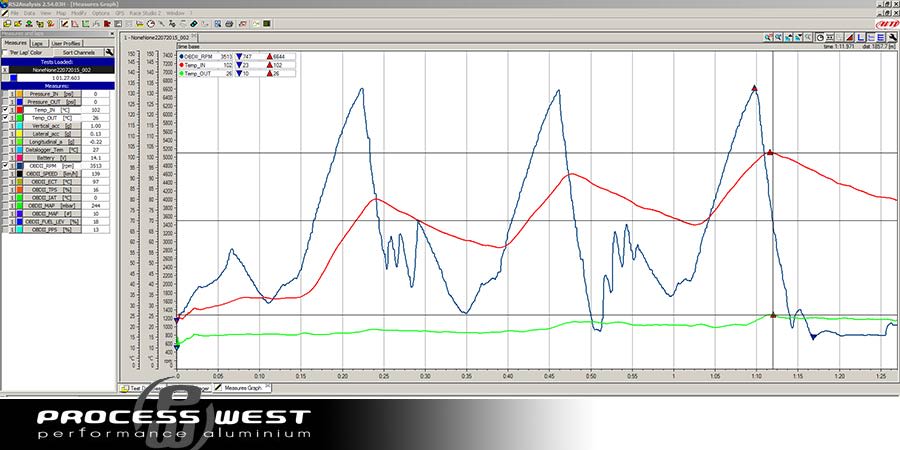 People who viewed this item also viewed
3 customer reviews
Upgraded radiator and/or upgraded pitch stop

Clem September 7, 2021

By

Installing this on a stock car will go on almost perfectly. Make sure to either remove or bend the mounting bracket that the stock intercooler goes on (passenger side), it may hit the verticooler. If you have an upgraded pitch stop, the verticooler may hit it. Can be adjusted to get some space, like up to 3mm. Cobb one looks to be slimmer than the Perrin version; I have the Perrin version and was hitting each other. If you have an upgraded radiator, you may be losing the radiator fan on the passenger side or upgrade to a universal slim radiator fan. It could be installed but there is no gap between the charge pipe and the passenger side radiator fan.

huge difference

James June 12, 2021

By

looks great under the hood. I can't complain one bit quality instructions, super tight hoses, and high quality hose clamps. Can't wait to get my tune so I can truly experience the increased cooling over stock

huge difference

James June 12, 2021

By

The verticooler looks great in the car. The instructions are detailed and make the installation pretty straight forward. There is one bracket on the passenger that would scrape the intercooler. I just tapped it down some so it would clear. I didn't remove it because there is a connector and something else that is held in place by it.
QUESTIONS & ANSWERS
No questions have been asked about this product.
Upload images for this product