SubiSpeed
SubiSpeed Climate Control Knob Covers
2015+ WRX / 2014+ Forester
Ships for free in the 48 states
These machined AC knob covers can bring color and / or style to your interior. Anodized red or blue.
Sold as a set of three (3).
Details
SubiSpeed AC Knob Covers
CNC machined out of aluminium (ăl"yo͝omĭn'ēəm), these knobs add a unique style and finish to the OEM knobs found in many Subaru vehicles. They are slip fit so installation only takes a few moments.
Anodized red or blue. Sold as a set of three (3).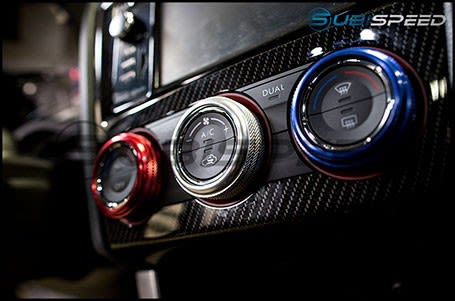 5 customer reviews
Nice trim Piece

John April 30, 2020

By

These fit perfectly over the existing AC knobs. Very nice machined look. Like others, the color is not red but mine look more like a shade of rose. Still look nice in the car..

2018 wrx

Dany March 7, 2019

By

I had gotten the blue set to match my blue subispeed tall gated shift knob. These add the lil pop of color the center console needs. Fits perfectly and snug right over the existing oem knobs. Simple install as 1. 2. 3.

Nice but color off

Neil September 9, 2017

By

Matches other Subispeed interior accessories but not actually red. More of a burgundy/wine. Not the color I started my interior so I'll have to buy new partsblater that match the other I want. Again, these are NOT the standard red but fit perfectly.

Sharp Look!

Riesner April 6, 2017

By

I purchased these and I am very happy with them! They are a bit snug while installing so you will need to take your time in fitting them in. Adds a great accent to the interior.

Looks Great

Michael March 1, 2017

By

Easily slides over the existing knobs, but fit tight enough that there is no slipping when adjusting the climate controls. Just be aware that you CAN NOT install these knob covers and the bezels (Link here: http://www.subispeed.com/2015-subaru-wrx/interior/bezels-and-trim-pieces/gcs-climate-control-trim-bezels-v2-2015-wrx-2015-sti-2014-forester) together. If you have the bezels, you will NOT be able to fit these covers fully over existing knobs.
Upload images for this product