OLM
OLM VL Style / Helix Sequential Smoked Lens Tail Lights (Black Gold Edition)
2013+ FR-S / BRZ
Ships for free in the 48 states
The transition from stock tail lights to OLM VL Style Black Gold Editions will transform the look of your vehicle. The new sequential light feature will add functionality and can be disabled for a more traditional turn signal. They're plug and play so you'll be back up and running shortly after you receive them. These lights are
DOT Approved
and are stamped accordingly on the housing.
NOTE: International customers will need to repin the tail light harness, as they are wired for USDM spec cars.
Details
New for 2016 OLM VL Style / Helix Smoked Lens Tail Lights (Black Gold Edition)
Since their introduction, this tail light design has set the benchmark for others to follow. New for 2016, it has been enhanced with a sequential turn signal feature. This mode can be disable this with a flip of a switch if you desire to have traditional turn signals.
The transition from stock tail lights to OLM VL Style Black Gold Editions will transform the look of your vehicle.
They're plug and play so you'll be back up and running shortly after you receive them.
NOTE: International customers will need to repin the tail light harness, as they are wired for USDM spec cars.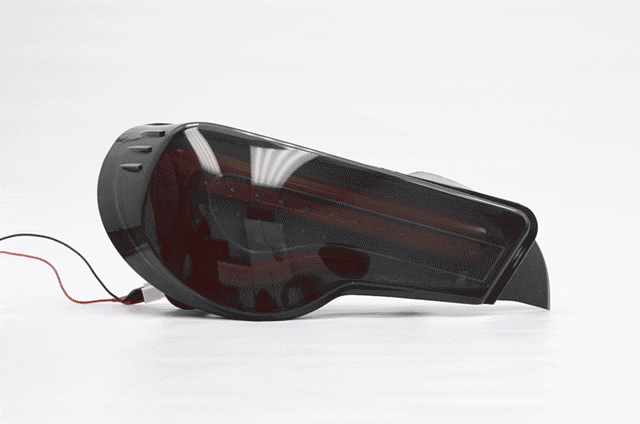 ---
FT-86 SpeedFactory Video
0 customer reviews
Easy, Good Quality, worth the money,

Andrew December 9, 2020

By

I ordered these tail lights because I wasn't much of a fan of the stock 2013 Scion FR-S. This gave me a reason to bond with my step dad and he showed me how to install them and they were super easy. Literal plug and play with no splicing required. The look good and I drive around saying to myself, "Look at all these people and their s***** tail lights." I'm that satisfied. My step dad has worked on cars and done mods here and there and he said, "Easiest mod I've ever done"

Anonymous November 24, 2020

By

Best Headlights for the Price

RennH November 12, 2020

By

In my opinion you cannot get better headlights in the 3-4 hundred dollar range than these. Like all the other reviews, super easy install, 20 minutes by myself. They look amazing on a black car, I'm sure they look good on any color. The sequential is optional with a flick of a switch if your not into that.

GOOD QUALITY AND EASY TO INSTALL

Dennis July 2, 2020

By

Just buy it!

Amazing quality, easy install

KEVIN March 12, 2018

By

Took about 20 minutes to install by myself. Tail lights look even more amazing in person. Make sure the gasket is seated correctly to prevent condensation buildup. There will be a printout in the box of how it should be seated.

Great Quality and Appearance

Calvin September 15, 2017

By

These tails in my opinion are the best ones on the market. As far as aesthetics goes, these are second to none. It goes well with my Halo FRS. Installation is simple, quick, & easy. Shipping was fast and I also received a nice Laffy Taffy treat in the box :). Thanks again FT86SpeedFactory, great customer service as always.

Excellent, easy to install.

JeanClaude May 26, 2017

By

Compared to the OEM-tail lights these ones are 100x better, in terms of looks and install was ease, took us 15 minutes. They look aggressive and give off that dark tone I was aiming for. Highly reccomend these to anyone into the aesthetics of mods.
Upload images for this product