Subaru
Subaru JDM Rear Hatch Lighting Kit - 17+ Impreza 5D
2017+ Impreza 5D
Add some additional lighting to the rear hatch of your 17 Impreza.
NOTE:
These are plug and play lights. They come with a harness which plugs into your existing trunk light. Retains the use of the existing trunk light as well. Imported directly from Japan.
Details
Subaru JDM Rear Hatch Lighting
The new Impreza is a very versatile vehicle that will gain popularity in the United States. There are little areas which can still be improved through OEM and aftermarket parts.
Subaru has developed a kit which will give you a little extra light for loading and unloading things at night or just for hanging out at a camp site.
These are OEM pieces and not available through parts catalogs in the US.
NOTE: These are plug and play lights. They come with a harness which plugs into your existing trunk light. Retains the use of the existing trunk light as well.
Pictured here is a similar model for the Crosstrek. This should give you an idea of how the lights seamlessly integrate into the hatch.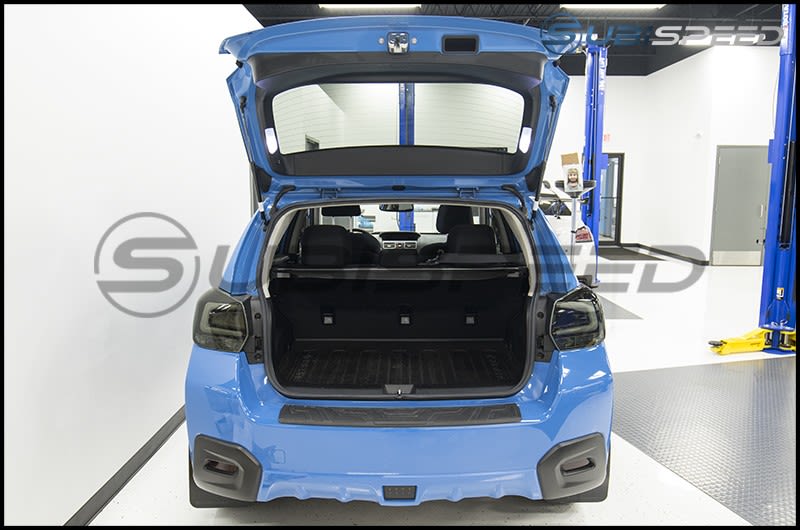 People who viewed this item also viewed
2 customer reviews
Great upgrade (prep, planning, & patience are key to install)

Scott March 28, 2019

By

Took a little longer than anticipated but that was mostly due to my lack of planning and a garage. Fortunately, I did have the right tools (a full trim tool kit) and some prior experience dealing with panels and door wiring, along with perfectionist tendencies. On a 2019 model, it was possible to accomplish without completely removing the interior panels although it would have been easier. Also didn't require dropping the headliner but you will have to be careful working right along the edge of it. As for the rubber boot/loom, I fished the connector from the hatch down through it, carefully using a set of needle nose pliers to get it started and to pull it out. Fortunately there was a generous supply of thin, adhesive-backed foam sheets for all the sheet metal edges and to prevent the loose connectors from rattling (in some cases, the connectors were wrapped, other times foam was applied to adjacent surfaces.) All in all, a great solution for improving the Impreza's otherwise poor cargo area lighting.

A must have and should be standard equipment

18Limited October 16, 2018

By

One of my few complaints about the Impreza hatch is it doesn't have overhead lighting for the cargo area. I was excited when I came across this accessory and to be honest it should be a standard feature. Installation wasn't too difficult if you're mechanically minded. In true JDM fashion, the instructions are only in Japanese. Subispeed's video on the Forester kit https://www.youtube.com/watch?v=exgELm6W5TE was a tremendous help on locating which panels to loosen for the wiring harness. What took the most amount of time was passing the cable harness head through the hatch's rubber boot. Other than, it requires a Phillip's screw driver to loosen 4 screws on the cargo light side, a fastener remover tool or a flat head screwdriver for the plastic trunk guard and spare wheel foam, some zip ties (included) to clean up the wires, and some elbow grease to get the job done.
QUESTIONS & ANSWERS
No questions have been asked about this product.
Upload images for this product