Subaru
Subaru 2020 JDM DRL Bezels with Quick Connect
2018+ WRX / 2018+ STI
2018 marks a slight refresh for the WRX and STI. These JDM bezels are designed primarily for STI owners and add style and a very clean, simple look to the front of your vehicle. We've included our quick connect harness for easy installation and connection to any 12v source.
If status is "ships from factory" please expect delays of 1-2 weeks. *While this does fit the WRX, your turn signals will have to be relocated to the headlights and some owners may lose their fog lights.
Details
2018+ JDM STI DRL Bezels (2020 Refresh)
These JDM Final Edition fog light bezels take the 2018 update to the next and perhaps last level. They're more aggressive than ever and really transform the front end of the STI (or WRX without fog lights).
All of these parts are imported from Japan and currently not available in the states.
Since most of our customers have non-JDM vehicles, we've adapted these to have a standard T-tap on the end. We've also included 2 extensions which can aide in connecting the lights to existing lights or our DRL harness.
NOTE: DO NOT connect 12v wiring directly to the LEDs. There is an LED driver box for each side. Connect the SubiSpeed Quick Connect harness to this LED driver box and then connect the LED driver box to the LEDs. The T-taps at the end of the Quick Connect harness will have red and black wiring. Connect the black wire to ground and the red wire to +12v.
---
Quick Connect Harness
SubiSpeed knows how time consuming and confusing wiring can be. USDM vehicles don't have the exact same wiring harness as their JDM counterparts. We've updated this product to include plug and play adapters that will give you quick connects on one end (via T Taps).
This will reduce install time and make it possible for novice installers to wire up the lights without soldering or stripping wires.
NOTE: There is a factory JDM harness inside the box as well. It is recognizable by the factory style plugs on the ends. We have not removed this from the kit, but it will not be used in most USDM installations.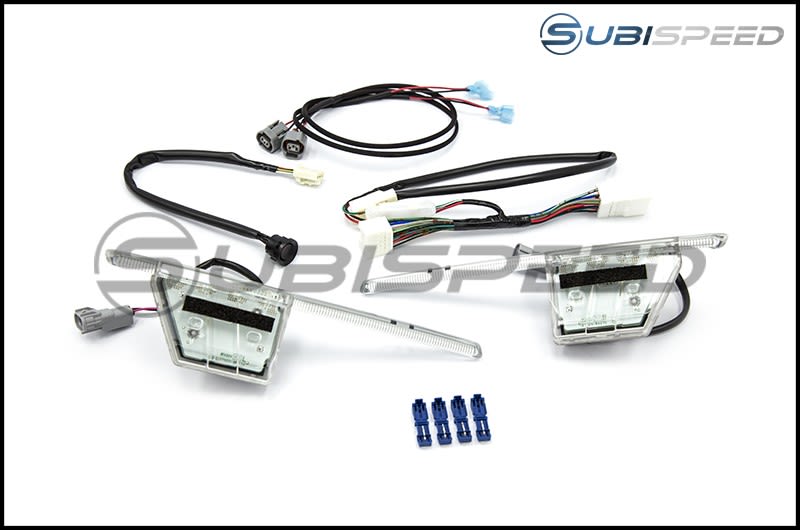 ---
Installation Notes
When wiring with factory LED headlight equipped vehicles (WRX Limited / STI), we recommend you tap the headlight wires. Find a bundle consisting on 1 red, 1 black, and 1 green wire. Tap red to red on the quick connect and black to black on both sides.
For other vehicles, we recommend one of our DRL harnesses.
Includes
2x OEM Fog Light Bezels

2x OEM LED assembly
2x LED driver boxes
JDM OEM Harness (not used in most installs)
OEM Style Plugs with Quick Connectors (T taps)
Featured in Subispeed's New Products December
People who viewed this item also viewed
1 customer review
Best JDM solution

Jinx January 25, 2023

By

Install was a breeze with the quick connect functionality. Only thing is no instructions so you don't know where to put the felt pads but Youtube videos will help. Expensive but JDM quality.
QUESTIONS & ANSWERS
No questions have been asked about this product.
Upload images for this product