GCS
GCS Switchblade Key
- 2015+ WRX / 2015+ STI / 2014+ Forester
Transform your OEM keys into a convenient switchblade key. NOTE: Pictures show the transmitter from an OEM key installed. Transmitters come from your original key and are NOT included.
Details
GCS Switchblade Compact Key
Switchblade keys are convenient because they're compact and just neat. With a little work, you can transform your OEM keys into a switchblade key.
Setup requires one transmitter from and one transponder from an original key. It is recommended that the transponder comes from the valet key as you can cut this key and easily remove the transponder. The transponder in the other keys are glued in place.
You will want to get the key cut before final assembly. Also check alignment of the front buttons. Press each one and make sure it is properly seated.
Includes shell, key blank (shank) with locking pin, 3 screws, spring, and Subaru logo sticker.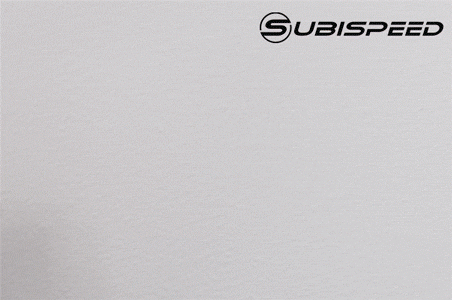 SubiSpeed Install Video
UPDATE 6/24: The manufacturer has updated the blade to ensure a more uniform fit across many Subaru models.
Finished Key
Once your key blank is cut properly, there should be no rough spots on the top or bottom towards the base. It should look similar to ours.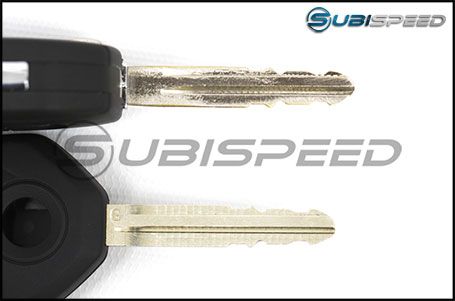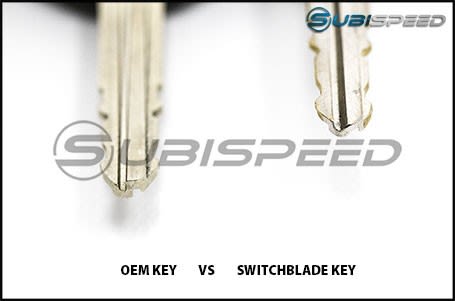 5 customer reviews
Once complete it is great, but a pain to get working

Samual July 16, 2017

By

I have been eyeing this key for awhile now, I am a fidgeter, I always played with my flip keys I have had in the past. I have been missing that since I got the new forester. The kit arrived with everything that is needed. Assembly had some snags, when moving the remote / buttons part into the new key the best thing to do is hold the key and look through the holes while popping that on, what looks straight from the back isnt perfectly lined up with the button holes. I am sure my neighbors hated me, because everytime I was even slightly off it would set off the panic alarm. So go slow, and watch from the new key side through the holes for the buttons and make a small adjust at a time until it click all the way in, and all buttons still work. Removing the RFID chip from the Valet key was just as easy as they show in the video. I glued that in, that step is the most straight forward. The key / spring and button part is really kinda a pain, the video doesnt show that step slow enough to me, and the button part has three posts on it, and they can be put in many ways, and its never mentioned in the video anything about that, so I am not sure if the direction / location of the posts matter at all, but that is something to note. Also to note, you spin the key clock wise, that is not mentioned either in the video, and its hard to see because his hands are in the way, but I dont think they really had any better way to do that video, its just he nature of the this. The screws are strange, they are small but the Philips head on them are not that small, I have cell phone repair screwdrivers and those were too small, it needed roughly a normal screw drive instead of precision. Once that was all done I figured that was the hard part. I was wrong, it might be my area, but I am in a very major city and I actually had lots of issues trying to find someone to cut the key. The few locksmiths I called to get it cut wouldnt do it because most wanted to still program it when that isnt needed, and also I was told since it wasnt from a dealer they are not sure the quality of the materials used. It took 5 shops to finally get someone to cut it. My car is a Forester XT 2017, and for some reason most locksmith key cutters software references that it is totally different style key, so the lock smith had to cut it manually, it was a little more cost wise. Granted none of this is the fault of the kit, but this is something to keep in mind you might run into these snags. Another things to mention that I dont like about the key, one the back there are three screws, while that keeps it solid, they decided to put the third screen under the subaru logo, so every time your battery in the remote dies you will have to pull the subaru logo off, so I can guarantee that the sticker will fall off eventually, definitely after a few battery replacements. Also note, you will have to redo the spring with every battery swap. The rolled pin that holds the key to the swing needs to be pushed in perfectly, that changed the entire feel of the key, at first it was a horrible swing, and it was caught randomly, but once I pushed the pin in better it made it amazing. Also one last thing I would suggest, call around before you build the key and once you find a place that will cut it, ask them if they want the handle on the key or just the blank. Since the key had to be cut manually for me I had to take it apart and then put it all back together again.

Just don't.

Jeremy June 30, 2017

By

I was super excited to have this. Getting the blade cut was not that big a deal once I went to a real locksmith. Putting it together was difficult. The alignment of the buttons inside the casing took some force to get it right, but after a bit I got it. Once I put the screws in I realized there was an issue. The halves don't go together very well and you end up stripping out the screw heads trying to get the halves together right. I have had this about 8 months and have lost 2 roll pins almost causing me to lose the key blade and stranding me. I could tolerate all the other parts, but the roll pin falling out on its own multiple times is just not acceptable.

Meh

Quin April 26, 2017

By

It's a toss up whether this was worth the cost. Nice to be able to fold the key away but the quality seems lacking. Key blade is very wobbly and the case does not close properly leaving a small gap on one side. I probably would not order another one.

Not Bad

Jordan March 10, 2017

By

Everything was pretty easy to setup, buttons from OEM remote fit perfect. Only issue I have is the pin to hold the key in place is a bit too narrow, allowing the key to wiggle around a bit. Was able to improvise to fix the wiggly, but should not of had to.

Great but not perfect

Jonathan January 7, 2017

By

I was a little disappointed when I bought my 2016 WRX and it didn't come with a flip. I missed the flip key from my mk4 days and had to have it back. Everything for the most parts fits great in home position but not perfect. If you are a perfectionist like myself you will have to break out the dremel to cut away excess plastic to have it sit flush when all screws are tightened down. Note: use a regular Phillips or you will strip out the screws
Upload images for this product

Feel free to share pictures of your vehicle with this product!