Details
GCS Emergency Door Lights
The WRX / STI have plastic caps in their front doors. These caps can be replaced with emergency lights from GCS. Helpful and pretty cool!
Installation
There are a couple ways to connect these lights depending on how you want them to light up. If you want them to light up just when the hazard lights are on, please use the hazard button wiring picture here to locate the "ground" wire. You can see that we already have a blue, female T-tap connector on it. This wire only acts as a ground when the hazard lights are on. Connect both black wires from your new emergency lights to it.
Then you will use the same method for the positive connection like in our video for the puddle lights below. If you want these to light up whenever you get in or out of the car, the video will show you a different ground wire to use for that.
NOTE: Now comes with add a fuse with fuse as seen on the video. When working with the BIU (body integrated unit) you need to pay special attention to your connections. Improper wiring can burn up an IC in the BIU which controls the dome lighting.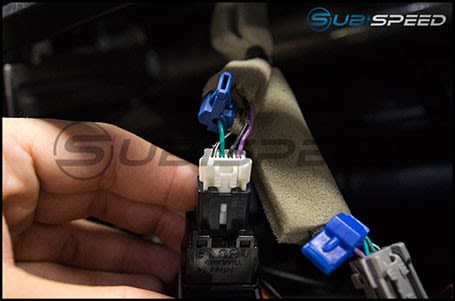 ---
Subispeed Puddle Light Install Video
Installation is similar to this product.
The way the wire in the BIU works is that it is a ground when the lights should be on, however it is as 12v when the lights are off. This stops the flow of electricity.
People who viewed this item also viewed
QUESTIONS & ANSWERS
No questions have been asked about this product.
Upload images for this product