Spyder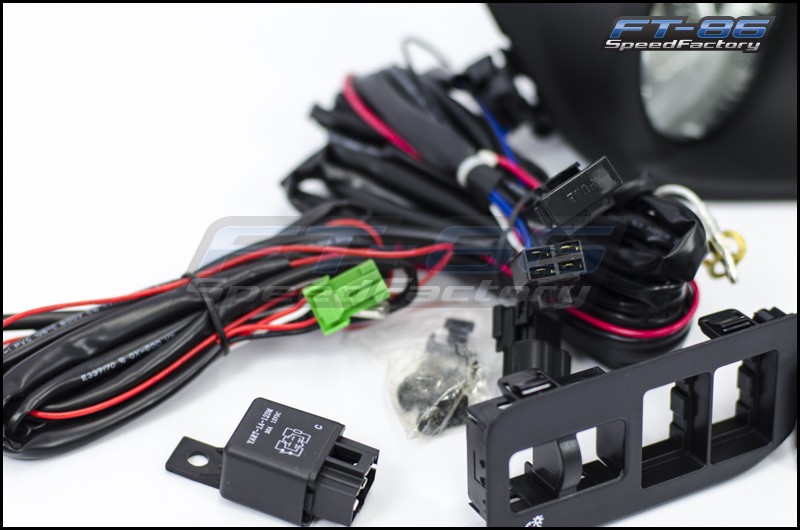 Spyder FR-S Fog Light Kit - Yellow
2013-2016 FR-S
Ships for free in the 48 states
Spyder Auto's fog lights use high quality materials and are designed with contemporary aesthetics in mind. Not only are they an upgrade over the stale look of the OEM lights, they are also more functional. They are guaranteed to catch the eyes not only automobiles enthusiasts but casual lookers as well.
The new OEM-quality foglights have a plastic lens, for high clarity and overall quality. They are H16 size. The installation is nearly plug-and-play: just install the H16 Foglight Wiring Harness, pop off the old turn signal bezel, and install your new fog lights and bezel! Simple as that. Installation will take 30-60 minutes, on average.
This is the only kit that includes a separate button and bezel to activate your fog lights. Giving you the option to run the fog lights whenever you want them, not just when you have the headlights activated. Plus, you get that OEM-like feel with the kit, just like the fogs were installed from the factory.
Includes:
- Two H16 Plastic-lens foglight assemblies, (interchangeable left and right), with 19w H16 halogen bulbs
- Two OEM-style fog light bezels
- One H16 foglight harness with connectors
- One connector harness for fog light activation button - One bezel for fog light activation button
- One stainless steel mounting hardware set
*Please not this kit is not real high quality. If you are looking for OEM like fitment and quality, look to the Diode Dynamics Fog light kit was have on the fog light page.


Fits:
Scion FR-S Spyder FR-S Fog Light Kit - Yellow
Scion FRS Spyder FR-S Fog Light Kit - Yellow
Details
Spyder Auto's fog lights use high quality materials and are designed with contemporary aesthetics in mind. Not only are they an upgrade over the stale look of the OEM lights, they are also more functional. They are guaranteed to catch the eyes not only automobiles enthusiasts but casual lookers as well.

The new OEM-quality foglights have a plastic lens, for high clarity and overall quality. They are H16 size. The installation is nearly plug-and-play: just install the H16 Foglight Wiring Harness, pop off the old turn signal bezel, and install your new fog lights and bezel! Simple as that. Installation will take 30-60 minutes, on average.

This is the only kit that includes a separate button and bezel to activate your fog lights. Giving you the option to run the fog lights whenever you want them, not just when you have the headlights activated. Plus, you get that OEM-like feel with the kit, just like the fogs were installed from the factory.

Includes:
- Two H16 Plastic-lens foglight assemblies, (interchangeable left and right), with 19w H16 halogen bulbs
- Two OEM-style fog light bezels
- One H16 foglight harness with connectors
- One connector harness for fog light activation button - One bezel for fog light activation button
- One stainless steel mounting hardware set

*Please not this kit is not real high quality. If you are looking for OEM like fitment and quality, look to the Diode Dynamics Fog light kit was have on the fog light page.

Fits:
Scion FR-S Spyder FR-S Fog Light Kit - Yellow
Scion FRS Spyder FR-S Fog Light Kit - Yellow
Upload images for this product