Details
The automotive community is starting to see great convenience items in vehicles like this trunk hook. Instead of letting grocery bags and other objects slide around your trunk, this hook gives you a point to attach the objects, and it easily tucks away when not in use. It also allows you to keep these bags easily accessible by keeping them towards the rear of the trunk.
You can also install a couple more if you find yourself buying a lot of stuff when out and about.
---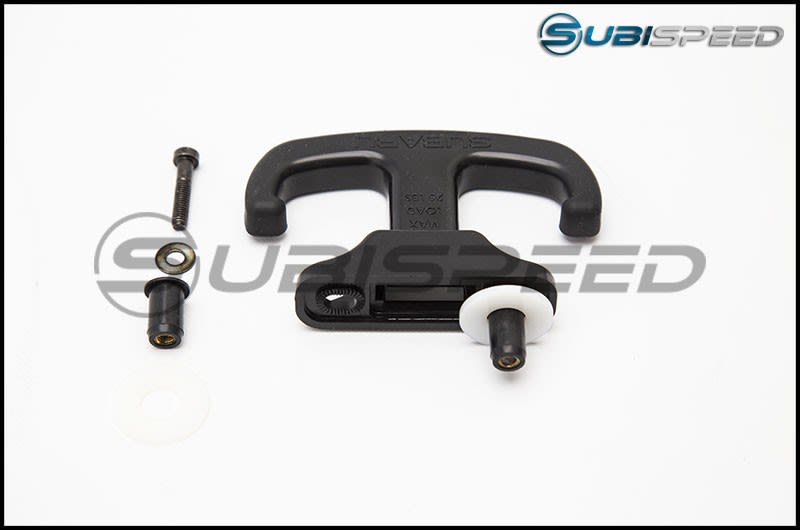 Installation
Installs in a number of different spots. Please see the main pictures for the installation location.
Follow the order in the layout picture for proper installation. The supplied bolt has a smaller washer which installs prior to being put in the screw hole on the hook. Thread the rubber part on until it is lightly hand tightened. Use the larger, white nylon washer next. Repeat for the other side. The nylon washer is what will make contact with the body of the vehicle. Locate the holes you want to use and press the assembly firmly against it. Use the supplied Allen wrench to tighten the bolt. This causes the rubber portion to expand and keep the hook in place.
---
SubiSpeed Installation Video
7 customer reviews
Great item BUT rubber pieces should have never been packaged with this item

James July 26, 2019

By

Replace the rubber pieces with toggle bolts and you'll never have to worry about the hook loosening or falling off. *See supplied pic...perfect fit and no need to cut bolt to fit Credit to anarekist February 21, 2018

Doesn't fit well

joseph December 5, 2018

By

This product doesn't fit well at all. I had to make my own mounts to make it fit well. This took me about an hour of engineering and fab, but once I figured it out it works perfect. I went and purchased another a second one after I figured out how to install it securely. I'm not pleased with the original fit but with a little modifications it is a great product.

works well but you'll need better mounting options

anarekist February 21, 2018

By

really cool and useful hook for holding bags and keeping things stable while you drive. the rubber mounts dont work so well, mine had a deformation that wouldnt allow it to stay inside the mounting hole. i used some toggle bolts that i cut down cause they were too long and it's on tighter than the rubber crush mounts would ever do.

Install was trial and error, but super useful once on

Nate November 4, 2017

By

The rubber locking nuts are kind of small and required a little trial and error to get on. I kind of spread them apart while tightening them down to get them to anchor correctly. Once it's on it seems pretty solid, but one of mine fell off a few months later. The design could be better but it's such a useful product.

Excellent item, quick delivery

Kris September 8, 2017

By

This is a really handy, very easy to install item -- and it was delivered with Amazon-speed! Had it installed in my 2017 WRX in a couple of minutes, and it really works well -- may have to snag another! Definitely recommend this!

Hard to get to stay, but when installed neat addition to your trunk.

Ethan August 10, 2017

By

The rubber fasteners really aren't thick enough to get the hooks to stay. Ordered two of these one is installed and working the other cant seem to get it in. When installed though works perfectly like its suppose to.

cool little thing

Greg February 12, 2017

By

Grabbed one of these to fill out my $250 minimum for free shipping. Easy to install and adds a trick little functional piece to the trunk. I will be ordering at lease one more.
Upload images for this product