Perrin
Perrin Air Oil Separator
2015-2020 Subaru STI
The PERRIN Performance Air Oil Separator traps oil from the crank case vents before it enters the intake, thus increasing intercooler efficiency and reduces chances of performance-robbing detonation.
NOTE: There are two different models of this product depending on where your intercooler is mounted.
Details
Perrin Air Oil Separator
---
The PERRIN Performance Air Oil Separator traps oil from the crank case vents before it enters the intake, thus increasing intercooler efficiency and reduces chances of performance-robbing detonation.
NOTE: There are two different models of this product depending on where your intercooler is mounted.
---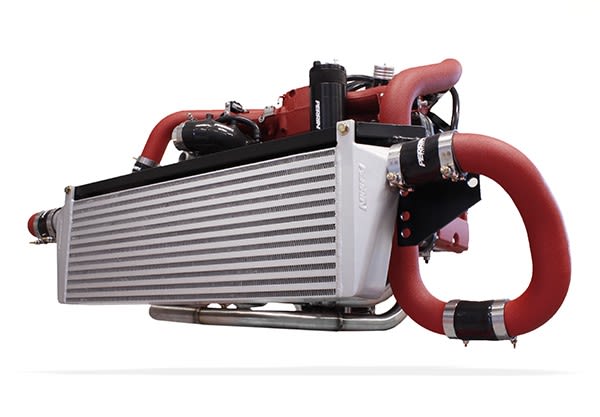 INCREASE INTERCOOLER EFFICIENCY
The AOS increases intercooler efficiency by reducing the amount of oil deposited into your intercooler and intake system! As blow-by/oil builds up inside your intercooler, the less efficient it becomes due to less heat being transferred away from your engine. This leads to power loss and detonation, which can be damaging to your engine.
---
REDUCE CARBON BUILDUP
Reduce carbon build up in the combustion chamber, intake valves, and in your intake tract. Crank case blow-by is recirculated back to the intake to be ingested by the engine, but in doing so, gets stuck in the intake tract, intake valves, and the intercooler. This builds up over time which causes a loss in power and extra wear and tear on your valves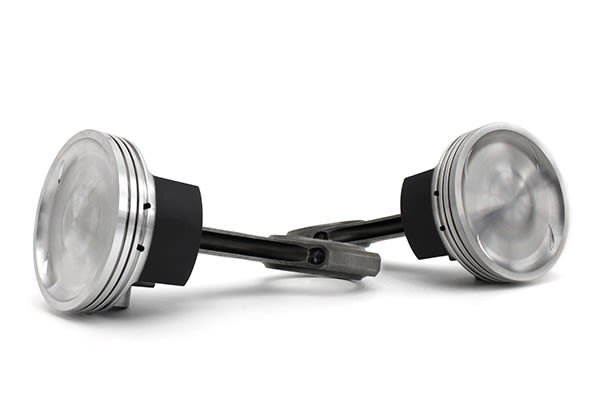 ---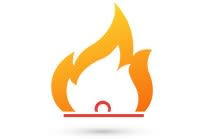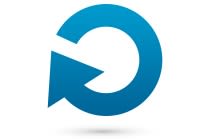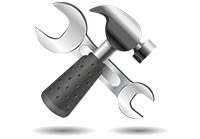 Reduce Detonation
The octane level of oil is very low. Anytime there is a significant amount of engine blow-by (oil) being put back into your engine, it reduces your fuel's octane level leading to detonation or knock, which will cause loss of power and engine failure.
PCV System Included
We designed the PERRIN Air Oil Separator kit based on the idea that using a PCV on the AOS outlet ensures proper crank case venting during light loads and helps reduce unwanted blow-by gases into your intake system. Incorporating a PCV reduces the smell from exhaust and keeps your intake tract clean.
Easy Disassembly For Cleaning
Over the years, a slight buildup may occur inside your AOS. This can be quickly taken care of by removing one bolt to access the inside for cleaning. This small feature is one of the many things that makes the PERRIN AOS stand out from the rest.
---
SWIRL POT TECHNOLOGY
Featuring swirl pot type technology and multi-layer baffles, the PERRIN Performance Air Oil Separator forces incoming air to circulate across the baffles, separating oil from engine blowby.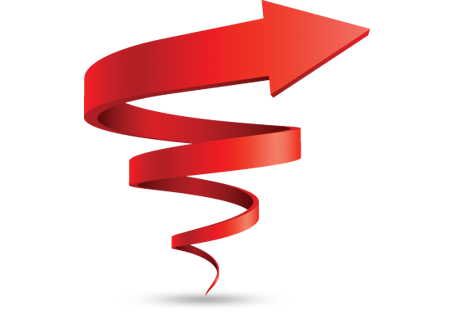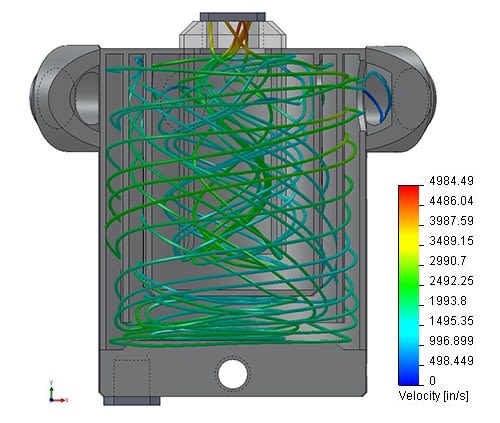 ---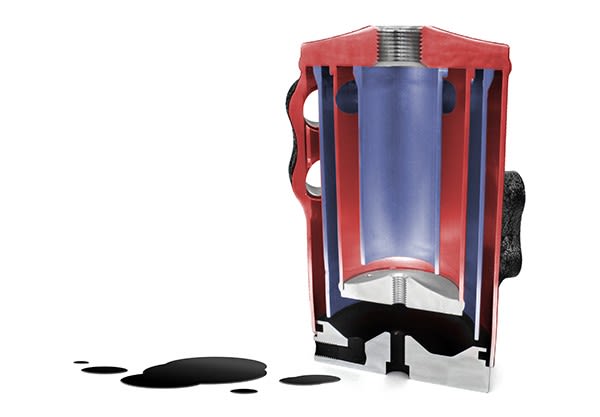 THIS IS NOT A CATCH CAN
The PERRIN Air Oil Separator is not a catch can. Catch cans capture water and oil vapor filling with a sticky mess requiring it to be emptied. The PERRIN AOS separates engine oil from water vapor and allows it to drain back into the engine. Oil entering from the crankcase vents spins counter clockwise through the entire body of the AOS, passing along four walls equaling roughly 50.25 sq/in of surface area. The multiple baffle walls in our compact design simulate the surface area of an AOS that is 13.5" tall!
As oil accumulates on all the walls, gravity pulls it to the bottom of the can where it drains back to the engine block while water vapor and air merge with the intake air and are re-burned in the engine. This means little maintenance or upkeep.
---
CUSTOM DRAIN BACK FITTING
Instead of using a universal type fitting, we have designed a purpose built crank case fitting that does the job perfectly. Like the AOS body, the drain fitting is threaded to except virtually any kind of fitting to allow for easy customization on special projects.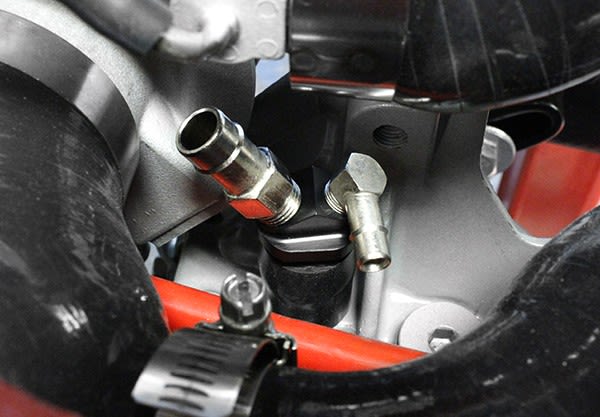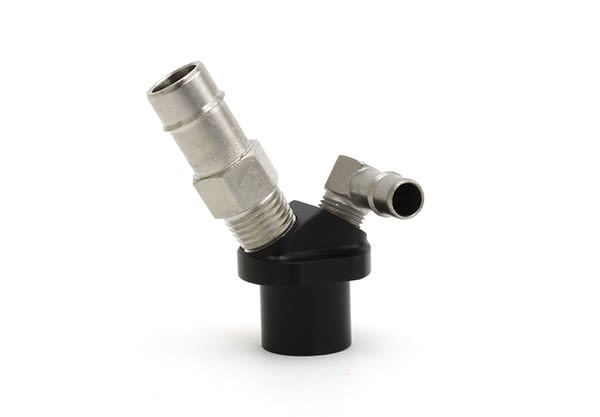 ---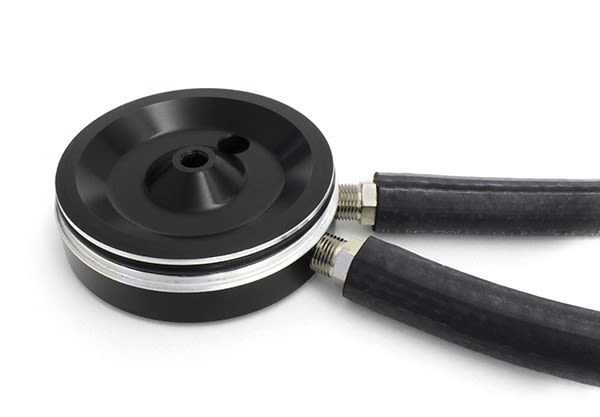 HEATED BY COOLANT
The base plate of the the AOS is heated by coolant drawn from the engine. By keeping the AOS the same temperature as the engine and blow-by gases, water condensation is decreased allowing oil and water vapor to separate and pass through the can.
This vital feature eliminates nearly all the sludge that can build up in the AOS body, which drastically reduce how often you must clean it.
---
Hardware and Parts
Every connection on the PERRIN AOS is threaded NPT which is a very universal way to connect fittings. This allows for totally customizable setups and installations to be done, to best match your setup.
Application Specific Mounting Brackets
Each kit comes with specific mounting brackets and instructions to install your AOS perfectly in your engine bay or adapt our simple 2 hole mounting bracket for custom installations.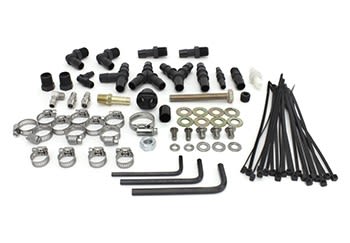 ---
Finish
Powder coated for protection against the elements, the textured finish will look awesome for years to come. The PERRIN AOS is available in black or red texture powder coating.

---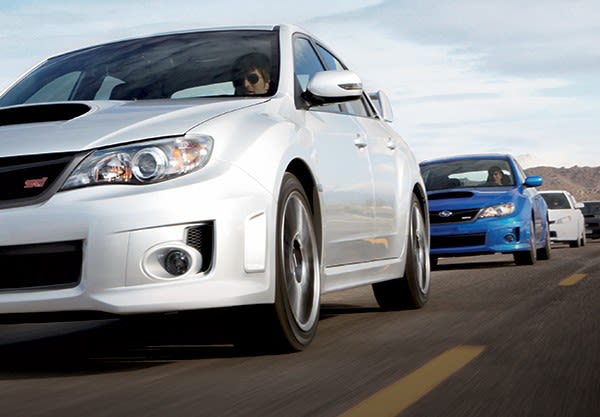 SUBARU SPECIFIC
Subaru engines have 3 main crank case vents located on each valve cover, and one in the center crank case. The PERRIN AOS is designed to connect to each of these separately without requiring any T connections. This allows for better venting and reduces the chance of oil being ingested during high G corners (common issue on flat type or boxer engines)
---
Warranty
PERRIN Performance warrants to the original purchaser that all PERRIN products will be free from defects in material and workmanship within a sixty (60) month period from the date of purchase. *Some exclusions apply
Off Road Use Only
This product is legal in California only for racing vehicles which may never be used upon a highway. Check your local and federal laws prior to installation!
People who viewed this item also viewed
3 customer reviews
Difficult Installation

Jeremiah April 15, 2023

By

Ok first off, it's a very nice product. Very high quality, and comes with everything you need… at least it is supposed to. Mine did not come with the multiple different mounting brackets like you see in the pictures in the product description. Those would have really helped for my 2019 STI… instead I had to modify the one bracket that my kit came with, in order to raise the AOS unit to an acceptable height so that the oil drain would be at a downward angle to leading to the crankcase. Overall the supplied instructions were well written… they specify different requirements and procedures for several models/years of WRX and STI. The down side of this is that the instructions jump around a bit, and you have to be really careful to make sure you are looking at the right lines of instructions and diagrams specific to your model year. I'm an experienced auto hobbyist and this job took me just over six hours, and there were several points during this installation that I found myself lost and confused trying to match up what was in front if me to what was described in the instructions. Do not attempt to install this unless you have patience, a high attention to detail, and plenty of time at your disposal.

It works amazingly well

Jay November 30, 2019

By

it's not easy-button install 100%CORRECT , and it MAY not work right if not installed right. I changed my oil at 1200 Miles after breakin - when I checked and saw a sharpie thick line of pristine oil headed right into the vents... I ordered this and installed it ASAP. I've checked the hose a multitude of times since, and now 42k on the car. It's dry as a bone every time I look. I had a friend to help. We wrapped the hose headed across the block with heatwrap, also the one passing the exhaust side, and retained the PCV valve. Upon first start - the thing overheated 'cause I forgot to top off the coolant, I was so excited to finish such a fun project. Tips - use a fingertip of lube to get the intercooler back on. get extra hose... unless you don't need to cut twice. get extra clamps for the ones you just frikken cut to remove. what else... drink beer, have fun. cheers!

3 out of 5

Jon February 18, 2018

By

The Perrin air oil separator looks great installed quality looking product. But performance wise it was lacking and when I thought it was supposed to do which was separate air and oil and return it into the crankcase. After installation and re-checking to see if proper function was being performed I found that I was still getting oil Pushed back through the air return hose into the turbo inlet return bung. After speaking with Perrin Technical support they told me there was no air oil separator that would pull 100% of the oil out. After further research I would install that IAG air oil separator nowThe price difference is not that significant!!!
QUESTIONS & ANSWERS
No questions have been asked about this product.
Upload images for this product