Perrin
Perrin Radiator Shroud
2015-2020 Subaru WRX & STI
SKU: ENG-512-PARENTWe price match!
Clean up your engine bay with the PERRIN Radiator Shroud kit for your 2015-2020 Subaru WRX/STI.
Details
Perrin Radiator Shroud
---
Clean up your engine bay with the PERRIN Radiator Shroud kit for your 2015-2020 Subaru WRX/STI.
SubiSpeed Video
STOCK OR AFTERMARKET INTAKE COMPATIBILITY
Included are two different pieces to be compatible with both the stock intake and aftermarket cold air intakes. This makes purchasing the PERRIN Radiator Shroud a one-time purchase.

---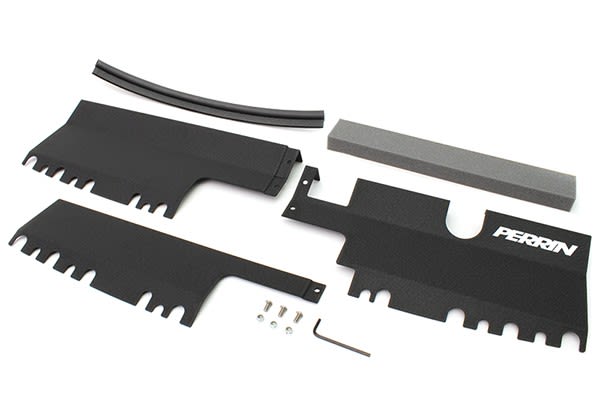 Complete Kit
Each Radiator Shroud kit comes as a three-piece set to fit your vehicle regardless of which intake is installed. This also allows you to improve the look of your engine bay before and/or after you add an aftermarket intake down the road.
---
Construction
The unique two-piece design makes compatibility a non-issue with stock vs. aftermarket intake setups. Made from aluminum, it is corrosive proof in those states with salt used during the winter time.

---
Color Choices
This PERRIN Performance product features a durable powder coat finish. PERRIN powder coating is available in either red or black and are accented with a wrinkled texture finish to match your other PERRIN parts.

9 customer reviews
Great look

Anthony August 8, 2022

By

It came with options for different setups, easy to install, the red is a amazing touch.

Doesn't fit well with factory intake

Marty January 18, 2021

By

Looks great, clear instructions. Doesn't sit correctly with factory intake. The rubber piece sits in front of the intake opening which restricts air flow. I had to bend the connection point to get the shroud rubber to sit correctly.

Great look, tight fit

Jason January 4, 2019

By

I received this shroud for Christmas, and installed it that very afternoon! Installation is pretty simple for sure. The one area they don't make very clear is "push the shroud towards the engine" when tightening the bolts. If you don't do this step, and you have an intake that uses the factory intake scoop, the rubber seal will not fit properly on top of the scoop. You can even see in the Subispeed provided pictures above that they didn't do this right and left a gap between the seal and the scoop. Otherwise, this really makes the engine bay look sharp! I love that they include a second section in case you end up removing the factory scoop. What a nice bonus!

Great product

Charles February 21, 2017

By

Great addition to the engine bay that gives it a nice splash of color. Great fit and easy install when you follow along with the video tutorial.

Custom install to get my look right

paul December 28, 2015

By

Well got one for christmas from my brother, slightly worried about mounting after reading these and numerous other reviews with this issue. So I went to the hardware store got fender washers and 10mm flange bolts, I simply mounted the shroud under everything, used the bumper bolts and the nuts and washers to hold the shroud on. Takes some nibble fingers and good tools, but got the job done and in no way alters the OEM filament of bumper and hood. Did some spirited driving to test and no rattles or any issues what so ever.

Easy install, Looks Great.

Kevin August 11, 2015

By

Overall easy install and really brings the engine compartment to life. Big downside though, after the install I can't seem to get my hood to close properly without a good slam. Also closely looking at the hood when closed it isn't all the way down leaving a substantial gap near the headlights . If there's a fix for this let us know ! I came into contact with other fellow Subaru owners that also own this part and they have the same issue.

Good but hood closes difficultly

Nate Simeon (nERv3s) August 3, 2015

By

Overall I'm pretty happy with my Perrin radiator shroud. It was easy to install and looks great. My only complaints are that it causes my hood to close difficultly, not 100% sure why. I have adjusted it several times and the only way to 'fix' the issue is by taking it out. The only other issue I have is that it seems like the part that meets up to the snorkel is just a bit to short. It can be adjusted to make a nice seal with the snorkel but otherwise there will be a gap between them. I don't like gaps.

Looks awesome, but hood fits tight.

Jeff June 28, 2015

By

I installed the red Perrin radiator shroud on my 2015 DGM WRX. The install was pretty simple and the red really stands out in the engine bay. I also installed the Subispeed silver oil cap, battery tie down, and brake fluid cap. It all looks amazing together, and the silver components offset the bright red radiator shroud perfectly. I didn't want to many crazy colors under the hood. The only issue is that the hood fits really snug, you have to slam it down pretty hard to get it to close. I contacted a Perrin Tech and he said other customers have had the same issue. By installing the shroud between the bumper and the chassis just adds extra height causing the hood to fit really tight. Hopefully no long term issues occur with the hood latch, but it really adds a great look to the engine bay.

Perrin radiator shroud 2015 sti

NSTI2NV April 7, 2015

By

Very nice product. Ive been looking forward to installing this on my car. Looks great in wrinkle red, next to the belt cover and syl.cover. I did have alittle trouble getting the hood to shut properly after the install. Make sure to put it in between the black plastic and the mettle. Thanks subispeed
QUESTIONS & ANSWERS
No questions have been asked about this product.
Upload images for this product