Details
Perrin Performance Engine Cover Kit
---
ENGINE DRESS-UP
Add a bit of flair and accent your WRX engine bay with the PERRIN Engine Cover Kit. This kit replaces your OEM plastic engine cover with metal shrouds that look great and keep a seal between themselves and hood scoop to maintain proper airflow to your top mount intercooler.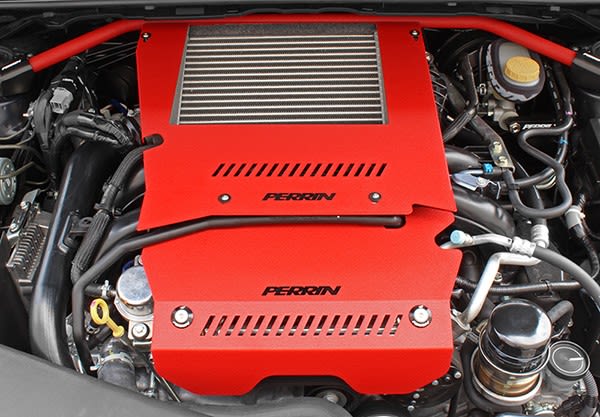 ---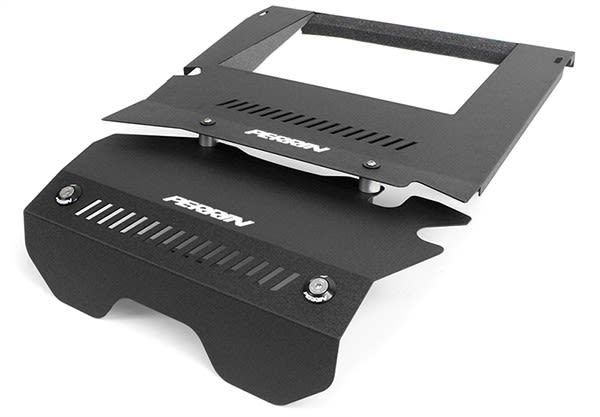 Two Piece Design
The PERRIN Engine Cover Kit comes with two pieces that make up the main body: one piece that covers your belts and pulleys, and one piece that covers your intake manifold and top mount intercooler end-tanks.
---
Doesn't Compromise Airflow
The OEM plastic engine cover not only attempts to clean up your engine bay, but serves a function--it creates a seal between the top mount intercooler and the hood scoop. The PERRIN Engine Cover Kit keeps this functionality and keeps air flowing properly to your top mount intercooler while looking much more appealing that the OEM plastic cover.
With the way that the PERRIN Engine Cover Kit is designed, it will still provide proper airflow to aftermarket top mount intercoolers that are larger than the OEM intercooler.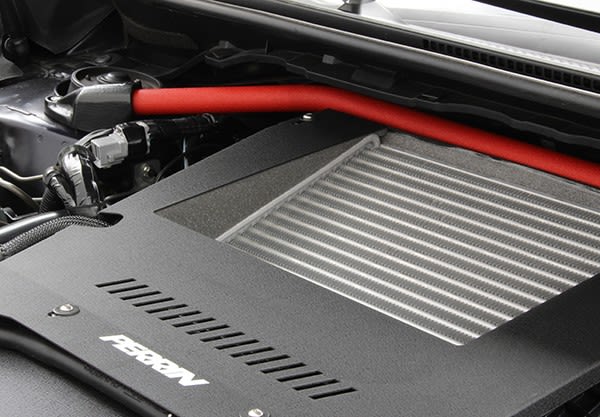 ---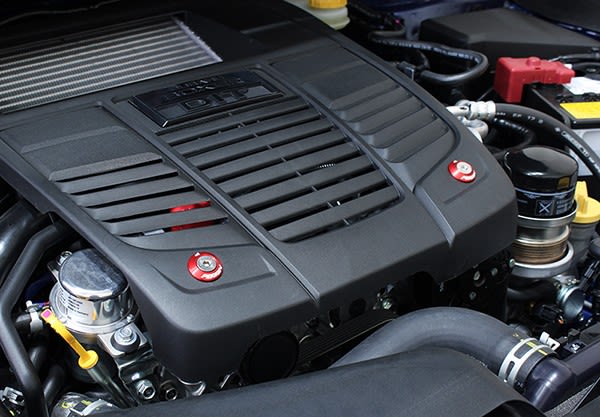 Includes Engine Cover Lockdown
The PERRIN Engine Cover Kit includes parts from the PERRIN Engine Cover Lockdown. The OEM plastic engine cover has very fragile mounting tabs that can break easily after only one or two removals.
---
Construction and Finish
The PERRIN Engine Cover and Belt Cover are constructed from aluminum with precision drilled mounting holes and finished in red or black textured powdercoat. The bracket is made from stainless steel and the washers from billet aluminum. The washers are anodized black for a lasting finish and printed with the PERRIN logos.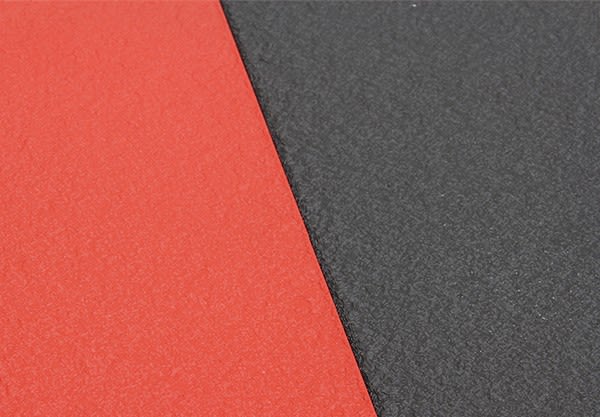 5 Year Warranty
PERRIN Performance warrants to the original purchaser that all PERRIN products will be free from defects in material and workmanship within a sixty (60) month period from the date of purchase.
People who viewed this item also viewed
4 customer reviews
Great add-on

Anthony August 8, 2022

By

Easy installation, and with my Blitz Strut, I had no clearance issues. Not only this look great in red, but the seal it makes on intercooler is better, and my logs show improvement which I was not expecting.

Anonymous April 2, 2022

By

If you have the Perrin strut tower brace, just expect it to rub. This quick and easy install turned into a hassle trying to adjust everything to fit, and in the end I still couldn't get the top passenger side bolt to fit.

Engine cover

Anonymous January 24, 2021

By

I put this engine cover on a while back and I do like the look of it, but there's just that one bolt that is just impossible to tighten up

Great cover except...

Chad August 3, 2018

By

By itself, it's great but if you have the perrin strut tower bar it rubs together in the back right corner. I've readjusted several times but I couldn't get it to clear.
QUESTIONS & ANSWERS
No questions have been asked about this product.
Upload images for this product