OLM
OLM LED Interior Map / Dome Lights
2015-2020 Subaru WRX & STI / 2013-2017 Crosstrek / 2017-2020 Impreza
Give the interior of your vehicle a new look with ultra bright, ultra white, LED dome / map lights.
Details
These replacement LED bulbs are a quick modification for anyone. The change is drastic and really gives the interior of your vehicle a new look. Replace the orange OEM dome light bulb with a pure white LED with an output similar to that found in high end luxury vehicles.
Comes with 3 bulbs to replace the map lights and dome light.
NOTE: Grounding out your dome lights may result in a BIU failure. Be careful not to ground out your vehicle's electrical system during installation. Extra precautions can be taken like disconnecting the battery prior to installation.
---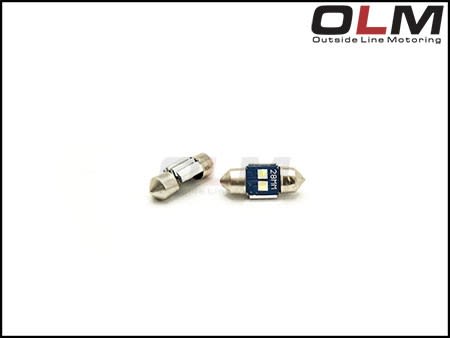 OLM 28 Actuals
Many Japanese vehicles use a 28mm dome light vs 31mm. However the market is saturated with 31mm bulbs instead. OLM 28 Actuals are an appropriately sized replacement bulb for your vehicle. These bulbs do not require that you stretch the prongs in the map or dome lights. They emit a clean, white light.
---
OLM Black Series 28
Creating a 28mm bulb with extremely high output was the goal behind this bulb. After mastering the 28mm size, the next step was to find a way to make a bulb that radiates light outside the vehicle when the doors are open. The price makes this bulb the best bang for the buck.
Don't take our word for it. Purchase a set and see how bright these are.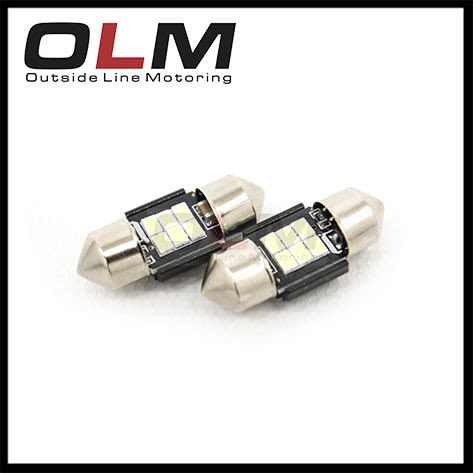 ---
SubiSpeed Video - Older Model
Install Notes
Simply remove the OEM bulbs and make sure the prongs which retain the bulbs are returned to their original width. The replacement bulbs should not spin without resistance. If they are then the prongs are still too far apart. Simply apply light pressure on them and reinstall the replacement bulb. Face the LEDs downward and make sure the heat sink is to the back.
People who viewed this item also viewed
19 customer reviews
Look good, very bright

Evan December 19, 2022

By

These lights look good, installation was very simple. They are MUCH brighter than the OEM lights which may or may not be a welcomed change for some. However after installing them my remote lock no longer worked while the interior lights were on, had to wait for the lights to shut off to get the car to lock remotely. Uninstalled them and everywhere worked properly again, may have to do my smart tap relay/welcome lighting setting I have but didn't want to mess around with the seemingly temperamental BIU issues these cars have.

OLM Black Series 28 A+ Very Bright !

Will September 19, 2019

By

I recieved the bulbs within two days & all I can say is WOW! Bulbs are very bright compared to factory bulbs, & lights up the entire car. 100% worth the money. Very happy with my purchase!

Super bright! Way better than stock!

Christian June 17, 2019

By

I purchased the OLM Black Series 28. Super easy install, took minutes. These are twice as bright than the stock lights my 2018 WRX STI came with. I would recommend these if you want bright white lights.

100% satisfied

Derek April 9, 2019

By

Pros: - Easy to install (5 minutes) - Low cost - Bright clean white light is 100% better than the dull stock lights Con: - None

Black series

Eric December 10, 2018

By

What a difference!!! I can finally see, have no idea why A 19 wrx won't come with led interior lights, but this is a must fix and takes about 5 mins if that to change all three bulbs very easy fix hopefully the bulbs last

Black series

Eric December 10, 2018

By

What a difference!!! I can finally see, have no idea why A 19 wrx won't come with led interior lights, but this is a must fix and takes about 5 mins if that to change all three bulbs very easy fix hopefully the bulbs last

Easy Install

Tyron October 3, 2018

By

Awesome install and the black series bulbs

Awesome LED lights! Very clean looking!

Scott July 27, 2018

By

Just finished installing my OLM Black Series bulbs. They are great! Very nice white color, five minutes to install, and bright! The extra price for the Black series is well worth it!

Bright white

Benny June 17, 2018

By

Much better than the stock bulbs. Get them & you won't regret it

Easy To Install - 2018 WRX 50th Edition

John May 15, 2018

By

The map lights were easy to install. Used a plastic tool to get the covers off. The dome light cover was a pain to pop off. Start in the back, then work it off from the sides (starting in the front). The dome led was a little loose putting into place. Slightly bend the metal supports inward to make a tighter fit.

Love Them!

Nathan May 2, 2018

By

These lights were super simple to install. I ordered the OLM Black Series and they are very bright! Wish the car would have came with nice white LEDs originally, but so far these are the perfect alternative to the dim, yellowish original lights. Would order again.

Significantly Brighter

Joshua April 8, 2018

By

I bought the Black Series bulbs for my 2018 WRX and boy is the inside of my car much brighter now. These are definitely worth the money and they are super simple to install. I did have to make the dome light connector just a tad wider, but that took literally 2 seconds.

Worth the Money

Ethan August 10, 2017

By

Quick easy install that really lights the car up on the inside. I went with the OLM Black Series 28 for the map and dome lights, might be too bright though, just encourage you passengers not to turn them on wile you are driving at night.

yellow to white

Kurt June 11, 2017

By

10x better, my car looks sweet now when I open the doors. Kind of like going from 1985 to 2015. I should have done the vanity's too, next purchase :)

Must have for anyone!

Kurt June 6, 2017

By

No clue why this would not be stock from Subaru. Absolute must have for anyone, I got the black series and the entire car is filled with a clear bright white. Just make sure the stock blubs are cool when handling as they can tend to get very hot!

Great

animejoe18 May 8, 2017

By

Absolutely Wonderful, Very Bright Lights. What A World Of A Difference. Kinda Feel Sorry For My Mogwai, LOL.

OLM BLACK SERIES 28

Seme January 2, 2017

By

Buy these lights! Holy cow, talking about bright! The pure white color keeps it clean. Don't hesitate in spending the extra money for the Back Series bulbs. Only downside, there is a locking mechanism on the stock bulbs witch is really nice. For the black series there is no locking mechanism witch can cause the bulb to spin. How i fixed it was by just pinching the medal holders/brackets so the bulb is snug. Had to rank fit/quality a 4 just because the bulb can spin. The lights are bright, Just buy them!

A+

Justin Kim August 12, 2016

By

Its really bright and it looks great overall. Install was simple but just be careful taking off the cover so you don't break the clips.

Lights should have came like this

JKWRX0815 June 2, 2016

By

Not sure why Subaru makes a great new model, and then cuts corners. High beams & interior lights are all halogens. Should have came with all LED's. These are pure white and super bright.
Upload images for this product