Details
These replacement LED bulbs are a quick modification for anyone. The change is drastic and really gives the interior of your vehicle a new look. Replace the orange OEM dome light bulb with a pure white LED with an output similar to that found in high end luxury vehicles.
Comes with 3 bulbs to replace the map lights and dome light.
NOTE: Grounding out your dome lights may result in a BIU failure. Be careful not to ground out your vehicle's electrical system during installation. Extra precautions can be taken like disconnecting the battery prior to installation.
---
OLM 28 Actuals
Many Japanese vehicles use a 28mm dome light vs 31mm. However the market is saturated with 31mm bulbs instead. OLM 28 Actuals are an appropriately sized replacement bulb for your vehicle. These bulbs do not require that you stretch the prongs in the map or dome lights. They emit a clean, white light.
---
OLM Black Series 28
Creating a 28mm bulb with extremely high output was the goal behind this bulb. After mastering the 28mm size, the next step was to find a way to make a bulb that radiates light outside the vehicle when the doors are open. The price makes this bulb the best bang for the buck.
Don't take our word for it. Purchase a set and see how bright these are.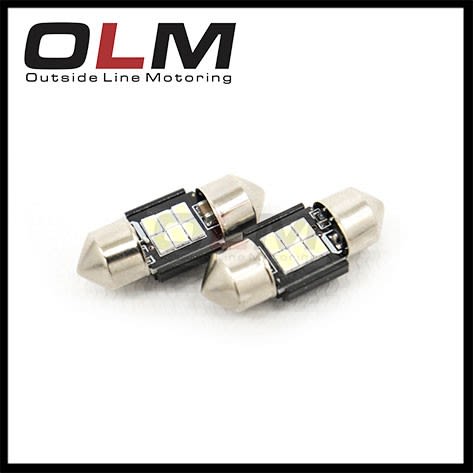 ---
SubiSpeed Video - Older Model on 2015 WRX
Install Notes
It is very easy to grip the dome light in the center of the vehicle and remove the housing to change out lights. The MAP / dome lights up front have covers which are nearly impossible to access without removing the light assembly. In the sun glasses holder there are two Philips head screws. Remove these and then pull on the assembly. Disconnect the two to three plugs holding it in. Now you can pry the cilps out of the lens covers and access the bulbs.
Simply remove the OEM bulbs and make sure the prongs which retain the bulbs are returned to their original width. The replacement bulbs should not spin without resistance. If they are then the prongs are still too far apart. Simply apply light pressure on them and reinstall the replacement bulb. Face the LEDs downward and make sure the heat sink is to the back.
People who viewed this item also viewed
1 customer review
Couldn't be happier!

Cade January 5, 2017

By

Ordered three of the black series for my 2014 Forester XT Premium and was very surprised at the nice pure white light output from these little things. Install was quick and easy and the 28mm are true to size unlike most replacement bulbs, plenty bright and will be ordering again!
Upload images for this product