OLM
OLM LED Interior Dome Light
2013-2020 Scion FR-S / Subaru BRZ / Toyota 86
Give the interior of your vehicle a new look with this ultra bright, ultra white, LED dome / map light.
NOTE
Main image is of a WRX, but this replaces the single bulb in a FR-S / BNZ / 86.
Details
These replacement LED bulbs are a quick modification for anyone. The change is drastic and really gives the interior of your vehicle a new look. Replace the orange OEM dome light bulb with a pure white LED with an output similar to that found in high end luxury vehicles.
Comes with 1 bulb to replace the map / dome light.
NOTE: Grounding out your dome lights may result in a BIU failure. Be careful not to ground out your vehicle's electrical system during installation. Extra precautions can be taken like disconnecting the battery prior to installation.
---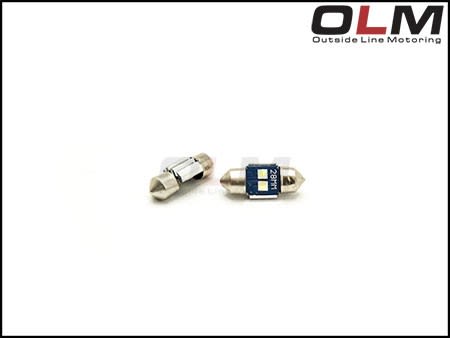 28 Actuals
Many Japanese vehicles use a 28mm dome light vs 31mm. However the market is saturated with 31mm bulbs instead. OLM 28 Actuals are an appropriately sized replacement bulb for your vehicle. These bulbs do not require that you stretch the prongs in the map or dome lights. They emit a clean, white light.
Simply remove the OEM bulb and make sure the prongs which retain the bulb are returned to their original width. The 28 Actuals should not spin without resistance. If they are then the prongs are still too far apart. Simply apply light pressure on them and reinstall the replacement bulb. Face the LEDs downward and make sure the heat sink is to the back.
---
OLM Black Series 28
Creating a 28mm bulb with extremely high output was the goal behind this bulb. After mastering the 28mm size, the next step was to find a way to make a bulb that radiates light outside the vehicle when the doors are open. The price makes this bulb the best bang for the buck.
Don't take our word for it. Purchase a set and see how bright these are.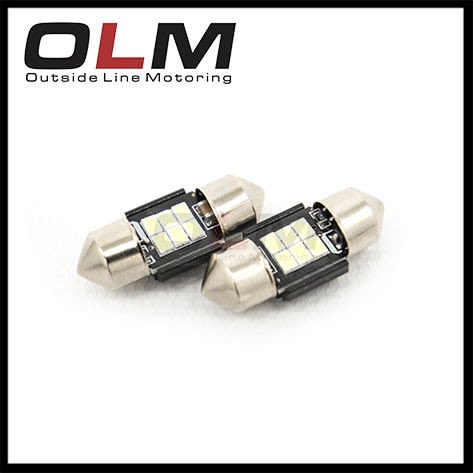 1 customer review
Worth it

Jerry A. October 11, 2020

By

the light is super easy to install and the bulb itself is so much brighter than the stock one. one of the first changes a lot of people notice when they hop into my car.
Upload images for this product

Feel free to share pictures of your vehicle with this product!