ARP
APR Carbon Fiber Type B Vortex Generator (Roof)
2017+ WRX / 2017+ STI
APR offers a carbon fiber OE style vortex generator. Quality construction and a premium feel.
NOTE:
Please read the differences between Type A and Type B vortex generators in the description below.
NOTE 2:
This CAN technically fit vehicles with the original 2015 model year smaller antenna. There would just be a larger gap towards the rear of the antenna.
Details
APR Carbon Fiber Vortex Generator
APR Vortex Generators help to guide the air flow on cars with very steep drop-off angles between the roof and the rear window. Air flow has a tendency to become turbulent as it separates from the surface of the car in this region. This turbulent air causes drag and reduces the effectiveness of a rear wing. The APR Vortex Generator helps to reduce drag and improve the effectiveness of the rear wing by delaying the air flow separation and reducing turbulence.
Comes with double-sided tape to make for a simple installation.
---
2017 Vehicle Fitment
This vortex generator fits all 2017 WRX models with 7 inch Starlink Radios (with or without navigation) and ALL 2017 STIs (with or without navigation).
2017+ WRX Premium with OPTIONAL 7" Starlink Radio
2017+ WRX Limited
2017+ STI
The image below shows the models the Type B vortex generator fits (in green).

---
2018 Vehicle Fitment
Subaru has been changing things up a lot over the last couple of years. If your antenna measures front to back approximately, 9 1/8" inches, you can use this vortex generator.
9 1/8" long antenna - use this version (Type B)
8 1/2" long antenna - use 2015-2016 version vortex generators (Type A)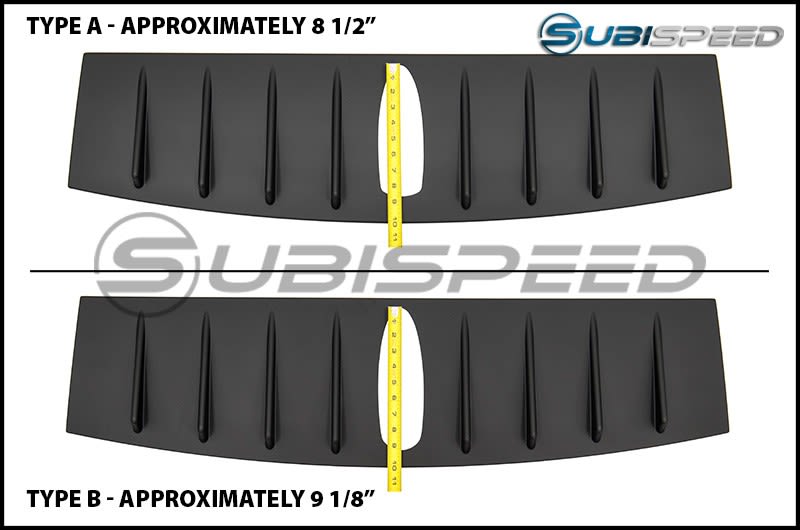 1 customer review
TOP OF THE LINE

Anthony March 2, 2020

By

All those other plastic vortex generators have nothing on this carbon fiber one. Lightweight and perfect fitment. This will complete the look of your WRX or STI's rearend. The carbon weave matches up with APR's GTC-300 wing and carbon fiber truck trim to complete the set.
QUESTIONS & ANSWERS
No questions have been asked about this product.
Upload images for this product