AP Racing
AP Racing Front Black 4 Piston Radi-CAL Brake Kit System, Slotted Rotors (355x32mm) by STILLEN
- 2015-2017 WRX / 2015-2017 STI
Ships for free in the 48 states
The 2015 WRX / WRX STI offers it's owners much improved performance over previous models. This will only encourage you to get out to road courses and/or do some real spirited driving. Improve your lap times and let the good times roll longer with an AP Racing Big Brake Kit.
Front Kit
Black 4-Piston Calipers
Slotted Rotors
2-Piece 355x32mm (14"x1.3") Rotors
Details
Choosing the best brake kit for your Subaru Impreza WRX just became extremely easy, with the introduction of the next generation of braking performance; The AP Racing Radi-CAL Brake System by STILLEN.
This show-quality setup will catch anyone's eye, and has the performance to back it up. AP Racing has been dominating the highest level of motorsports for over 50 years, such as Formula 1, NASCAR Sprint Cup, ALMS, World Rally Championship (WRC) and many others.. and most importantly winning. Now you can benefit from this brake technology on your Subaru Impreza WRX, and have the braking confidence formerly available only to top motorsport teams.
The AP Racing designed Radi-CAL calipers are FORGED versus the major competitor's cast calipers. These FORGED calipers are 25% lighter and 20% stronger than cast calipers of the same size in the same performance category. The entire Radi-CAL system was created from the Radi-CAL system designed by AP Racing for Formula 1 and NASCAR.
Taking this born-from-motorsports technology, STILLEN Engineers utilize AP Racing Rotors and the new AP Racing Forged Radi-CAL 4-piston calipers for the front specifically for the 2015 Subaru Impreza WRX. All of the mounting hats and brackets are designed and made in-house at STILLEN's machine shop, using the latest technology in CNC Lathe and Mill machining. Caliper configuration, pad selection and proper rotor sizing are all chosen for the Subaru Impreza WRX to produce maximum braking performance, with a striking look no enthusiast could miss.
Not all brake systems are created equal. In fact, most big brake kits aren't really suited towards heavy track use either. While they usually increase thermal capacity and may solve small fading issues, they generally aren't optimized for hardcore track use. Essex set out to design a couple of brake packages that can take anything thrown at them...and then some.
Everything needed for easy installation is in the box to install the STILLEN manufactured AP Racing Subaru Impreza WRX Radi-CAL Big Brake Kit.
Includes:
AP-Racing Radi-CAL Forged Calipers (available in Red or Black)
AP Racing High Performance Rotors (available in J-Hook, Slotted or Cross-Drilled/Slotted patterns)
High Performance Brake Pads
Billet Aluminum Rotor Mounting Hats and Full-Floating Hardware (pre-assembled for easy installation)
Braided Stainless Steel Brake Lines with Correct Conversion Fittings
Complete Installation Instructions
Welcome to the best brake kit upgrade system available for the Subaru Impreza WRX.. the AP Racing Radi-CAL Brake Kit by STILLEN.
---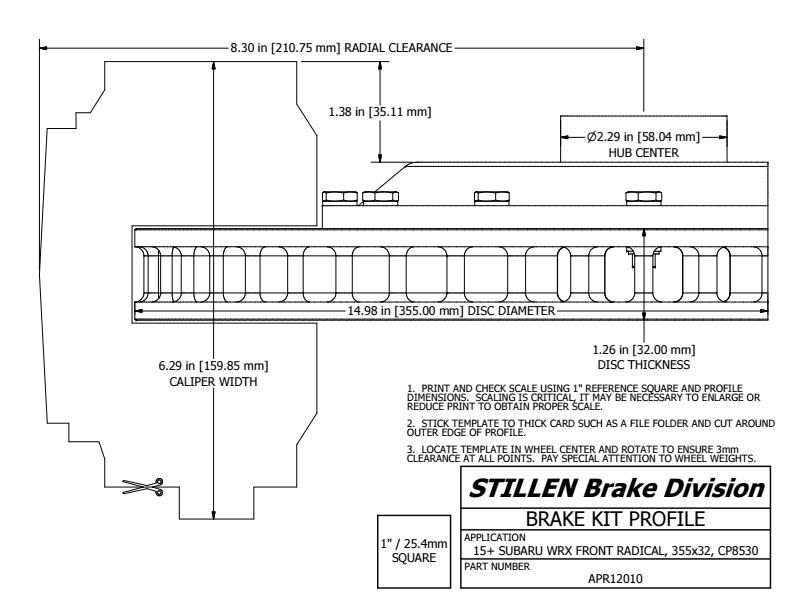 Template
Please use the following template to check if this brake setup is compatible with your current wheels. Use of spacers is possible.
Download here.
---
Upload images for this product

Feel free to share pictures of your vehicle with this product!